Advertorial

As a kid, I grew up having Pizza Hut's Pan Pizzas. Before the invention of the thin crust pizza, I always thought that there's only one type of pizza – the thick crust one – and I liked it a lot. Even after I came to discover the existence of the Thin pizza with crispy base, I still preferred the thick doughy ones.
I mean eating pizza is all about the thick crust. It doesn't feel right to have a pizza, which has such a thin base, that it's almost like just having the toppings. That's why when it comes to Pizza; my family will always go to Pizza Hut.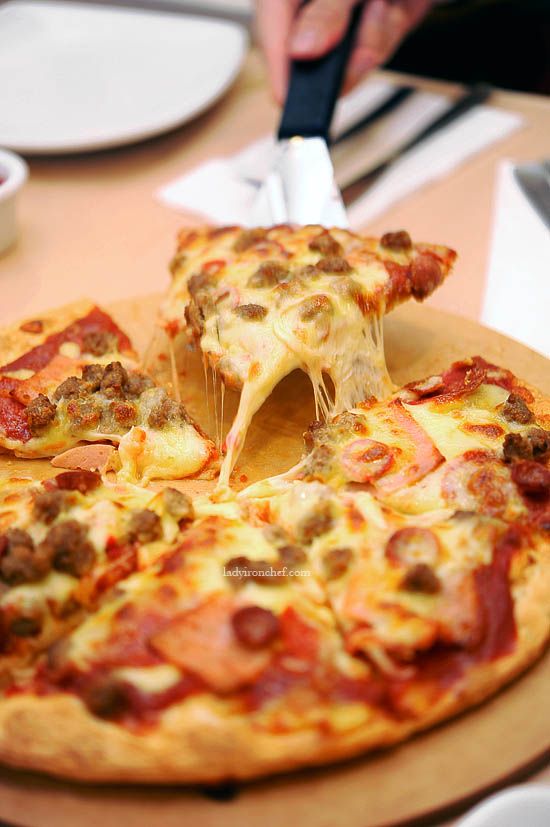 Pizza Hut is all about family time. It is the time where the whole family gets to enjoy dining out together. It is also the time to call for pizza delivery to satisfy my brother's craving, or when my mom is too tired to cook.
Sitting in the familiar environment, it felt like we were kids again. I can remember the excitement while anticipating for the pizza to come. When it comes to Pizza Hut, I'm sure many of you remember their popular Sweet 'N' Spicy Drumlets, as well as the garlic bread. Forget about everything else, I will exchange anything for all the Drumlets – just give it all to me.
I like my pizza to be crusty, and doughy and filling. Most importantly, it has to be cheesy – just like the one up there in the picture. The sight of the entangled cheese is always so alluring, evidently my tame effort to resist it always fails – but at least I tried. Now it's time to have our pizza party!
All along, I've always thought that pizza hut was only about pizza, but during the tasting session, we were introduced to Pizza Hut's Pasta Perfetto series. Pizza Hut currently has 12 selections on their pasta menu, which includes 8 classic and 4 specialty pastas.
The 8 Classic pastas are the following: Chicken Pomodoro, Creamy Porcini Mushroom, Pep 'n' Spice, Prawn Aglio Olio, Spicy Chicken Pomodoro, Traditional Bolognaise, Turkey Bacon Carbonara and Veggie Pomodoro.
As for the 4 specialty pastas, they are: Basil Crayfish (above picture), Fish in Tomato cream sauce, Peppery Ribs, and Seafood Vongole. The prices range from $5.90 for the classic selections to $12.90 for the specialty ones.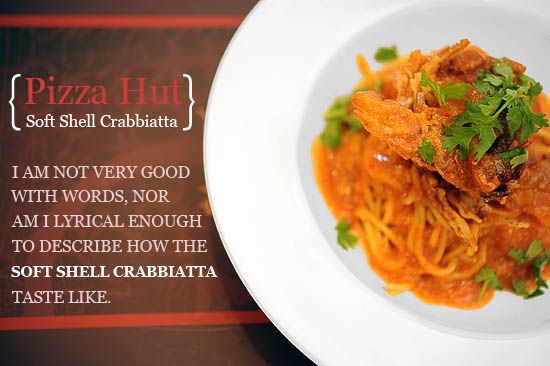 The latest addition to the menu is the Soft Shell Crabbiatta ($12.90). I am not very good with words, nor am I lyrical enough to describe how the Soft Shell Crabbiatta taste like.
But, I think it tasted like Chili Crabs.
Yes, Chili crabs. It was spicy yet sweet, tangy to the tongue and appealing to the palate. The sauce was a bright hue of orange-red, I know – it's definitely not the most photogenic pasta out there. But then again, when is pasta ever photograph-able? Pastas are meant to be messy, and disorganized, but yet when they are tossed and mixed together – somehow, everything looks just right.
What aspects do you look out for in pasta? Do you like the rich and heavy cream base ones, or the sweet and mellow tomato base pasta? There are a lot people who like the meatball rendition, but personally I'd prefer seafood pasta. Having tried the Soft Shell Crabbiatta, it was actually quite decent. Deep-fried to a handsome shade of golden-brown, the soft shell crab was partially immersed in the sauce. The pasta would taste even better if they had added in chunks of crabmeat.
It's inevitable that people will judge it against chilli crab, but it's not even fair to compare it that way since it's not even chili crab to begin with. Look, here's a pasta that somewhat tasted like chilli crab; I'm not telling you if it's good, go try it for yourself!
The Soft Shell Crabbiatta is available at all Pizza Hut restaurants from now till 30th April.
Join us for Food Tasting on Pizza Hut
Date: 18th March 2010
Time: 7pm to 9pm
Location: City Square Mall – Pizza Hut #01-19/21
If you are keen to try out some of the pastas (and of course pizza), Pizza Hut will like to invite you to join me for a second round of tasting. Send your full name & contact details to [email protected], we will choose 15 readers and be in contact with you shortly to confirm the dinner. The closing date for this will be 11th March.
You can check out their full range of pastas here.