It was supposed to be January, but it is almost April soon! Well, like they say, better late than never! Forty-four was the magical number this time, and I'm glad to see many of my regulars, and of course our new friends.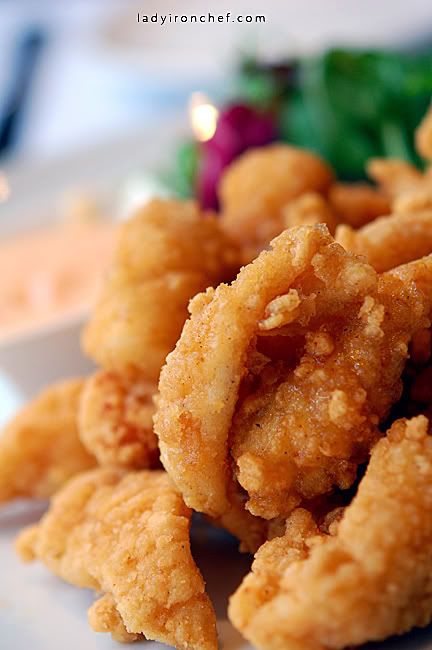 Salt & Pepper Calamari
We started with the simple appetiser, but I was too busy running from table to table that the calamari turned cold by the time I returned!
Chicken & Cheese Quesadillas
Dallas signature Quesadillas was one of the dish which I remembered from my previous visit. Tasting almost like a Mexican taco, there was chicken bits soaked with tomato in chicken broth.
Shredded Pork Tacos
Baby Back Pork ribs
There was some confusion when the ribs were served. The three different flavours of Fiery, Alabama & Smoked Hickory BBQ were too alike! Because we did everything in tasting portions, the pork ribs had to be cut and served this way, otherwise we were be there until four.
Dallas Wings
There was some feedback that the wings were too dry and lacked marination.
Tempura Barramundi
Corn & crab fritters
Beef Fajitas with Guacamole & sour cream
Breaded mushrooms
The "twin" brother which looked almost identical to the Corn & Crab Fritters.
***
A total number of 44 people turned up for this LIC food outing, thank you everyone! Like I've mentioned, there will be no date announced yet for the next lic food outing, I will try to organise it soon, so see you next time! I'll also like to thank Jason, the owner for Dallas for hosting us.
I will be adding the group photos to my Facebook page later. Do add me there to see the photos!
Read about my previous visit to Dallas here.
And Catherine @ Camemberu
Julia @ AromaCookery
Fen @ Sgdessert
Keropok man @ Singapuradailymakanphoto
Dallas Restaurant & Bar
31 Boat Quay
Boat Quay Conservation area
Tel: 6532 2131
Website: http://www.dallas.sg/
Featured in