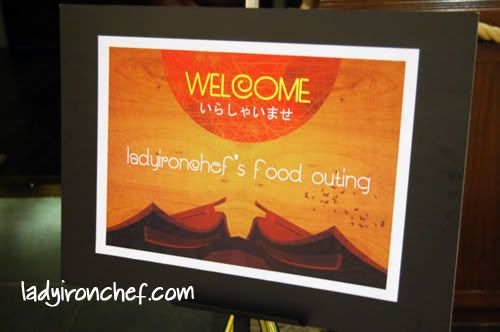 Welcome to LIC Food event II at Tetsu!
Having the experience of organising my own food outing event at OChaCha previously, this time LIC decided to have the second one at Tetsu. The response has been overwhelming, in fact i think its crazy given its a Tuesday night since people have to work and study. A whopping 51, yes 51 friends joined us for this one.
There will be more thoughts about the event in the next post, The Afterthoughts on Tetsu food event. For now, lets go back to LIC main task, food review!
LIC went for a visit to Tetsu previously, there won't be repeated pictures, so please take a look at my previous review.
I missed this out the last time round, Tetsu has got many media write-ups which you might find familiar while reading the various newspapers and magazines.
The fresh ingredients awaits to play with our taste buds.
Appetizers
To kick-start our multi course meal, we clear our throat with the warm green tea, follow by the Kami Tofu, Kajiki Takaki, after which we have the Yasai Takiawase, salmon sashimi and the consomme soup. All in good time, read on!
Just a note, for our multi course meal dinner, we have everything done in sampling size, which means to say this is not the real size which you will get in a set. I requested for sampling size so that we can actually try out a lot more variety of food.
Kami Tofu
The Kami Tofu, or century egg with tofu, starts off our multi course meal. The tofu is done delicately with the century egg, petite in size, but suffice for the first appetizer.
Kajiki Tataki
Seared swordfish with special sauce is rather light in taste, but coupled with the special sauce it does brings out the flavor of the Kajiki Tataki, not too fishy and taste fresh. But i do find that the special sauce is slightly on the heavy side.
Salmon/Hamachi Sashimi
Hamachi Sashimi is fresh according to feedbacks from most of our guests. A dip with the wasabi completes the fresh salmon sashimi.
Consomme Soup
Some of you might wonder how come it is consomme soup we are having since initially the menu that i put up states miso soup. After some discussion with Tetsu head chef, Kent, we agreed that it will better to have a clear soup than miso soup since the dishes behind are all quite heavy.
The clear soup with wakame, leak and tamago tastes bland, but it helps to clear our palates and prepared us for the main courses to come.
Yasai Takiawase
Daikon, carrot, pumpkin, snow pea with yuzu flavour sauce makes up the Yasai Takiawase. This appetizer is also a healthy way to start our taste buds working, but some feedback find it ordinary, nothing fantastic.
Sushi roll
The sushi roll with salmon, tuna in double layer within the sushi is actually not on the menu. Complimentary from Tetsu, i also find out about the surprise after i got there. The salmon and tuna meat are mixed together, being a fan of both fishes, the sushi roll works magic for me.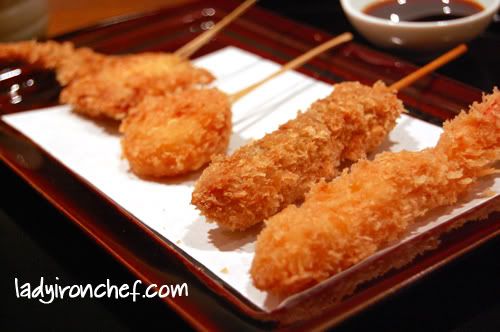 Kushi Age style
Soft Shell Crab, Ebi, Hire Katsu, and Hotate from left to the right respectively. Without a doubt the star of the show, Tetsu is renown for their Kushi style Tonkatsu and Tempura, and it certainly hit home, albeit feedbacks its rather dry, but nonetheless still very good.
On my previous visit, i had my Tempura done in Kushi-Tem which i find its slightly disappointing, and like what i suspected, done in the Kushi-Age style the tempura really shines. Or maybe its just my personal liking, either way you got to try them both to find out.
Kushi-Age: Soft Shell Crab
The soft shell crab is nice, i admit i am lazy to shell crabs so i don't relaly eat crabs often. But hey this is a soft shell crab, done in the Kushi-age, i finish the whole smallish crab.
Kushi-Age: Hotate
The Hotate or scallop is also done in Kushi-Age style, fresh air-flown from Japan.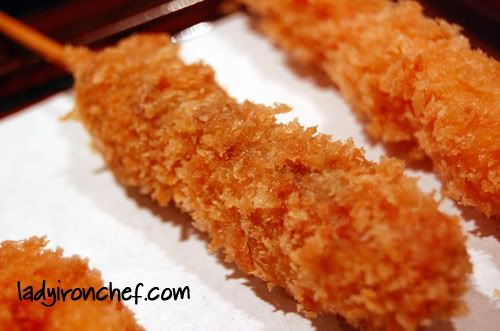 Hire Katsu (fillet katsu)
Like what i mentioned before, there is the choice of either the Rosu Katsu (pork loin) or the Hire Katsu (fillet katsu). Pork loin is fatter than fillet katsu in nature, which makes it more tender than Hire Katsu. But because with more of our guests from the fairer sex, we decided on Hire Katsu which has a leaner cut, if not we will have our girls screaming fats!
Famed for their Katsu, the Kushi-age style (skewered with breaded batter) certainly lives up to expectations. The breaded style of the katsu is really good, the panko crumbs on it is very light which gives it a melt-in-your-mouth feel.
Kushi-Age: Ebi
Actually for LIC, my personal tempura will always be the lovely fried prawns. I really find that the Kushi-age style for the Ebi is much better than the kushi-tem style which i tried before. Kudos! Just that you can't really get enough by eating one ebi, i know prawn isn't as tasty if its too big, but how about a few more ebi? Sounds great right!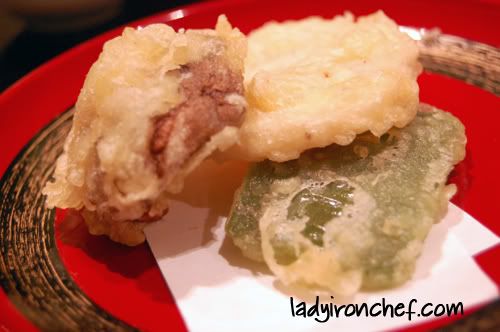 Kushi Tem: Lotus root, mushroom, Green capsicium
The tempura batter had nice texture, but again it wasn't that seasoned enough, so i think the common reaction its quite bland. Nevertheless the batter is very light, not that oily and it didn't leave any oily aftertaste that mediocre tempuras do.
And just to answer some common questions asked, why isn't there tempura sauce to go along? I only manage to ask the chef at the end of the session that he actually meant to want us have the kushi tem together with the udon. My apologies for this mistake.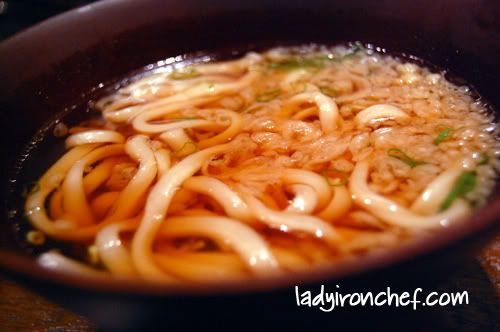 Hot udon
Taste is personal and unique to every each of us, some find this to be really good and finish the whole bowl (you know who you are), while some wondered at the unevenness of the Udon.
Goma Ice cream
We have the goma black sesames ice cream to end off our food outing. Again there's a difference in opinion for the ice cream, but for me even though i do not really fancy black sesame i find it to be acceptable.
Total bill is $1,530 for the 51 of us, with the cost at 30 bucks nett per head. I think the conclusion of the food is more or less the same as what i mentioned in my previous visit, but i think for this menu that we are getting at 30 bucks, its a very reasonable and worthwhile deal, many thanks to Tetsu, Food Junction and Pris for supporting me in organising this event.
There will be more of LIC afterthoughts on this food event, please watch out for the next post!
Tetsu
163 Tanglin Road
#03-18 Tanglin Mall
Tel: 6836 3112
Tetsu Japanese Restaurant is listed as one of ladyironchef's favorite restaurants in Singapore