// Update: Mykii Brasserie Cafe is now closed
Many food lovers always like to go Holland Village as it has always been one of the popular dining spots in Singapore that has so many different restaurants. I recently came to know that Mykii restaurant actually serves brunch on weekends. It wasn't  even on my list of Brunch Places in Singapore when I had compiled it back then.
Breakfast at Mykii Brasserie Cafe is available on weekends from 11.30am – 4pm, and there are three brunch menus to choose from: Hearty Deluxe ($38), Gourmet Chic ($28) and Classique ($28). We had a Hearty Deluxe brunch set which came with a starter of homemade bread & muffin/scone/cupcake, Mykii Brunch platter, a choice of main course, dessert, coffee/tea and fruit juice. I know, that's quite an handful isn't it? In addition to that, we shared another Gourmet Chic brunch set which was essentially about the same as the Hearty Deluxe brunch set – less the main course.
Most of the time, I prefer to order from the ala carte menu, rather than having a brunch buffet. There's no need for so much variety for breakfast, I'm a cereal-eggs-pancakes-desserts kind of guy. I like to keep brunch simple – nothing too heavy.
The scones are sturdy, yet crumby, hard on the outside yet so moist inside, it's the type that I will love to have every morning. On the other hand, the Oreo cupcake was just okay, very sweet and a little too dry. The homemade bread, however was excellent. While waiting for the food to come, we couldn't help but spread the room-temperature butter onto the bread and wolfed down two slices each.
The Eggs Benedict was more than just a pretty face. The magical combination of eggs and bacon always works. While the holladaise sauce wasn't as buttery as I would like it to be, it's just assuring to have Eggs Benedict for breakfast.
Mykii's Brunch platter consisted of French chipolata sausage, grilled fresh tomatoes, streaky bacon with farmhouse eggs. For the eggs, we chose to have the ocean's catch omelette with squids and prawn with a tangy thai-sweet chili mayonnaise. Hearty and satisfying, this is my classic interpretation of a big breakfast.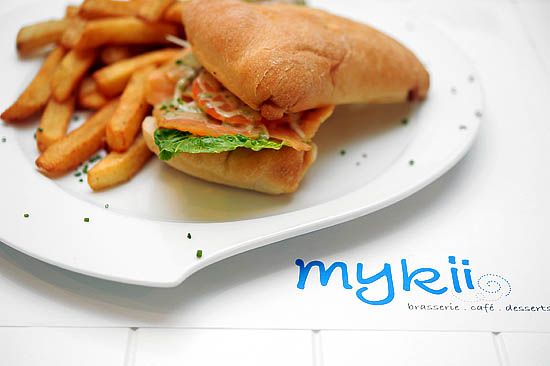 By the time the Iceland Smoked Salmon Sandwich arrived on our table, our stomach was already almost filled to the brim. I had no idea why it was named the Iceland smoked salmon sandwich, but I do know for a fact that the fries that accompanied the sandwich were delicious. It was nicely cut, and had a great potato taste. They were also light and not too salty; we finished every fry without feeling guilty.
If you have been around for some time, you will know that I have always been against the marriage of chocolate and banana. There are plenty of different options like orange chocolate and chocolate mint, but yes, I do not like chocolate banana.
The Chocolate Banana cake here did not change my opinion of the popular dessert, but at least it wasn't that bad. For one, the bulk of the cake was chocolate ganache and only a thin layer was the banana component. I have nothing against banana, but chocolate banana doesn't work for me.
I was elated when the dessert menu had a choice of Sweet Morning Platter, which was petite old English pancakes with pear compote, smoothie shooter, and vanilla bean gelato. When the dessert came, the size of the pancakes caught us by surprise. Again, I blamed myself for not reading the menu carefully, petite old English pancakes.. Yes it's petite, small, tiny or whatever vocabularies you can think of.
Well, it wasn't too bad. It's pancakes, you know – pancakes always taste good. The slightly sourish smoothie shooter provided a good counterbalance to the sweet duo of pear compote and ice cream. Ooh, there's vanilla beans! Perfect. Just the way I wanted to end a good and hearty brunch.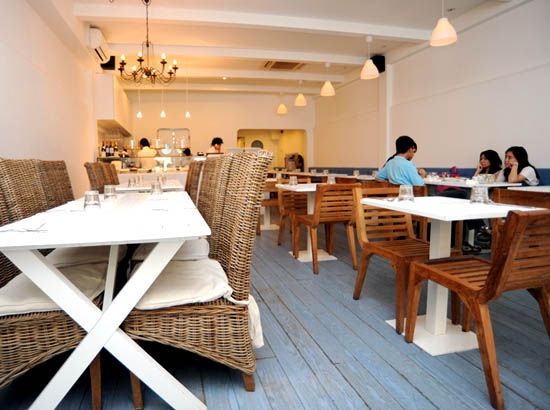 Compared with the other brunch places in Singapore, Mykii probably won't be among my favorites, but that's not because it's not good. The food was pretty decent, not top-notch, but good enough. Their brunch menu really spoils me with so much food, and I'm very sure that my stomach will hold a protest very soon if this goes on.
Actually come to think of it, the beautiful part about breakfast food is the simplicity of it. Having a cup of coffee while reading Sunday Times, beginning breakfast with starter-eggs-mains-desserts, and most importantly, having it with your favorite person – what more can you ask for?
Go and have a good breakfast today! Sundays are meant for brunch.
Restaurant Review
Mykii Brasserie Cafe
17d Lorong Liput
Holland Village
Tel: +65 6468 2838