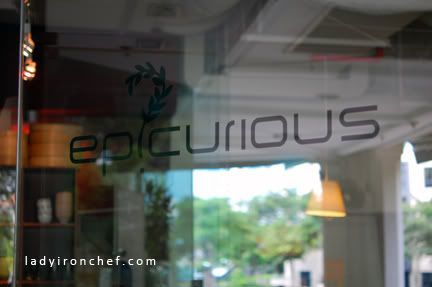 Across the big colourful bridge, it is a path to company, fun, and good food on a Saturday afternoon. Thirty-eight of us, chat, laugh, and eat.There was a lucky draw, giving out some free desserts, tapas, pasta & burgers to the lucky few. And for the rest of you all, I'm glad you will not leave the place empty-hand, with the 1-for-1 vouchers.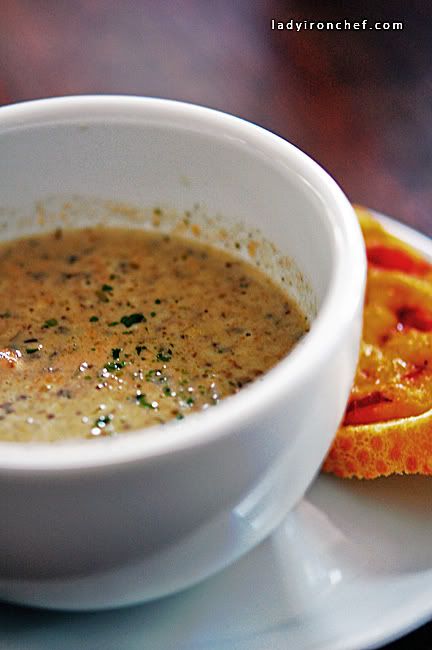 The menu which I discussed with Helena, was to showcase the specialities of Epicurious. Simple, comfort food that you and I can do it at home if not for the fact that half of us are lazy creatures who preferred to eat than cook. Mushroom soup paired with croque Monsieur toast.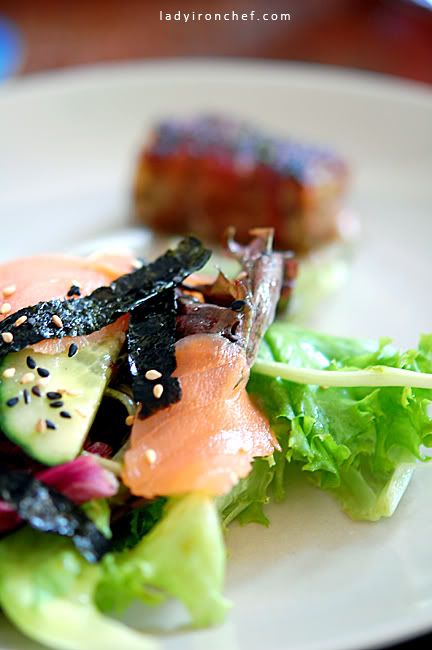 A lightly dressed Asian salad, paired with bacon-wrapped chicken. The latter was a brilliant creation. Taking one bite, I proclaimed it as the bacon Ngo hiang (prawn roll), just that instead of the beancurd skin that we are familiar with, they replaced it with the bacon, and the chicken in place of the prawn.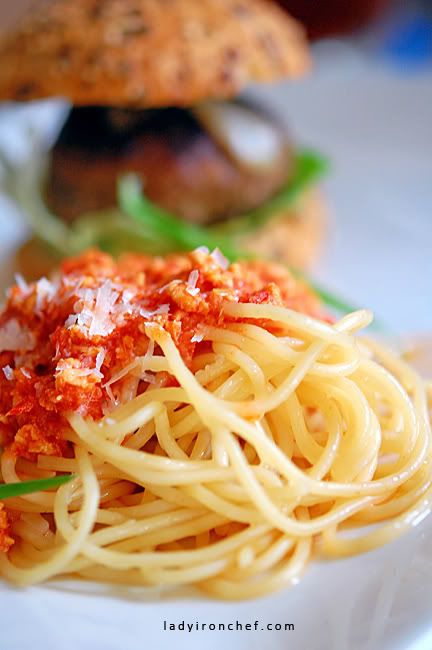 Mini burger paired with spaghetti Vietnamese bolognaise. Instead of the full size Epicurious burger, we did a half-patty-bun so that it will not be too overwhelming given we are having a four course.
And for the non-beef eaters, we specially did this pork patty for them. Oh-oh-oh-oh! The famous Epicurious burger! I'm trying to persuade Helena to have this pork burger on their menu as well! All right, the next time I go back, I'm gonna have my special order for this.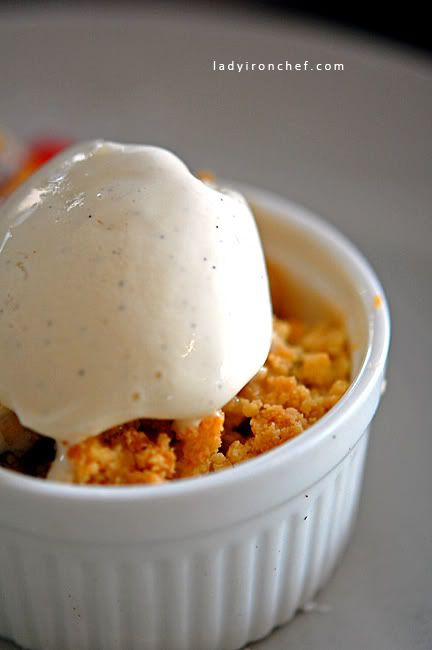 Hello everybody! Can you see the sparking vanilla bean that shines from the surface of the cold, creamy white? Vanilla-bean ice cream! Oh my, the sight of it never failed to excite me! The apple crumble at Epicurious was done on-the-spot, and the combination of chill ice-cream and warm crumble is surely a hit! My dear friend commented it'll be better if there's cinnamon added as well.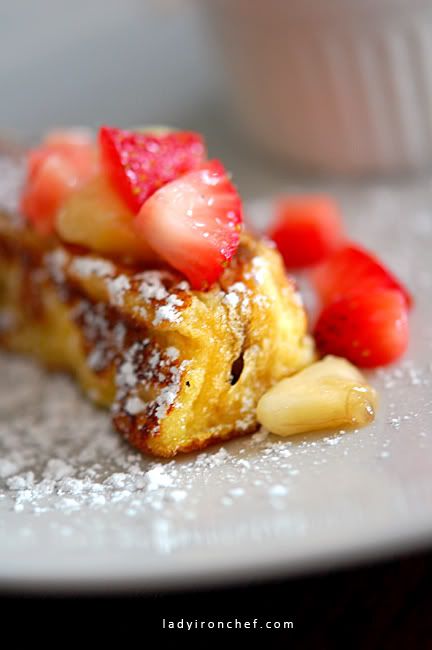 And the pairing of the apple crumble was the simple french toast, given a make-over by the folks at Epicurious.
* * *
I'm glad all of you came for my food outing, and I do hope it was an enjoyable one! This was my first time having a lucky draw for some fun, with Helena sportingly giving out several free vouchers for the lucky few, and everyone-else getting a 1-for-1 vouchers. Burgers, pastas, tapas and desserts. Whee!
I'll like to thank Helena and her crew for hosting us at Epicurious, and see you all next time! I reckon there will be more impromptu small group food outing soon, but I probably just announced it through my Facebook page for those smaller outings, so do check it out!
Read about my previous visits to Epicurious here, and here.
Epicurious
60 Robertson Quay
#01-02 The Quayside
Tel: 6734 7720