ladyironchef's Food Event Outing at Ochacha!
A total of 20 people graced the event, with bloggers, readers of LIC's blog, and their friends joining us for the green tea appreciation at Ochacha.
There was supposed to be more, about 15 more, but they all last minute had something on, anyway 20′s a big number, considering it's LIC first time organising an event.
Dinner was supposed to start at 730pm, but you know Singaporeans tend to come late, so we actually started the ball rolling at 8pm.
Ochacha's boss Miss lee arranged her cafe and gave us half the space, so thankful for that.
The menu is as follow :
Drinks: Matcha Rocks, Azuki Freezie, Ochacha Rocks, Ochacha latte or ochacha silk (3 cold and choice of 1 warm)
Soup: Shiitake Mushroom or tomato soup
Sandwiches: Sakura Egg, Wasabi Tuna, Furikake Salmon
Desserts: Matcha Cotton, Matcha Azuki, Financier, Matcha Panna Cotta
Its $17.50 per person to try the wide range of items in this menu. For all the food i'll be putting the normal price beside it.
Reserved for LIC food event outing!
And apparently our ladies like green tea more than guys, hence the bigger differential in the numbers.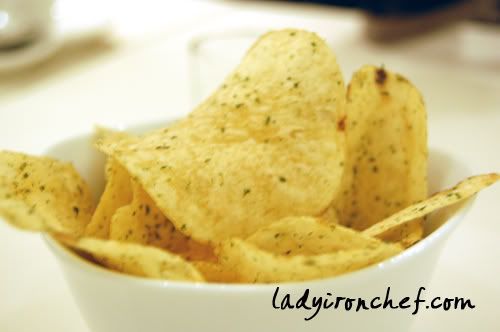 Complimentary chips
The chips were on the house, for our hungry guests before everyone turned up
Salad
The salad was also not included in our original menu. Miss lee thought that it will be better if there are some greens to go along with.
From left to right: Matcha Rocks, Ochacha Rocks, Azuki Freezie
Matcha Rocks ($4.95)
Chilled Matcha with sugar (no milk). I think most people preferred the Matcha Rocks one to Ochacha rocks which has milk
Ochacha Rocks ($4.95)
Chilled Matcha Latte. The Ochacha rocks is the middle one, coming with milk, its a lighter shade of green than the Matcha Rocks
Azuki Freezie ($6.50)
Ice blended matcha with azuki (Jap red beans). I believe the Azuki Freezie won quite a number of fan tonight, it stood out with the matcha taste on ice blend.
Please be reminded that what you are seeing are shooters, not the actual size of the drinks. The prices indicated are for the normal size.
Shiitake Mushroom soup
I think quite a number of people found the shiitake mushroom soup to be a tad too salty for their tastebuds.
Tomato soup
The tomato soup is more on the sweet and soup side. It really depends whether you are a fan of tomato and soup or not. I'm not a soup person though.
Sakura Egg Sandwich ($4.80)
The sakura egg sandwich is still my favourite among the three sandwiches at Ochacha. See here for the picture of the normal size sandwich on my last visit.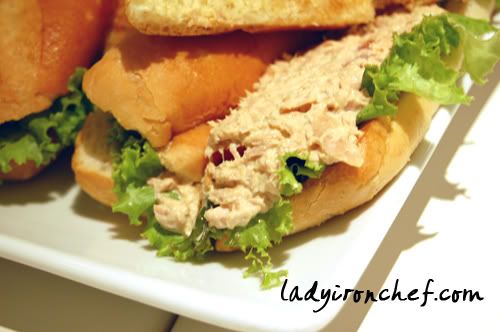 Wasabi Tuna Sandwich ($5,90)
Wasabi (spicy!!) tuna mayo fills up the delicious bread. This is my first time trying this, on the previous visit i had only the egg and the salmon ones.
For the wasabi tuna sandwich, i like tuna, but i don't like wasabi.
Furikake Salmon Sandwich ($5.90)
Smoked salmon with Japanese seaweed. I had the Furikake Salmon sandwich on my previous visit too.
The Japanese seaweed added the salty aspect to flavor the salmon, but i found it to be a tad on the salty side.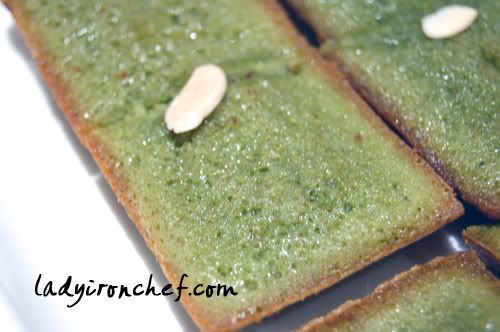 Matcha Financier ($2.90)
French cake named after its shape like gold bar. The Matcha Financier did not disappoint, but then again i could be bias as i'm totally a dessert person.
Matcha Azuki ($4.90)
Layered matcha cake with azuki beans & cream. The Matcha Azuki totally rock my world, the usage of azuki red beans gave the matcha cake a sweet twist.
I had this on my second visit too!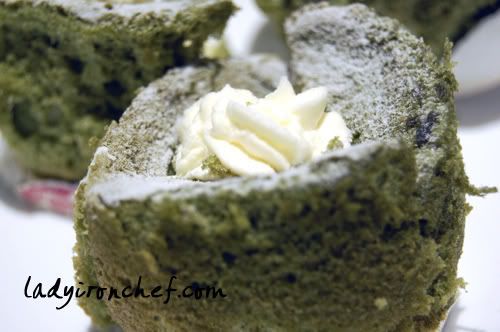 Matcha Cotton ($2.90)
Fluffy Japanese souffle cake with fresh cream in the center. The extremly soft sponge matcha cake simply melts in the mouth!
Matcha Panna Cotta ($4.90)
Italian creamy dessert with matcha flavor. This dessert had mixed reviews, some didn't like it and found it to be too soft for a panna cotta, while others adored it and find the soft texture, coupled with the matcha flavor a delight to have.
Again this shows that taste is subjective, what some might like, others might not like.
Ochacha Latte ($4.80) or Ochacha Silk ($4.80)
Hot matcha latte & soy milk with matcha. We had the choice of either one for our warm green tea.
Total Bill was $350 for 20 people ($17.50 fixed price for each person). For $17.50, i think its definitely a very good price as we got to try out a whole wide range of green tea, sandwiches and desserts.
If you go on your own, i highly doubt that you'll be able to have so many items unless yours are a big group.
I didn't have much tonight, mainly because as the host i need to walk around and entertained my guests, and its really stressful organizing an event. But its all right because i had most of the dishes on my previous visits.
Its a real pleasure for me to organize this event, and i sincerely hope that it's good for all the diners. Do pardon me if any of you guys did not enjoy the dinner. And no refunds please (if any)!
I always believe that food is a very wonderful gift to us, it can bring like-minded people who love food together, people from different ages, background, to come together and enjoyed the good food.
Its an honor to have some of the food bloggers and readers of LIC, their friends, who in turn bring more friends to this event. See you all at the next LIC food outing, it'll be soon : )
OChaCha
252 North Bridge Road
#B1-44F Raffles City
Tel: 6333 5886
PS: Let me know once you guys make write your reviews on this post, will linked everyone here!
Michelle's @ Never Trust a Scrawny Foodie
Sihan @ Befuddlement
Jia ying @ Brownbread girl
Zheng Ning @ The Blue Plate
Styke @ Creations Wing
For those who went, got blog, but haven blog about it
Evan @ bossacafez
Jon @ newfoodie
Hisham @ mhisham
Vicki @ My Sweet Niblets
Claudia @ Claud talk
The rest who went but no blog
Christine, Melissa, Andy, Jane, Estelle, Shu qing, fz, Elisa
Thanks to all for coming, without you guys the event will go on smoothly!