Here's a sneak preview of what to expect for LIC food event @ O Cha Cha next tue!
A friend and I went down to O Cha Cha last week after i got my DSLR, we went to discuss the menu with Ochacha's boss Miss Lee Yin Siau.
From left anticlockwise, is Mr.Ochacha Mondo, on its right is our friend Miss Matcha Panna Cotta, and followed by Ochacha Rocks, and the top is Gyokuro.
Gyokuro uses the same tea leave made into Matcha, just that the whole tea leave is being use for Gyokuro which is evident inside the tea.
Say hello to Ochacha Rocks! He rocks all righty! There's also Matcha Azuki at the left background of the picture!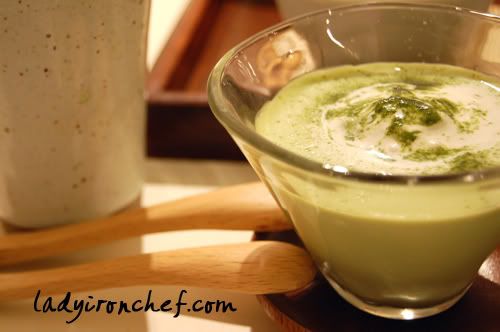 And Miss Matcha Panna Cotta! We will be seeing all of them next tue!
Just in case you do not know what's going on, LIC is proud to organise a food event outing at Ochacha, raffles city basement next tue 13th May.
The Place: OChaCha
The Date: 13th May Tuesday
The Time: 730pm
The Price: $17.50 per person
The Menu:
Drinks: OChaCha Rocks, Azuki Freezzie, Passion Rocks, OChaCha Latte, Chado
Sandwiches: Sakura Egg, Wasabi Tuna, Furikake Salmon
Soups: Shiitake Mushroom
Desserts: Matcha Cotton, Matcha Azuki, Financier, Matcha Panna Cotta
All the cold drinks will be served in the shooters while the hot latte in individual cups.
Attendance:
1. LadyIronChef
2. Claudia
3. Jiaying
4. Sok Peng (2)
6. Qiu Gui
7. Caleb
8. Hisham (2)
10. Elisa
11. Christine
12. Peter Tan (2)
14. Jasmin (2)
16. Zheng Ni
17. Vicki (3)
20. Andy
21. Michelle (2)
23. Estelle (2)
25. Jon (2)
27. Anonymous (2)
Currently a total of 28 people have signed up for the event, the maximum capacity is 30, so RVSP now! Drop me a sms at 9623 2581 to confirm your place or should you have any enquiries. All are welcome, and feel free to bring along your friends too!
See you all at Ochacha next tue!