The idea was to eat, eat, and eat, but plan b, or rather the lack of a proper plan, meant that we start at Plan B. We started off easy, but it was surely one of the best burgers that I've.
It took everything that I got to resist ordering another burger for myself, and missed out on all the stuff that was about to come – and so three hungry dude shared one burger.
Plan B by Becasse is famous for their wagyu beef burger, and at just ten bucks, you must try this burger! What is wagyu, anyway? When even the MacDonalds in Sydney sell Angus beef burgers, you probably think it's not a big deal.
But the real wagyu burger, comes in the form of a thick beef patty, everything was kept simple; there's no exotic ingredients like foie gras, nor were there redundant sauce – it was so good that you could feel the sauce gushing out! Interesting, beetroot was used, and it provided the contrast from the other burgers.
Plan B, 204 Clarance sheet, have you taken down the address?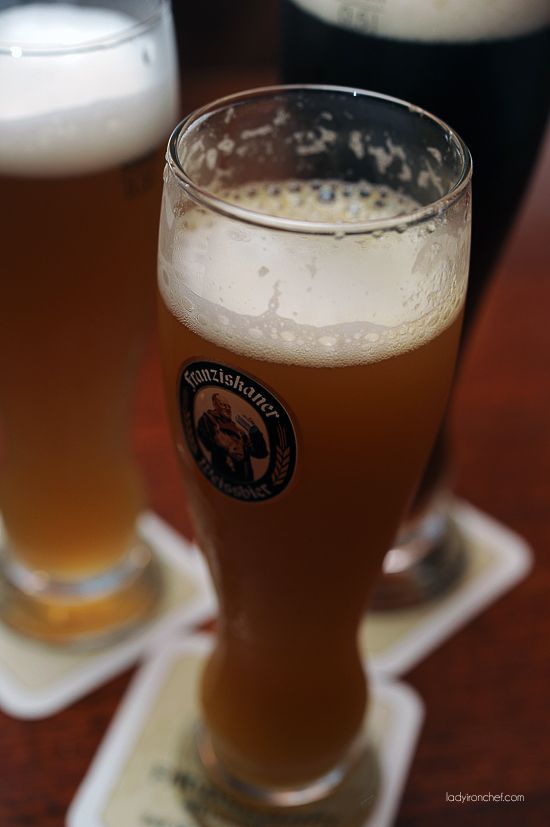 It will be disappointing if one did not step into any pub/bar when in Australia. The folks here simply love (read: adore, head over heels, cannot do without) drinking. Be it a glass of the fine wines from the vineyard, or a pin of beer straight from the brewery, say cheers! There's a strong drinking culture here; it's not surprising to see people drinking during lunch time, or 3pm in the afternoon.
I was glad when Richard proposed that we make a trip to his favorite pub, Bavarian Bier Cafe for some beer to chill down the hot afternoon heat. Since I always have a sweet tooth, I went for the Mango, which had a smell consistency of the fruit. The taste however, did not have such a strong mango flavor.
No one in their right mind will pass on the chance to have German Sausages, and so we ordered a platter to share. There was a krunching sound when I bite the cracking roast pork, as with the German food that I visualize, it was hearty, tasty and definitely not enough.
'Deep-fried sushi?'
Richard casually asked if we are keen to try it out, but I could sense the excitement in his seemingly-subtle-tone.
'I don't know, I'm not so sure.. about this'
And the next thing I know, we were standing in front of Kana Express kiosk. This is one place where most people wouldn't have heard of, much less try the snacks here; an oblivious kiosk by the corner of a back alley.
The sushi was done Korean-style, and there's other popular Korean snacks like spicy rice-cake, but our focus was on these two words: Deep-fried, & sushi.
As the guest, or so they said, I was entitled to the first bite. It was edible. I think one's enjoyment of this sushi comes from the revelation of deep fried to the mind. On it's own, the sushi tasted very tame, but the addition of the fiery hot chili sauce enhanced the flavor greatly.
I love summer. I really do.
Summer, is the perfect excuse for us to indulge with ice cream, and more ice cream. We dropped by Passionflower, a dessert cafe which exotic ice cream flavors. The choice of vanilla hazelnut & burnt caramel was made by me, the former was evidently the favorite, and I liked the nutty taste in the vanilla ice cream, while the latter had a strong burnt caramel taste.
Summer, is not summer, without ice cream.
I stole a glance at Krispy Kreme when we walked by the shop, and was immediately dragged in and convinced to have one (just one) of the original donut. This should be the definition of how a good donut taste like: glazed with a layer of sugar, yet not to the point of being cloyingly-sweet, there wasn't any hint of oilyness that a poor donut will have. One, simply isn't enough.
Our original plan was to have tonkatsu at a nearby Japanese restaurant, but it was closed by the time we got there, so we went to Harry's instead. I'm sure, any reputable guidebook will list the pies & hotdog at Harry's Cafe de Wheels as one of the must-try in Sydney. Tiger pie is particularly famous, but to be honest, I'm not very certain of it. Mashy and meaty, maybe it's just me, but I didn't really enjoy it.
On the other hand, we thoroughly enjoyed the hotdog, it was a shame that we only had one to share. I'd imagine one to hold the big sausage with both hands, and put the whole thing into the mouth!
While on the way to Max Brenner, we passed by Le Patissier and decided to stop here for some sweets instead. For a small place, they have quite an array of desserts to choose from. I wanted to try vanilla pastry cake but it wasn't available that day, so we had the Lemon Ganache. The sourish lemon ganache provided a good counterbalance to the sweet chocolate layers, but the whole cake was too dry, and I'm not a big fan of kirsch that's also present in the cake.
When the fork first sank into the Creme Brulee, we already came to the conclusion that it failed. And unsurprisingly, the surface of the dessert was not caramelized properly; it was either a leftover, or they had torched and caramelized too early. However, the custard underneath was actually quite decent, and there's even vanilla beans used.
* * *
Just in case you are wondering again, yes, we ate all of these in one afternoon.
Plan B by Becasse
204 Clarence Street, Sydney 2000
Tel: 9283 3450
Bavarian Bier Cafe
24 York Street, Sydney, NSW 2000
Tel: 02 8297 4111
Kana Express kiosk
Corner of Central Street
Passionflower
580 George Street
Sydney NSW 2000
Krispy Kreme
Queen Victoria Building
429 – 481 George Street,
Shop 95 – 97 Lower Ground Floor,
Sydney, NSW 2000
Harry's Cafe De Wheel
Haymarket, NSW 2000
Next to Paddy Maguires Pub
Tel: (02) 9281 6292
Le Patissier
50 Clarence Street
Sydney NSW 2000
Tel: (02) 9299 0015