My adventure in Australia is drawing to a close, but I will like to share one final post with you: Adriano Zumbo. This is the patisserie that has caught Sydney by storm, this is the bakery that has created many lovely creations each season – this is the place in Sydney that I wanted to go the most.
Cakes arrived at our small round table, plated nicely. I've no idea exactly how the name Google it, Real life ($7.9) came about. But I do know for a fact that it is banana passion-fruit creme tart, and it is not just a pretty face. The diguise of almond croquante within the midst of the creme was clever; it added a crunchy dimension and provided a slightly salty aftertaste to the tart.
First and foremost: banana passion-fruit creme, a pretty orange-yellow layer on top of the crispy tart, beautifully dressed by the presence of the fresh berries. Banana and passion-fruit provided a good balance with each other, on it's own, passion-fruit taste slightly sourish, but the banana is like the key to the lock, just like how chocolate always works with hazelnut.
The fine balance meant that neither fruits were overbearing, and in this case, it was rather surprising that both the banana and passion-fruit maintained a subtle, yet distinct flavor.
Your frund in the frudge.. toasted ($7.90), turns out to be a quirky interpretation of sandwich with tomato and cheese, in the body of a cake. I've ordered it solely based on the crispy puff pastry; the toast mousse had one of the weirdest taste I ever came across, flanked with the addition of the tomato jelly and the melted cheese creameaux, with hints of black pepper; I'd give it full marks for the creative idea, but it was too much for me.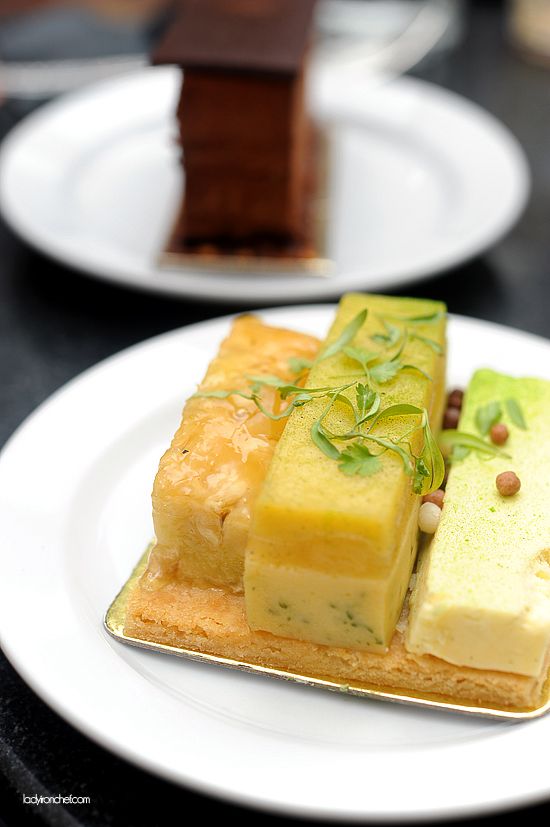 Most of the creations have cheeky and whimsical names, and the 5, 6, 7, 8 ($8) is no exception. The flavors practically exploded on my tongue, each portion was trying to out-do the other; the lemongrass pandan & vanilla creame legere was by far my favourite among the three components of the cake.
You can discover the robust lemongrass taste among the smoothing and fragrance pandan; to the right of it there's a case of identity crisis with the pineapple palm sugar sous vide – Adriano did something to it, but I've totally no idea whatever that is.
Coriander creamaux completes the trio with a peanut stable base the the bottom. 5, 6, 7, 8 is a highly complex creation, it looks good with the three complimenting colors, and there's an intense mixture of different taste and texture involve – you'd either love it, or get lost trying to follow each and every unique flavor.
I'm glad we left the Not too S-h-a-b-b-y ($7.9) for the last, it was again, a combination of many different individual flavor, blend in to make one wholesome cake. There was flourless biscuit, muscavado creme brulee plantation chocolate mousse, and chocolate malt creme legere; all of which did not make sense to me. Tasting the stuff, one struggles for words, memories came flashing back and I felt like a kid again; I remember the first time I tried nutella, the first time I put foie gras into my mouth – I know my life will never be the same again.
It took every bit of discipline I had not to moan and giggle and rave after my first bite. I'm in love with this cake, so in love, she's the reason for my very existence.
I'm really happy that I went to Adriano Zumbo patisserie before I left, his bold yet unique creations are indeed worth the effort to travel all the way there, I think Adriano Zumbo really deserves the accolade he has earned so far.
The fact that the patisserie is out of town in Balmain, yet managed to garner so much support, tells you everything about the desserts. Adriano Zumbo – he's a genius! Thank you Richard & Simon for bringing me here!
* * *
This is the last post of my Twelve days in Sydney. It is not exaggerating to say that I planned the itinerary based on food, and all these will not be possible without the awesome food blogs in Sydney. I had the pleasure of meeting 50 Sydney food bloggers at a Christmas party while I was there; Helen & Lorraine are practically food bibles of Sydney, and I thoroughly enjoyed reading Billy's, Howard & crew and many other great food blogs that is impossible for me to list all of them here.
I'm not sure when I will be back again, but there's something I'm certain of: Sydney is a great city, with real friendly folks, and good food. See you there!
Adriano Zumbo Patisserie
296 Darling St
Balmain, Sydney