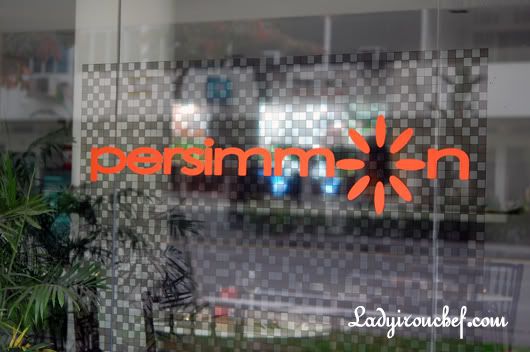 * * * Now closed * * *
My fourth, her third, another's second, and many others first. Our common love for food. That's how it all began. At the heart of East-Meet-West. Persimmon.
Kopitiam, the symbolic of our local heartlands. The place where everybody grew up sipping their milo & coffee, where everybody settled their three meals when their mother was on strike, and the gateway to many delicious heritage hawker food.
Persimmon is quintessentially a swanky and upmarket kopitiam, retaining the traditional feel by using the classic kopitiam furnitures and floor tiles. The furnishings were a combination between comtemporary and rustic. And not to mention her location is right in the middle of Tiong Bahru, with the shophouses and kopitiam lining side by side.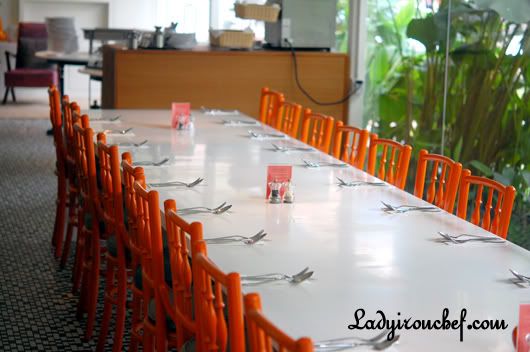 Choices of desserts pick from a la carte buffet. Bread pudding, carrot cake, mango pudding, panna cotta, chocolate mousse. For the discerning us, perhaps only the carrot cake made the cut.
The kong ba bao (stewed pork belly) was way off my radar. The bun was hard and dry, the meat was not fatty enough, and lacked the delicious gravy. And oh ya, it wasn't part of our menu, but was under the a la carte buffet offered.
Inspired by NoSignBoard white pepper crab, Persimmon white pepper Crabcake is all about that. Enjoyed the white pepper "crab", no doubt in the form of crabcake, without any hassle. Under the sunny weather, the crab was toned prefectly brown, with a crisp-cross shell, and savoury meat within. Adiós
The crown of Persimmon. Hainanese Chicken Salad. Featured in almost all the media publications, there isn't any excuse for you to miss this dish. The concept is simple, Singaporeans loved their chicken rice, but dreaded the calories. So what do you do? Remove the rice, throw in some greens, and voila! Singapore's very own Hainanese chicken salad. Poach chicken, fresh local herbs & mesclun greens, rise crisps, and special dressing.

Tomato base pasta? Boring! How about our rich cream base instead? I hate cream! Right, why not try our Linguine laksa leaf Pesto? Specially created for your exquisite taste buds, the laksa infused linguine will definitely blow you away with its unique taste. Think laksa, but swop the thick rice noodles with pasta. Some felt that the laksa leaf was too heavy and overwhelm the whole dish. On the other hand, i thought the pasta was perfectly fine. Innovative with a big I.
Mixed blonds (fusion) are interesting in some ways, and the 8 treasures certainly roused my curiosity. Three mushrooms, two nuts, chinese sausage, parmesan cheese and risotto. What happens when Italian Risotto combine with the 8 treasures? You get the 8 treasure Risotto! The intial impression was Glutinous rice, but it was way better. I need to be honest, i couldn't taste all of you. But in the end, it doesn't really matter, you are all mine!
Staying true with the principle of fusion food, we have the European-style steak meeting heads on with our Asian carrot cake. The grilled ribeye with "chye tao kueh" carrot cake is bound to make your eyes popped out. The carrot cake was fried with XO and balsamic, with the latter providing a sour taste. A vast contrast with the steak. Not everyone could accepted sour carrot cake with steak though. Aspiring combination, but somehow failed to sizzle with the seemingly weird taste.
Eaten alone, the Slow poached salmon with zuchinni ribbons didn't come as tender as we thought it will. But dipped in the green curry sauce, the fish went through a make-over in the taste department. There was cucumbers used in the green curry, which caught my attention. Like what one of our fellow friend say, when you don't understand, just say "fusion!"
Our humble Otak is given a upmarket transformation by going créme brulée. With richly flavoured spicy kaffir lime & coconut used as the main ingredients, there was fish mousse hidden beneath the otak. The otak creme brulee is a very creative fusion dish indeed, but the experiement could perhaps be better. Some of us found the otak to be too watery, and maybe it's meant to be this way. But is créme brulée ever so soggy?
There was a slight tweak to the menu compared to the one i previously shown. And the cost per person was 20 dollar nett, which everybody agreed was a reasonable price given we managed to try a variety of food. I hope everybody enjoyed their meal, and see you all at the next LIC food outing! We had 27 people for this outing, which was quite a healthy figure.
Well, like what some of you mentioned, it was a case of hits and misses, fusion food is pretty much an experiment between the Asian and Western cuisines, and it was certainly interesting to try some food which we'll never get to try elsewhere.
And not to forget, LIC outing is all about the fun, joy and laughter during the event, and getting to know more friends. I'll also like to take the opportunity to thank Helena and Sharon, the co-owners of Persimmon for having us there.
Do add me on facebook, if you missed the links earlier.
Read Jaime-la-nourriture chinese post on the outing here
For those who missed this Persimmon outing, you can get the best discounts when you mentioned ladyironchef while you are at Persimmon. So do go down and give the fusion food a try.