Bistro One Zero Three sounds quite interesting right? Being the inquisitive me, i was naturally attracted to the name, and hence the visit to the place. Located at Pasir Panjang, its not a place where you'll imagine a restaurant like Bistro One Zero Three will be situated. Nevertheless, the 'ulu' place makes it fun to go to, as though like we are on a food-hunting trait.
Initially we thought it was near the Haw Par Villa area, so we started looking for it there, but then how wrong we were, Bistro One Zero Three is at the other end of Pasir Panjang Road, quite near to PSA Building. If you are going there by train, i suggest stopping at HarbourFront and take a bus there, its only a couple of bus-stops away from HarbourFront.
The cosy 52 seater bistro is into its tenth-month, and started by the owner Eric, together with his sister and his sister-in-law as the chef. Stepping into Bistro One Zero Three, we felt totally at home, the homely-wood furniture plays a part, but it is the friendly service of the owners who welcomed us enthusiastically, and serving us ice-water while we were going through the menu, that impressed us.
The Menu comprises of sandwiches, gourmet salads, some sides, spaghetti and the mains. They are actually in the midst of introducing more items to the menu, but meanwhile, this are the options available.
Besides dining, Bistro One Zero Three also provides services for birthday-party events, company functions. The previous night they just had a event where guests let their hairs down and party till late night at the bistro. The bistro is a draw for the working crowd during weekdays, and on fridays & saturdays there are people like you and me who specially visit the place.
Well, i like the early-bird feeling, when we got there for a early lunch, we had the whole place to ourselves, totally like what i experienced in Sweet Indulgence! Being hungry people, we went through the menu and didn't have much problem ordering the food. My dining companion being a Salmon-lover, naturally she'll order Pan-fried Salmon. My two other mates had Cajun chicken wrap and Salmon & crab meat spaghetti, while i had the bacon, ham, mushroom spaghetti.
Salmon & Crab Meat Spaghetti ($14.50)
We began our meal at Bistro One Zero Three with the Salmon & Crab meat Spaghetti. With two generous piece of salmon on the tomato-based spaghetti, it got our salivary gland working even before we started eating! While slurping down the pasta, we can also taste the crab meat which goes quite well together.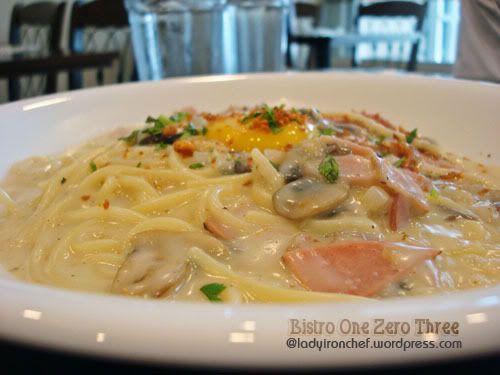 Bacon, Ham & Mushroom Spaghetti ($13.50)
There are tomato, carbonara style and aglio olio options to choose from, I chose carbonara style since the other spaghetti is tomato-based. The carbonara Bacon, Mushroom Spaghetti here at Bistro One Zero Three is slightly different from the usual one you'll find in other restaurants.
Usually the egg in carbonara style will be mixed together and cook with the heat of the pasta itself, but in this case, the chef put on his thinking cap and played with his creativity by leaving the egg yolk on top of the pasta. This is a pleasant surprise for us knowing the chef actually put in his heart & soul into making something different from the norm.
Well, i'll preferred the salmon spaghetti to this one, not that this is not good, but after trying both pasta, we come to a consensus that the tomato-based spaghetti here taste better!
Pan-fried Salmon ($16.50)
With Balsamic glaze & acompanied with seasonal vegetables, the Pan-fried salmon is a must-have for all the salmon-lovers out there. Balsamic dressing is a traditional flavoured vinegar commonly used in Italian cuisine, the Balsamic glaze here added a slight twist of Italiano to the salmon.
Cajun Chicken Wrap ($15.90)
Tomato herb Tortilla & Mesclun mix are found inside the Cajun Chicken Wrap. The chicken wrap does give me an oddly feeling of 'popiah'. The two Cajun chicken wrap serving is rather small, and definitely not enough to serve a grown-up (well depending on the appetite also). My mate wasn't full after he finished it.
Warm Brownie w/ French Vanilla ice cream ($5)
Who can resist the temptation of desserts after a meal? Not me, there is always room in my stomach for them! For the record, i love my desserts more than my main.
The warm brownie together with a scoop of the cold ice cream seems to match nicely together. The brownie is not too sweet also.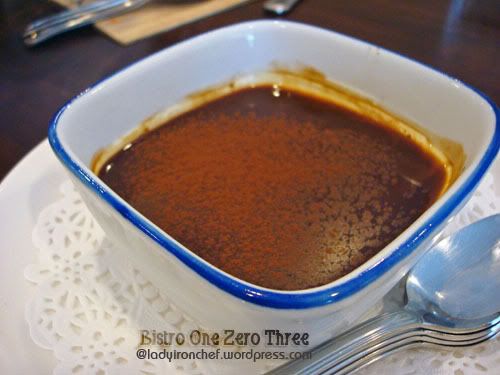 Panna cotta with Mocha ($5)
One thing about Bistro One Zero Three is that they currently have limited desserts selection, only two! So we ordered both the brownie and this one to share. The owners are looking for new additions to the desserts section, so we had to make do with this two for now.
At first glance, we thought that the dessert was a soup, but on second note, it was not! Panna Cotta is actually an Italian Dessert made by simmering together cream, milk and sugar, mixing this with gelatin, and letting it cool until set.
Panna Cotta is usually eaten plained or sweetened with vanilla, chocolate or fruits. But the one we had at Bistro One Zero Three gave a different twist by adding Mocha to flavour the dessert.
Total bill for 4 person (4 mains & 2 desserts) adds up to $82.86 (including GST & service charge). Overall the experience at Bistro One Zero Three is a positive one, and its a good place to chill out & dine with your friends. The place isn't really inaccessible if you know where it is, just a few bus-stops away from Harbourfront. And the cozy environment and friendly service from the boss definitely makes it a plus for a revisit, but they need to work on their desserts selections if they are to satisfy my desserts-demand.
Bistro One Zero Three
103 Pasir Panjang 118531
Tel: 6476 6373
" Who say guys don't like their desserts? I do! "