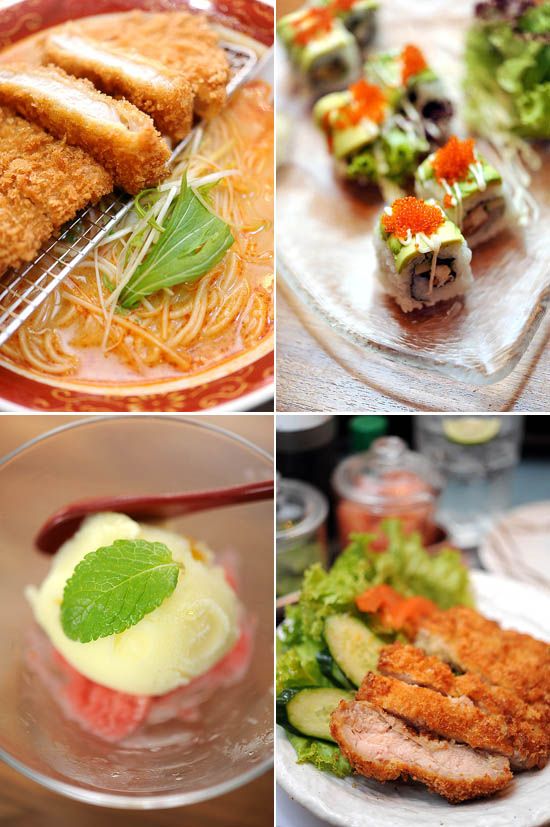 If there's one thing that Singaporeans love other than buffet, it's definitely Japanese food.
Here's a list of the best Japanese restaurants in Singapore. I hope it will come in handy when you are looking for a place to eat.
Hello Sushi, Sashimi and tonkatsu!
---
---
Akanoya specialises in robatayaki. For the uninitiated, robatayaki is a technique in Japanese cuisine; customers sit around an open counter where fresh ingredients are displayed, and they can just point to order. The chefs will then grill the ingredients like seafood, meat, and vegetables over charcoal, and serve it to the customers using a long wooden paddle.
1 Tanglin Road
#01-01 Orchard Parade Hotel
Tel: +65 6732 1866
---
---
Even though the Nazi chef has left, Chikuwa Tei is still a place where I will go back again when I am craving for Japanese food. The offerings are generally good, and the prices for the bento set and ala carte menu are very reasonable.
9 Mohamed Sultan Road #01-01
Tel: +65 6738 9395
---
---
I will cut to the chase and tell you to go En Japanese Dining Bar at River Valley for their 50% promotion off Sushi and Sashimi from 6pm – 8pm daily.
Do note that the food promotion of 50% discount off Sushi & Sashimi is only available at their Mohamed Sultan branch (River Valley road). For those who cannot make it for the early bird discount from 6pm to 8pm, you can go there for supper as the Mohamaed Sultan branch opens till late night 3am on Friday and Saturday.
207 River Valley Road
#01-57 UE Square Singapore
Tel: +65 6735 2212
---
---
Nestled in the quiet Triple One Somerset, Fukuichi Japanese Dining serves decent Japanese food at pocket-friendly prices. If I am meeting my friends in Orchard Road, I will definitely go to Fukuichi, it is my newest go-to place when craving for Japanese food.
111 Somerset Road
TripleOne Somerset
Tel: +65 6271 5586
Daily: 11.30am – 3pm, 5.30pm – 12am
---
---
HAN Restaurant at Odeon Towers is a kushikatsu speciality restaurant that serves Japanese skewers kaiseki-style. During lunch, they have a lunch set of seven sticks for $75, while omakase at dinner starts from $120.
I know you cannot really go wrong with deep-fried stuff, but trust me, the offerings at HAN restaurant are not your typical greasy and sinful food. How should I put it? Every stick that we had was fresh, flavourful, and most importantly, not oily to the extent that you will feel sick after eating it. In fact, we still wanted more after we had seven to eight sticks.
A meal at HAN Restaurant is not cheap, but if you like Japanese food (deep-fried stuff in particular) and want something different from the usual kaiseki restaurants, here's the place to go.
331 North Bridge Road
#01-04 Odeon Towers
Tel: +65 6336 2466
Daily: 12pm – 3pm, 6pm – 11pm
---
---
At Hide Yamamoto, diners can enjoy four different menus – namely: sushi, robatayaki, ramen and teppanyaki. The Japanese Restaurant is located on the second floor of the Marina Bay Sands Hotel and Casino, and it is the brainchild of renowned Chef Hide Yamaamoto.
There's only one word to describe our meal, and overall experience at Hide Yamamoto: exquisite. While prices are steep, I'd recommend Hide Yamamoto restaurant at Marina Bay Sands if you like teppanyaki.
8 Bayfront Avenue
02-05 Casino Side Level 2, Marina Bay Sands
Tel: +65 6688 7098
Daily: 12.00 – 15.00
Mon to Wed: 18.00 – 23.00
Thu to Sun: 18.00 – 03.00
---
---
It is a good place to bring your clients for a business luncheon if you are working in the area. At night, it is perfect as a place for a quiet dinner. If you don't want to splurge, go for the bentos – they are slightly more affordable, prices range from $32 to $38.
22 Cross Street
#01-50/53 China Square Central
South Bridge Court
Tel: +65 6536 7746
---
IKOI Japanese Restaurant – Japanese Buffet
---
401 Havelock Road #01-01
Hotel Miramar Singapore
Tel: +65 6887 3788
// Japanese ala carte buffet
Weekday Japanese ala carte Buffet $33++
Weekend Japanese ala carte Buffet $33++
* Reservations highly recommended
---
---
For me, there is no doubt that Ippudo at Mandarin Gallery is one of the best ramen restaurants in Singapore. The question is, are you willing to queue up for it?
333A Orchard Road
#04-02/03/04 Mandarin Gallery
Tel: +65 6235 2797
---
---
Izakaya Nijumaru is a great hidden gem with good Japanese food at very affordable prices. If you are meeting your friends in town and trying to decide what to eat in Orchard, you may want to drop by Izakaya Nijumaru at Cuppage Plaza for a drink and some Japanese food.
5 Koek Road #02-10
Cuppage Plaza Singapore
Tel: +65 6235 6693
---
Gyu-Kaku Japanese BBQ Restaurant
---
With so many restaurants lined along the two sides of Lorong Mambong, it's easy to miss out Gyu-Kaku Japanese BBQ restaurant if you are new to Holland Village. How many times have I walked past it when I was in the area? Plenty. I can't believe that it took me until now to try the Japanese restaurant, but boy am I glad that I finally went there for dinner recently.
Gyu Kaku Japanese BBQ restaurant is not cheap. But it serves good quality meat, and I like the fact that you won't smell like BBQ after a meal. I will definitely come back when I am craving for wagyu beef.
29 Lorong Mambong
Holland Village
Tel: +65 6466 4001
---
---
Hill Top Japanese Restaurant has been around for many years and it has always been known as one of the famous teppanyaki restaurants in Singapore. Take a drive west and enjoy a scrumptious teppanyaki feast.
2 Jurong Hill
Jurong Bird Park
Tel: +65 6266 3522
Daily: 11.30am – 11.30pm
---
---
While I am not a fan of Keisuke Tokyo, it is one of the more popular ramen places in Singapore, so if you haven't been there before, do drop by for a visit when you are in the area.
9 Raffles Boulevard
#P3-02 Parco Marina Bay Millenia Walk
Tel: +65 6337 7919
---
---
My friends are probably hatching a plot to murder me as I type this, but I'm going to risk it and tell you guys anyway — Koh Grill & Sushi, a small Japanese eatery in Wisma Atria Food Republic, is an amazing place for good Japanese Food at very reasonable prices.
435 Orchard Road #04-21
Wisma Atria Singapore
Tel: +65 9180 3805
---
---
If you are looking for Robatayaki, Mikuni Japanese Restaurant at Fairmont is another place to check out. Rest assured that you are in the good hands of the chefs there. Just sit back and enjoy a wonderful meal.
80 Bras Basah Road
Level 3 Fairmont Singapore
Tel: +65 6431 6156
---
---
Ootoya at Orchard Central has good Japanese food at decent prices, but I'm not sure if I'll be coming back. Don't get me wrong, it has nothing to do with the service, or food, or prices – I'm just too lazy to queue up.
181 Orchard Road #08-12
Orchard Central Singapore
Tel: +65 6884 8901
---
---
Ramen Santouka is one of my favourite ramen places in Singapore. Go there during off-peak timings, if not be prepared to queue up for half an hour.
6 Eu Tong Sen Street #02-76
The Central Singapore
Tel: +65 6224 0668
---
---
There are many Japanese restaurants in town, but to find one that has good Japanese food at reasonable prices? That's no mean feat. So imagine my happiness when I chanced upon Rakuzen Japanese Restaurant at Millenia Walk.
The food at Rakuzen is of a good standard, and coupled with the fact that it is wallet-friendly, I would certainly go back when I want Japanese food.
9 Raffles Boulevard
#01-14/19 Millenia Walk
Tel: +65 6333 1171
---
---
Satsuma Shochu Dining Bar is a Shochu speciality izakaya at The Gallery Hotel that is known for serving yummy charcoal-grill skewers.
If you are searching for a great after work spot for food and drinks with friends, check out Satsuma at Robertson Quay. It is certainly a place I can see myself frequently whenever I feel like having Japanese food.
1 Nanson Road
#01-10/#02-10 The Gallery Hotel
Tel: +65 6235 3565
---
---
Saboten is definitely one of the better tonkatsu restaurants in Singapore, but it is not my favourite. I still prefer other places like Tampopo, Tonkichi, and Tonkatsu by Ma Maison.
Having said that, I can see myself coming back as the food is generally good, and reasonably-priced.
80 Airport Boulevard
#031-004 Departure Check-in Hall Level 3
Changi Airport Terminal 1
Tel: +65 6214 9504
---
Senki Japanese Buffet Restaurant
---
The Japanese Buffet at Senki Japanese Restaurant is $30++ for lunch, and $33++ for dinner. Prices are the same for weekday and weekend. For eve/public holidays, it is $39++ for the buffet dinner.
109 Killiney Road
Tel: +65 6734 5565
---
Shin Kushiya Japanese Chargoal Grill
---
Most of the items on Shin Kushiya's menu are reasonably priced, and the Japanese food is competent. I can definitely see myself coming back if I'm having dinner in Vivocity.
1 Harbourfront Walk
#02-120-122 VivoCity Singapore
Tel: +65 6275 8766
---
---
If you are like me, always craving for Japanese food, you need to make a trip down to Shunjuu Izakaya – a restaurant that is known for its sumiyaki (Japanese charcoal grill).
It is easy to walk past Shunjuu Izakaya, located along in Robertson Quay, an area packed with good restaurants and eateries. But once you have been there, chances are, you will be a regular.
30 Robertson Quay
#01-15 Riverside View, Singapore
Tel: +65 6887 3577
Sun to Thu: 12pm – 2.30pm, 6pm – 10.30pm
Fri & Sat: 12pm – 2.30pm, 6pm – 11pm
---
---
Standing Sushi Bar has established a good reputation for good quality Japanese cuisine since opening back in 2009. The quirky concept of standing-in-a-sushi-bar has also helped boost their popularity in the Singapore Food Scene.
The outlet at 8Q at SAM on Queen Street is a place where you can dine in peace and have good Japanese food.
8 Queen Street #01-03 Singapore
Tel: +65 6333 1335
---
---
Sugisawa Japanese Restaurant at Robertson Quay has very good value for money bento sets. Like other Japanese restaurants, the bento set is inclusive of rice and miso soup. But what makes Sugisawa different from the rest is that the portions are really generous and they even come with sashimi.
30 Robertson Quay
#01-16 Riverside View
Tel: +65 6235 0212
---
---
One of my favourite Japanese Restaurants in Singapore, Tampopo at Liang Court serves good and reliable food. I will go so far as to say that they have one of the best Tonkatsu in Singapore. It is something that I would go back every week just to have it.
177 River Valley Road
#01-23/24 Liang Court Shopping Centre
Tel: +65 6338 3186
---
---
Tonkichi is no stranger to Tonkatsu lovers. It is one of the most popular Tonkatsu Restaurants in Singapore. It has a menu that focuses on sinful but oh-so-good deep-fried food. Most people would probably go for the signature Kurobuta Kata Rosu Set ($32.9), Rosu Katsu Set ($22.9) or Hire Katsu Set ($20.9). For seafood lovers, they have options like the Mixed Seafood Katsu Set ($25.9), and Oyster with Rosu Katsu Set ($26.9).
181 Orchard Road
#07-06 Orchard Central
Tel: +65 6238 7976
---
---
Watami Singapore Japanese Restaurant is the place to go if you want a casual and affordable Japanese dinner in town.
2 Orchard Turn
#B3-23 ION Orchard
Tel: +65 6509 9366
---
---
After having lunch at Yayoiken Japanese Restaurant, I'll go so far as to say that my hunt for a place that serves inexpensive and good Japanese food has ended with this casual restaurant located at the basement of Liang Court.
Meidi-ya Supermarket
177 River Valley Road
#B1-50 Liang Court Shopping Centre