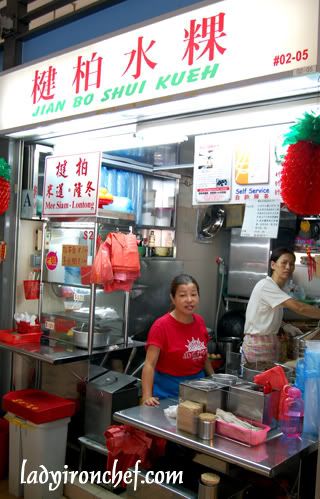 Food are always associated with places, like when you think of Laksa, Katong laksa instantly comes into mind. And there are also instances when you passed by a particular place, say Maxwell food centre, i dare say people will remember Tian Tian chicken rice as one of the stalls to go to.
Let's shift our focus to Tiong Bahru, there are quite a lot of food that can triggered your fond memories, like the Tiong Bahru Lor mee, roast meat, bao, chicken rice and a few others. For some food like Nasi Lemak, you can probably named a few good ones like the Adam road and Punggol ones. But how about Chwee Kueh? When you think of Chwee Kueh, Tiong Bahru immediately comes into mind. This only goes to show how good the Tiong Bahu Chwee Kueh is!
Since Tiong Bahru is synonymous with Chwee Kueh, a few other stalls have since then come up and claimed that they are the original Tiong Bahru Chwee Kueh, so who really is the original stall that sells this humble, yet delicious Kueh? For me, there can only be one stall, and that is Jian Bo Shui Kueh.
Jian Bo has been around for as long as I can remember, saying that I have grown up eating their Shui Kueh is not exaggerating. They have been in operations for 50 years already, thats like older than Singapore? Anyway, i dare say the other competitors that uses the "original Tiong Bahru Chwee Kueh" are not as good as them. Even if they are, i also refused to acknowledge it, I'm bias, and Jian Bo Shui Kueh does have sentimental values to me.
The tasty fried chye poh, so good yet so sinful, but at the same time that you can't help youself saying, "Aunti, 4 Shui Kueh add extra chye poh please!"
The original, one and only Shui Kueh (4 for $1)
You ain't seeing wrongly, 4 delightful Shui Kueh for one dollar. Judging by their good business,  I reckon they must have sell at least thousands of Shui Kueh everyday. Otherwise how else do you maintain the rental and expenses just by selling Shui Kueh, and not least 50 years!
Jian Bo Shui Kueh has got a very smooth texture for the cake, add some savoury chye poh and you are done! For the health conscious, maybe you can have less of the chye poh, but the shui kueh still taste just as nice.
Jian Bo Shui Kueh
Tiong Bahru Market
#02-05