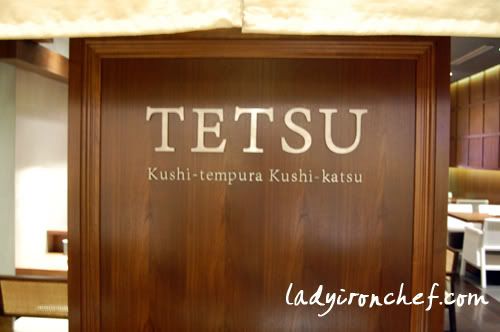 Ladyironchef food event outing is here again! If you have missed our previous one to OChaCha, do not missed this!
Place: Tetsu (Tanglin Mall)
Date: 29th July (Tuesday)
Time: 730pm
Price: $30 nett per pax
The Event:
After the success of the food outing event at OChaCha, ladyironchef is once again proud to present to you Tetsu!
Tetsu, opening its doors at Tanglin Mall on January 17, 2008, pride themselves in serving Kushi-Tempura and Kushi-Katsu. Their concept is based on a "LIVE" preparation in front of you by their chefs.
After reading about my visit to Tetsu, i believe many of you must be having thoughts of savouring the delicious sushi rolls, the melt-in-your-mouth Rosu Katsu, and who can resist the kushi-style Tempura?
ladyironchef has work out an irresistable menu with Tetsu, and the cost of the food is definitely a lot higher than the $30 per person charge. So what are you waiting for? RVSP now!
The Menu
Drink: Hot/Cold Green Tea
Appetizer: Salmon Sashimi, Kami Tofu (Century Egg with tofu), Kajiki Tataki (Seared Swordfish with special sauce), Dakonni (Braised radish with special sauce)
Soup: Clear Soup
Kushi style: Hire Katsu, Ebi Age, Soft-shell Crab Age, Beef or Scallop Age
Tempura: Lotus Root, Mushroom, Green Capsicum
Others: Udon (Hot)
Dessert: Goma Ice Cream (Homemade Sesame Ice Cream)
All these for the price of $30 per person, which is impossible if you visit Tetsu on your own. There's only limited places available, please RVSP asap.
Drop me a sms at 9623 2581 to confirm your place or should you have any enquiries. All are welcome, and feel free to bring along your friends too!
Besides savouring the delicious food at Tetsu, another highlight will be getting the chance to know new friends, like-minded people who all love food. See you all at Tetsu!
Cheers
Brad