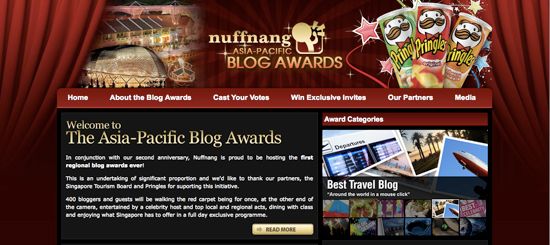 Nuffnang is organizing their first ever Regional Blog Award (read: regional), and the five finalist in each of the eleven categories are up for voting now. And all the nominated blogs are strong contenders in their own field, so it's amazing that they managed to narrow down from hundreds, if not thousands of blogs in the Asia Pacific region to just five in each category.
I never like the idea of a Best food blog, not lest when there are so many talented and passionate fellow food bloggers, how do you define what is best when everybody have different preference?
So I must say it was a pleasant surprise when I received the email from the Nuffnang folks informing me that ladyironchef is one of the five finalist. To whoever out there whom nominated me, thank you!
I will be lying if I tell you I do not want to win this award; I'm only human and it is nice to be recognized and acknowledged for all the hard work and effort behind the life of a food blogger. Moreover, the finalists this time round are all food blogs with very strong followings, I'm sure all of you know Leslie from ieatishoot, while lyrical lemongrass is my food bible when I went to KL recently. So you really need to vote this time round if you like ladyironchef.
While sometimes I feel that there isn't anyone out there reading my blog since it's always the handful of you that occasionally leave comments; but it doesn't make sense to have just 20 comments each post when there's a few thousand views each day. And time and again, you have proven to me that most of you are out there somewhere.
Long story short, given that you like it here at ladyironchef, show me you love my blog, VOTE FOR ME in the Nuffnang Asia Pacific Blog Awards under the Best Food Blog category, once every TWO hours. The voting will last until 11 Oct 2009.
You can also click on the delicious-looking link with pringles, at the sidebar to vote! Unfortunately, you need to vote for all the categories before you can submit the vote.
And shout out in the comment after you have vote yeah? You know I love you.