I had this idea last year to do a summary of the places I've been to. But the list was too short and i didn't really went to a lot of places so it had to wait until now. I'll not begin with one of those hackneyed lines like "Wow, time flies…", "I can't believe the year is coming to a close.." since I was hoping the year would end faster and fast-forward to June next year. 
Some had asked me why my reviews are always positive and doesn't seem to have much bad points. To set the record straight, I'm not trying to be political neutral. I just do not like to criticise, since I always believe if you want to criticise something, you need to be better than them. Since i can't cook food that taste better than the ones i tried, and unless I can provide valuable feedbacks to improve the food, otherwise there isn't any point. I'm not qualified anyway.
"What's the purpose of my food review if i don't criticise?" Well, I definitely don't see myself as a food critic, i don't have the qualifications, nor do i have the depth of knowledge to discuss about all the food. ladyironchef is more about a place for me to share the experience of the places I've been to, more like i describe rather than comment about the food. It's more like reporting style without any positive or negative influence. Of course occasionally when i tried some places which are fantastic, I'll highlight and recommend them. That's the main reason why there's no ratings for the food,  as taste is very subjective it won't be fair to put a rating for them based on my personal likings.
ladyironchef top restaurants
For the restaurants listed in the various categories, the order of the restaurants are not ranked and the list will be controversial since not all of you might like the ones which i recommend. Furthermore, there are only based on the restaurants which i've been to, and not on all the restaurants in Singapore. There are definitely better restaurants out there which i have yet to try.
Now before you sharpen your knife and have a go at me, I'll say this first. The restaurants on ladyironchef top restaurants are definitely not the best in Singapore, there's always a better restaurant somewhere out there. It only represents what I've eaten before.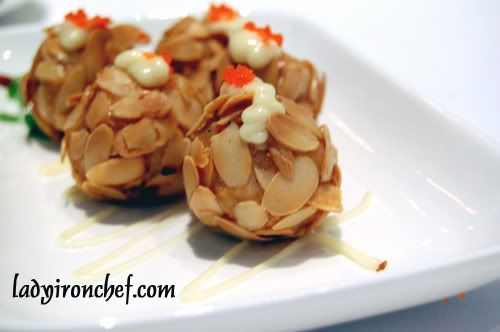 Everybody knows dim sum is one of my comfort food. My personal favourite? It definitely has to be Royal China. For the quality in dim sum, their prices are actually quite reasonable, and the ocean blue decoration of the restaurant makes dining a pleasure. You need to try them before raving about how good some other particular places are.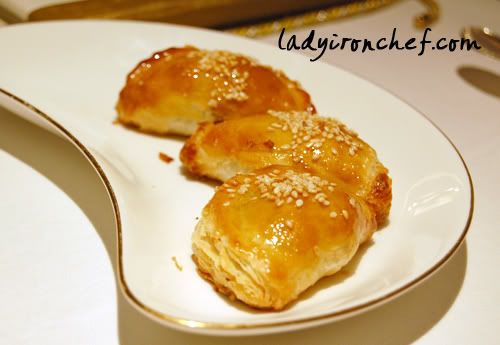 Now, what can we say about Yan Ting? Sheer prestige, together with the exquisite dim sum in a contemporary Chinese restaurant. Where others charge dim sum by per basket, Yan Ting is class, they do it by per piece of dim sum instead.  Definitely one of the best in Singapore, if not for the rather steep price, I'll be going there every weekend. Their char siew sou is the talk of the town. And not to forget, their golden foil bird nest moon cake.
Before you start thinking whether this category is going to be filled up by dim sum, let me show you Sage the restaurant. Like what i mentioned during the post, Sage's a strong contender to ladyironchef top restaurant 2008. And here it is. The genuine and friendly service from Kimberly, plus Chef Jusman creative combination of ingredients in the dish, just did the job. Their cappuccino of mushroom soup is the best I've before.
ladyironchef disappointment restaurants
While I always try not to criticise, the following few are what I felt that wasn't up to the standard, or at least, my own expectations. Bonta Italian restaurant came very close to joining this list, but for the benefit-of-the-doubt, i thought it wouldn't be fair base on the pasta we've, as we didn't order their signatures. Again, the order of the few places are not ranked.
With all the hype surrounding Tuckshop, I went with anticipation. But like they say, the higher the expectation, the bigger the disappointment. The steak sandwich was not good enough. While the place's a good place for chill out with live music, the food can be better.
Another place which i heard so much, yet delivered so little. Victor's kitchen is tagged with "good dim sum at cheap price". No doubt prices are cheap, but good dim sum? Not in my humble opinion. Their signature milky custard bun came cold, and that was enough to put me off. Most of the dim sum were average, with more misses than hits. If you are looking for cheap dim sum, this is the place to go, Otherwise, steer clear!
While they are well-known for their desserts, we made the mistake of ordering the main course. Hence, the disappointment in this case was vented towards that. Bakerzin should just stick to doing what they do best, desserts! Unfortunately, they had became commercialised, and personally i felt that their brand appeal isn't nowhere comparable to Canele.
ladyironchef favourite write-up
It is boring to always read the same style of writing. So I'm always reading the way good writers wrote. My English isn't excellent, so it always took me a long time to write one review, but i was quite pleased with a couple of my write-ups, while you might not consider the writings to be good, they meant a lot to me.  Again, the order of the following places are not ranked.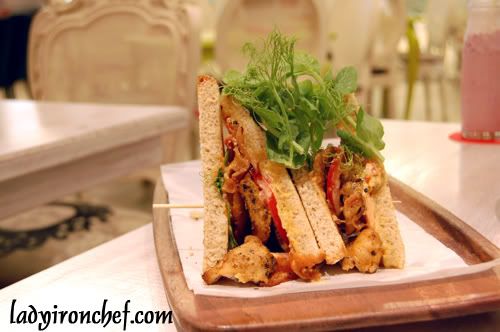 Meet Alice, in wonderland. This was one of the post which pleased me with the nice photos and the descriptions I've used. Oomphatico's has a very fairytale-like setting, thus i thought Alice in wonderland was quite good to describe the place. I was very tempted to put them under ladyironchef top restaurants, but decided against it because i didn't want to repeat the place twice. Nonetheless, they deserved a visit for the ambience!
The whole race theme was fast & furious, focusing on Lamborghini the prized car, since the burger was called lamburghini. I surprised myself with this write-up, as it was one of the earlier post which i started to write differently. Hotshots burgers are actually not bad, i went to the place twice.
Nectarie Le' Dessert Patisserie
The words flowed naturally through me when i wrote for the dessert outing. Perhaps I got inspired by our fun outing, everything just came, and although Nectarie desserts weren't very good, I'm pleased with this write-up. "Our eyes literally light up at the mention of desserts, our saliva flows at the thought of desserts, and our imagination run wild at the sight of desserts."
All of ladyironchef 2008
It was a strong fight for the various nominates, and i didn't want to add more to flood the page with too much information.  You can read about some of my others favourite write-up here. Not everyone will agreed with my choices, but it's okay. All of us are entitled to our own opinions since our taste buds are all different!
It has been a food-ful year. The best thing that happen was getting my DSLR in May, and then the wonderful 60mm macro lens which brought my photos to another level. Also, the various LIC food outing events which had been relatively successful. Getting to know new friends of similar interest, and a group of dessert enthusiast which sparked my interest in baking.
ladyironchef has see me through the darkest period of my life, it has become a friend, whom that I can look forward to and think about. I hope LIC brightens your day and make your stomach hungry too! But if you are still not convinced, carry on hating me then. Like they say, love me or hate me, its still an obsession! Thank you all for reading, especially my friends and readers who always gave me encouragements (you know who you are).
Happy new year, and have a food-ful one ahead!
Cheers
Brad