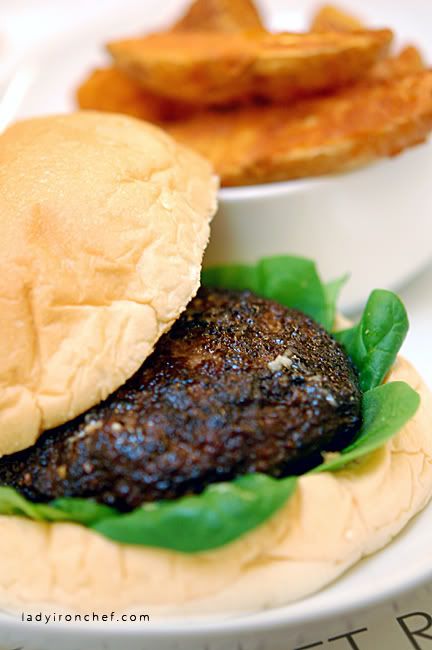 Foie Gras is in my blood. Having said that, I'm more beef than Foie Gras, really. Wedges here, is my awesome assistant, The new Spring fashion is so passé, sun-dried tomato is the latest in-thing now! Marmalade Pantry's famous, Sun-dried tomato Foie Gras Burger ($26).
My name is Chocolate, Chocolate Truffe ($7.80). I'm the ladies man, smooth is my texture, sweet is my nature. Try me, and you are sold. No one can resist my temptations, the thick, oh-so-thick chocolate which is so rich and good.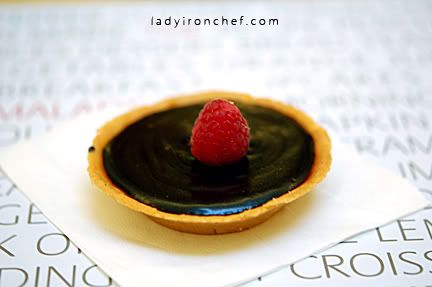 Hello everybody, eh, my name is Chocolate Tart ($4.20). I don't have anything to say about myself. I'm a simple guy, but they say my chocolate is wondeful, I will rather keep a low profile. Please, don't tell anybody else. Thank you.
They call me little miss rose ($4.2). I'm very girly and feminine in nature, but most people just judged me by my appearances. I snub those pretentious of my kind who can only face the world with their frosting make-ups. Simple is beautiful, once you get to know me, the ladies worship me and the guys adore me.
The spokesperson for Marmalade, everybody calls for me when they are here. It will be impossible if you have not heard about Sticky Date toffee pudding ($12) by now. My companion, the lovely Vanilla bean ice cream compliments me perfectly.
Crazy was the word to describe us, after finishing dim sum we ended up here for more desserts.  Several Dslr busy snapping photos can be an intimating sight for others, but the flogger outing was a whole lot of fun, and lets meet up soon!
***
Having heard so much about Marmalade Pantry Foie Gras burger, the few of us were rather disappointed by it because there just wasn't much foie gras taste. But the wedges that accompanied the burger was very good.
The chocolate truffle cake, and chocolate tart was wonderful, with the chocolate being very sweet yet not overly heavy. By now having tried two of Toast (under the same group as Marmalade) cupcakes and another one today, I must say their cupcakes are the better ones around. Moist and rich, there wasn't any pretty frosting, just a solid good cupcake.
The sticky date toffee pudding also did not impressed us. Perhaps it was undone by its famous reputation, we were somewhat expecting more from it, but it never came. Nonetheless, nobody could resist having cold icy vanilla bean ice cream with the warm pudding.
Total bill was $64.15 for 6 person. Even though the burger and pudding did not exactly wow me, but I will definitely come back to try the array of desserts available, and of course their cupcakes.
Marmalade Pantry
390 Orchard road
#B1-08 Palais Renaissance
Tel: 6734 2700
Read about my dining companion post:
Catherine @ Camemberu
Evan @ Bossacafez
Julia @ AromaCookery
Leroy @ The Hungry Cow
Nic @ Black Tie, White Lie