Hurray! May is finally here! I don't care what others say, but May is my favorite month! It always kicks off with a bang (with a public holiday no less), and ends off with a big celebration. And incidentally, May also happens to be my mom's name. April has come and gone in a flash, but I have always known her as the month of Chili Crab.
Every year this time, my family will be on the hunt for the best chili crab in Singapore, and we have the perfect excuse for it. My mom's birthday falls in April, and her favorite dish is Singapore's famous chili crab. Naturally, we are always on the lookout for places that serve good chili crabs.
Although the first thing that comes to anyone's mind when you mention Chinese Seafood restaurants are at East Coast Park, we ended up at Red House Seafood at Robertson Quay instead because of its proximity to where we were. The Chinese seafood restaurant located further down from the Alkaff Bridge at Robertson Quay, away from the main stretch of restaurants, just beside Boomarang Bistro.
If there is a must eat dish in Singapore, it will definitely be Chili crab. For those who are not particularly keen on the sweet-spicy rendition, we have other fabulous creations like black pepper, white pepper, curry sauce, doubled baked cheese on the menus of the various Seafood restaurants in Singapore.
Besides my favorite Chili crab, I've been a fan of Salted Egg Crab for a while now. Unfortunately, Red House Seafood does not have that on the menu, so we opted for the Wok-fried with fresh herbs & fragrant Butter Crab ($4 per 100g) instead.
Even though I was quick in taking photos, the Sambal Kangkong ($10) wasn't hot and lacked the wok-hei taste. On the other hand, the Fried Baby Squid was crunchy, and juicy, and addictive – it's seriously better than potato chips.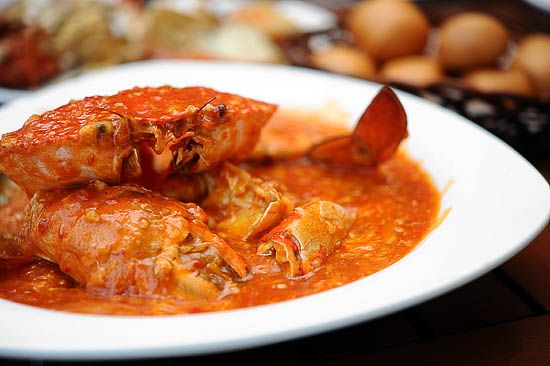 The saving grace was the famous Red House's Chili Crab ($4 per 100g).
With the thick, and sweet chili gravy around, nothing else seems to matter. I dipped the deep-fried mantou, fried baby squid, crispy roasted chicken, and even the butter crab into the chili gravy. Sense of accomplishment is when I had two big crab pincers and three bowls of chili gravy to myself.
Let me drown in the goodness of the chili gravy!
I'm not sure if it's just me, but I can't help but feel that Red House Seafood at the Quayside caters more for the tourist crowd. Service was lack-luster, and the waitstaff seemed to be more attentive towards our foreign friends. And they charged for ice water too!
To be fair, the chili crab was very good and they are located in a central location. But if you ask me, I'd probably check out the Red House at East Coast Park or other Chinese Seafood restaurants when I'm craving for chili crabs next time.
For the Red House Seafood supporters out there, are there any differences in the quality of food and service between the East Coast main outlet and the Robertson Quay one? Which dishes do you usually order? And for the rest of you, tell me which is your favorite Chinese Seafood Restaurant in Singapore.
Restaurant Review
Red House Seafood Restaurant (Quay Side)
60 Robertson Quay
#01-13 The Quayside
Tel: +65 6735 7666