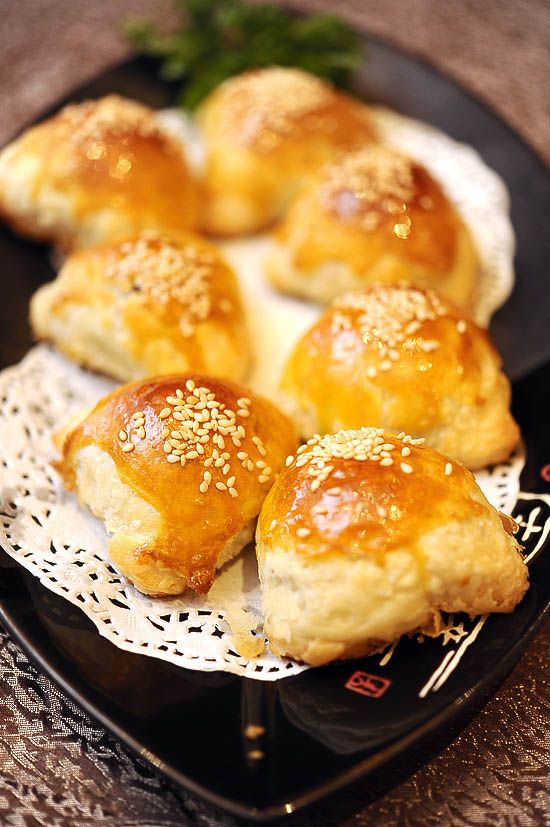 Did something major happen in the dim sum world that I'm not aware of? Over the weekends, there's a crazy number of people searching of 'Dim Sum Buffet', and 'Dim Sum Singapore'.
Anyway, I was wondering if I should blog about Taste Paradise Chinese Restaurant since I've raved about them before. But I thought this will be a good reminder if you have missed my previous post, or have yet to visit them. Taste Paradise at Ion Orchard is definitely one of the top 3 among my list of Dim Sum Restaurants in Singapore.
If you are thinking of having Yum Cha this week, please go to the Ion Orchard branch as Taste Paradise at Mosque Street does not serve dim sum. The menu at Taste Paradise has almost 40 different dim sum to choose from, and they have three seating time slots for weekend dim sum brunch: 11am-12.30pm, 12.30pm-2pm, and 2pm-4pm.
Yan Ting restaurant has the best Char Siew Sou in town, but I dare say Taste Paradise's Baked BBQ Pork Pastry ($3.90 for 3) is almost just as good. It's a definite must order on the dim sum menu!
I heard that Crystal Jade La Mian Xiao Long Bao restaurant at Holland Village serves free flow of Xiao Long Bao for their steamboat buffet. Well, I'm not sure about you, but all I need is one good Steamed Shanghai Pork Dumpling ($3.80).
Best Custard Bun in Singapore
I'd like to introduce my new favorite dim sum, which incidentally is the most ordinary and plain-looking item on our table. Custard bun ($4.20 for 3) is the Chinese equivalent of the Western Molten Chocolate Lava Cake. My dear, you really need to try their custard bun! This stuff is seriously addictive. I'd vouch for it with my name.
Judging from the response, the Deep-fried Prawn with Mango Roll ($4.80 for 3) was a popular choice. The combination of mango and prawn never fails to disappoint – I'd gladly have second helpings of it.
We also had the usual Steamed Prawn Dumpling ($4.80 for 4), and Steamed Pork Dumpling ($4.80 for 4). If you like rice rolls, there are 8 different types of Cheong Fun on the menu to choose from.
Taste Paradise is famous for their XO Carrot Cake ($8). It was good, but I did not think it was worth the money for the small portion. Personally, I rather spend the money on another basket of custard bun and char siew sou.
You will probably be sick of me saying this, but allow me to repeat this again: happiness comes in the form of a Mini Egg Tart ($3.60 for 3). Warm flaky pastry with soft egg custard, one is never enough!
Taste Paradise is definitely one of the best dim sum restaurant in Singapore; affordable and good dim sum, with an accessible location at Ion Orchard. You must try the Custard bun & Char Siew Sou!
Speaking of that, what is your favorite dim sum?
Restaurant Review
Taste Paradise Ion Orchard
2 Orchard Turn
#04-07 ION Orchard
Tel: +65 6509 9660
Featured in