7atenine at Esplanade was one of my favorite restaurants in 2009. My last visit was a year ago, and the restaurant has since been re-branded to Southbridge Jazz @ 7atenine. Gone was the lunch unlimited concept. Instead, they also currently serving food with a cosmopolitan local flavor, combining the best of Western and Asian food.
Even though they have a Moroccan chef at helm, the direction of the menu is mainly influenced by their sister restaurant 7atenine Kuala Lumpur. This explains the presence of KL Hokkien Mee, Char Kuay Teow and Laksa on the menu. Interestingly, there are also Indian food alongside the remaining popular tapas and Western dishes that survived the previous menu.
To be frank with you, when I first heard that 7atenine changed the whole dining concept; I thought it was a shame as I really enjoyed the lunch unlimited 'buffet'. I wasn't too keen to go for a second time especially since I had such a good experience the last time.
But I must say it's a very intriguing idea to combine Jazz with food, so I was finally tempted to drop by 7atenine again. Entering the restaurant and looking at the menu, it felt like the restaurant was going through an identity crisis. I couldn't figure out if they were trying to be a Western restaurant with Jazz music or another 'atas' restaurant that served hawker food?
Imagine this: you are having KL Laksa in a classy Western restaurant that is playing Jazz music in the background. Confused?
Surprisingly, their KL Curry Laksa ($14.70) was actually quite good. The laksa gravy was thick, and robust and addictive. To pay $14 for laksa is insane. But hey, the huge portion is probably enough for three person and you never know when your laksa craving kicks in during the middle of the night. Another item that we had from the Asian Menu was the Beef Fried Rice ($12.70): decent, it was but nothing breathtaking.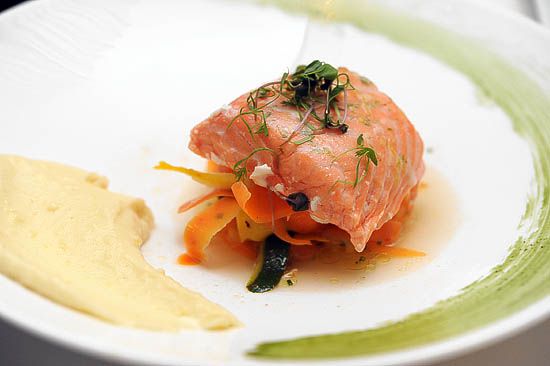 The interesting name – 52 degree Salmon ($27.70) – stood out from the other dishes on the menu. It didn't taste like the usual pan-seared or grilled salmon. Nor was it like raw sashimi. 7atenine's interpretation of the fish was like salmon at the most natural stage. Every slice just fell off easily and it came close to the crumble-in-your-mouth effect. There's a problem though – the portion was too small for a main course.
If there's a dish that will catch everybody's attention, it will definitely be the Beef Kebab ($50). Even though the meat was slightly cold as I took a long time to take photographs of it; but every bite was so tender, and together with the fries and grilled vegetables, we called this – the date dish – perfect for sharing between a couple.
If you give me an air ticket that flies to any part of the world, I'd definitely choose to go to Spain. I have always been a big fan of the Spanish culture, somehow everything seduces me. From Spanish football, to the magnificent scenery of the country (that I saw on TV), to Spanish food and the tapas culture, please let me wake up and find myself speaking Spanish!
When the Churros ($7.70) arrived on our table, we experienced the phenomenon again. Everyone went quiet and focused on the dessert. Coated with heaps of sugar and cinnamon, the churros were deep-fried and served pipping hot. Dipping it with the nutella-chocolate sauce, oh em gee, this is surely the best-est thing ever! Chocolate, nutella and churros. I can't think of a better combination. How could flour taste so good?
I just found my new love, her name is Churros with nutella.
I will like to thank Danielle from ate media for the invitation. Southbridge Jazz @ 7atenine is definitely a good chill out places in Singapore for jazz lovers to hang out with their friends over some food and drinks. The al fresco area is cooling at night for dinner. If you must have air-con, there's a few tables inside as most of the interior area was converted for the jazz bar.
While I am not a very big drinker, we had fun trying out the different types of mojito at 7atenine. The whole new concept is bold and adventurous, but when it comes to the food, prices are not exactly in the affordable range and honestly, I'm not quite sure how people will react to it. So tell me: are you game enough to order Laksa and Hokkien mee in a restaurant? Well, one thing is for sure, I will definitely be back for the churros!
I need some recommendations for good chill out places please!
Restaurant Review
Southbridge Jazz @ 7atenine
8 Raffles Avenue
#01-10/12 Esplanade Mall
Tel: +65 6338 0789