Click on picture to go to my food photography portfolio, ashleybrad.com
When I picked up my first camera two years ago, I knew that life would never be the same again. From someone who knew nuts about photography before I started my food blog, it's amazing to see how much my photos have improved. I always see myself as a food photographer rather than a food writer, for one simple reason – I'm better at taking photos than writing.
I had the idea of doing a photography portfolio website for my food and travel photographs way back last year. After much procrastination, I finally started on the planning with my designer UNNU in early Jan, and it took us a few months to prepare everything.
I am very happy to launch ashleybrad.com, photography portfolio of ladyironchef
My first Dslr was a Nikon D40, it's small and light and inexpensive, the perfect entry level dslr to get started on photography. Shortly after, I bought my trusty Nikkor 60mm f2.8 Micro lens, and also a SB-600 flash. A year plus later, I reckon it's time to upgrade to a Full Frame Body and I brought my current camera, Nikon D700. This would definitely be one of the best decisions I made in my life, seriously, I couldn't imagine myself without the camera now.
I could still vividly remember that day when I bought my D700. I was waiting in the shop for a hour as the delivery man was late, and when it came, I was so excited that I could hardly breathe! It may sound exaggerated, but at that moment I touched MY camera for the first time, I could feel a connection between us – it's like falling in love.
If you have been reading my blog for a while, you'd have seen my earlier photos and noticed the differences. For the record, I did not attend for any photography classes before, everything was self-taught with some pointers from friends. I'm definitely not qualified to give you photography tips, but I'd suggest don't bother to sign up for any photography lessons. The best way to improve your photography skills is simply just by shooting and practicing more – save the money for a new lens!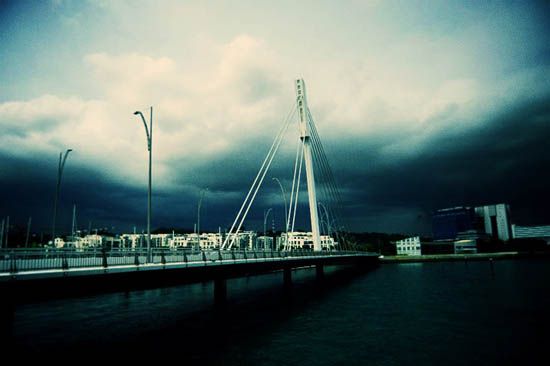 Who is ashley?
I knew you were going to ask me that, and believe it or not – THERE'S NO ASHLEY! Ordinary names are too boring, I am controversial! Glad I got your attention! Anyway, I will be updating ashleybrad.com every week with photos on restaurants that I will not blog about, and also the non-food photographs.
Lastly, all these will not be possible without UNNU, she's the best designer I can ever ask for, and if you require  any web design help, I'd strongly recommend her services. I must thank my lucky stars when I met her at an event a couple of years back. Thank you for bearing with my fickle-mindedness and for being such an awesome designer!
DROP BY ASHLEYBRAD.COM TO LOOK AT MY PHOTOGRAPHY PORTFOLIO WEBSITE