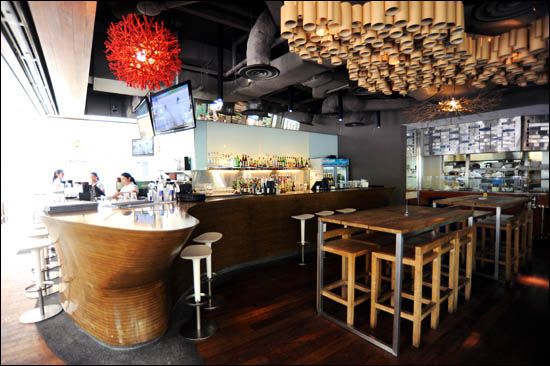 Where and what to eat in Robertson Quay?
I get that question a lot, as people always ask me for recommendations on nice restaurants in Robertson Quay. I'm not sure if you have been there before, but there are actually plenty of options if you want to check out the restaurants at Robertson Quay.
Boomarang Bistro & Bar is one of them. It's located further down from the Alkaff Bridge at Robertson Quay, away from the main stretch of restaurants. If you can't find it, look out for Red House Seafood and walk towards that direction.
Boomarang Bistro is one of the few Australian restaurants in Singapore – it was set up by a true Aussie owner and his chef with the aim of introducing their interpretation of authentic Australian cuisine to Singapore.
It's astonishing to hear that the actual size of the Chicken Parmigiano ($22) was thrice that of the tasting portion that we had in the picture. That's huge! With the cheese, tomato and ham on top, I thought it was a pizza.
To my surprise, the base was actually a chicken breast fillet. For someone who usually hates the hard and dry chicken breast meat, I found the one here to be extremely tender and incredibly juicy. 22 bucks for something so big and rewarding? I'd definitely order this dish when I come back the next time!
I'm not sure if it's because I was hungry, but the toasted Brioche was absolutely delicious! Forget about the salmon and salad on top, just give me the bread!
Marina suggested that we should try the Lemon & Lime Calamari, which is one of her favorite items on the menu. We squeezed not just lemon, but also lime, and that was it. I'm a big fan of citrus fruit, and it's definitely a fantastic idea to have both lemon and lime.
The calamari however, could be better. It was slightly soggy and lacked the crunch.
Made for ladies
I'm sure there's a tag like this on the salmon. All the girls in town will definitely fall in love with the Panfried Salmon Fillet ($28) with Saffron Baby Potatoes. Earlier on, we caught a glimpse of the chef handling the raw salmon in the kitchen, it was an entiree slab of meat. Fresh? You bet!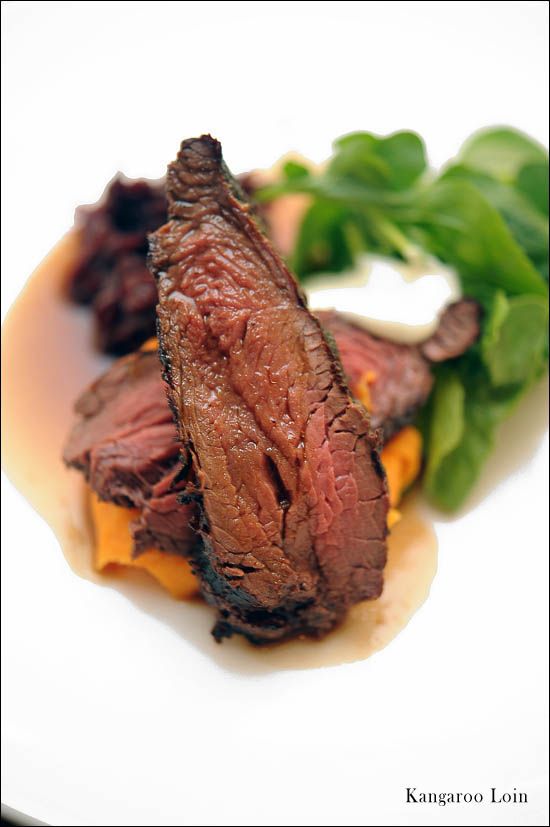 Oh boy oh boy oh boy oh boy!
Wow! Kangaroo meat!
I didn't know there's Kangaroo meat in Singapore!
I was so excited when I saw it on the menu. Now I can proudly say that I have tried Kangaroo meat before! Just ticked the box on my checklist – kangaroo meat – done!
Charred on the brim, the Peppered Kangaroo Loin ($28) was done medium, retaining the pinkish-red tinge in the middle. I have no idea how a good kangaroo meat should taste like, but it was somewhat familiar to beef, just slightly tougher. It was chewy, and there was none of the gamy smell I thought it'd have.
The desserts are so beautiful. Oh gosh, I'm hungry again!
Looking at the dessert menu, the Flourless Chocolate Cake caught my attention immediately. It sounds good, and it looks very pretty too! The chocolaty top was a little too much for Ju, but it tasted just right to me. It's not too sweet, and there's this slight bitterness in the dark chocolate – it would be perfect if there was a scoop of vanilla bean ice cream.
"This is the best sticky date pudding ever!"
Initially, I wasn't quite convinced when Marina told us that Boomarang Bistro serves the best sticky date pudding. I was actually afraid to try the dessert when it arrived on the table. What if this isn't good? What if it's just that I simply don't like sticky date puddings and it has nothing to do with the dessert?
I leaned forward cautiously, keeping my fingers crossed. I took a corner of the pudding, and mixed it with the pretty vanilla bean ice cream. Compared with the ones that I've before which crumbled way too easily, Boomarang Bistro's Sticky date pudding ($10) was a lot firmer, and it was actually quite good! Best sticky date pudding? I don't want to pass a judgment, but for the first time, I think I actually enjoyed a sticky date pudding.
Go to Boomarang Bistro and order their Sticky date pudding. After that, let me know if it's the best sticky date pudding you have tried.
If you are looking for a sugary sweet dessert, the Pavlova is definitely the one. It is like a meringue-based dessert. I had it once before, and I thought it tasted like pure sugar. The happy smile on everyone's face – there's nothing like a sweet dessert.
* * *
I'll like to thank Marina from Croc Media for inviting and hosting the lunch. The prices at Boomarang Bistro & Bar are very reasonable for the huge and hearty portions. It's a great chill out place for dinner with a group of friends, and if you are considering a restaurant at Robertson Quay for dinner, why not check out Boomarang Bistro? And oh yes, they serve all day brunch until 3pm during weekends too!
Restaurant Review
Boomarang Bistro & Bar
60 Robertson Quay
#01-15 The Quayside
Tel: +65 6738 1077