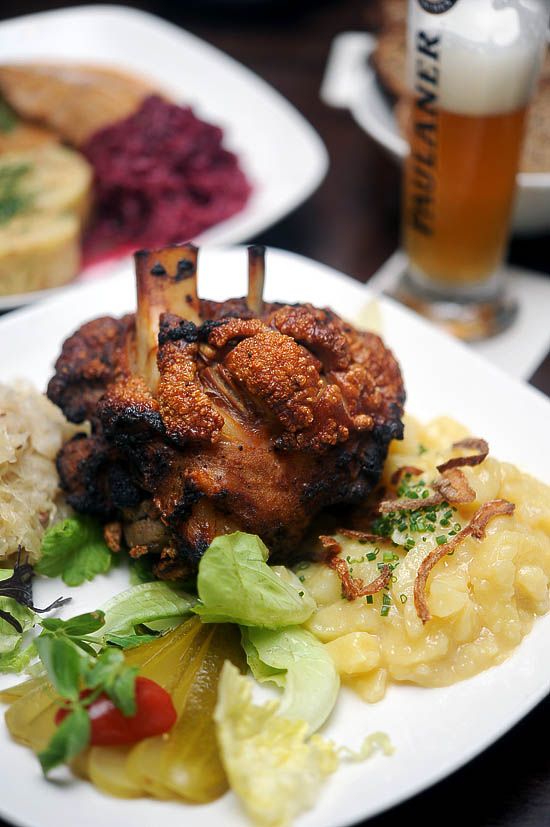 All along, I thought that German food was all about pork knuckles, beer and sausages. While I was hiking at Katoomba, Blue Mountains, I met a German dude and I asked him what's a normal German meal like? He mentioned that Germans are very big on bread, and contrary to popular belief, no – they do not have pork knuckle and sausages every meal. At least, that's what he told me.
Coincidentally, I had my first German meal a few days later when I went back to Sydney from Katoomba. It was awesome, and I have been craving for German food ever since I came back to Singapore. Brotzeit German Bier Bar & Restaurant was one of the few places that came to mind when I wanted to plan for a German dinner. There's currently three Brotzeit restaurant at Raffles City, 313 @ Somerset and Vivocity.
Needless to say, I was very excited. If you were there that night, you'd probably saw me from afar. Yes, the guy sitting near the entrance of the restaurant at Vivocity, with a big camera snapping away.
Anyway, German Pork Knuckles.
Yes, I wanted pork knuckles, and I wanted it immediately! It's not exaggerating to say that pork knuckles are the representative of German Food for me. Extremely crispy, deep-fried but not dry, hearty but not heavy, I just love every bite of the Pork Knuckle ($36). It may not look very filling, but trust me, you need a few people to finish this.
The sausages platter Wustelpatte ($32.50) is a great way to try a little of everything. There's spicy chicken sausages, Nurnberger pork bratwurst, mini pork cheese sausages, weisswurst sausage and garlic sausages. Half the time, I couldn't tell which was which, but who cares? We finished every single one of them.
Somehow, the crackling pork knuckles reminded me of roasted pork, and when I saw the Schweinsbraten ($29.50) on the menu, I pleaded commanded my friends: lets get the roasted pork! But it was quite different from what I've imagined. I thought it'd be something like the roast pork that we're so familiar with. Instead, Brotzeit's rendition was roasted pork with gravy, alongside homemade red cabbage. Even though the robust gravy added flavor to the meat, but I still preferred the crispy roasted pork.
I was dazzled for a good twenty seconds the moment the Seafood platter, Fischplatte ($34.50) arrived on the table. Time seemed to slow as my senses fully captured everything on the plate; my eyes took in every single detail of the marination on the thick slices of tuna. The vibrant colors of the smoked salmon and bright-red marinated prawns also caught my attention. It was amazing to smell the white anchovies, and even more appealing to put it in my month, everything was so refreshing. Again, if you are with a good of friends, it's more like a tasting platter since everyone only gets to try a little of everything.
* * *
Brotzeit German Bier Bar & Restaurant will definitely be one of the top choices when it comes to German Food in Singapore. Reservations are a must, especially when it's dinner time. There was about 7-8 of us, and for the food that we had, it wasn't particularly filling for the most of people. On hindsight, we should have order at least one more main dish to share. Anyway, I reckon the budget is about $30-40 per person if you want to get a decent filling meal, and at least in the $50s if beer is included.
It's always easier to order food when there are more people, and this is particularly true for Brotzeit. There's so many items on the menu and it was a challenge going through all of them. My advise? Get a group of friends and hit Brotzeit for the Pork Knuckle, German sausages and booze. Hurry up!
Where do you go for German food in Singapore? And what's the one must-try item when you are having a German dinner?
Restaurant Review
Brotzeit German Bier Bar & Restaurant
1 Harbourfront Walk
#01-149/-151 VivoCity
Tel: +65 6272 8815
Featured in