If you are looking for splendid views and good seafood, Palm Beach's got it all. The overall experience is much appreciated by a clientèle that includes a lot of tourists – partly due to its excellent location at One Fullerton – but this is no tourist trap.
Palm Beach is one of the oldest seafood restaurants in Singapore, and they have been serving good and fresh seafood to discerning guests for many years. This is a good option for entertaining clients over a scrumptious seafood dinner.
If you are still looking for a restaurant for lo hei, try Palm Beach's Alaskan King Crab Yu Sheng (S$58 or S$88).
I don't know about you, but I'd definitely order the Seafood Deluxe Combination ($23.00 per person) with a selection of five seafood items – air-flown Hokkaido scallop, huge gleaming oysters, live poached prawns, fresh salmon sashimi, and the gigantic bamboo clam.
Also not to be missed is Palm beach's signature Chilli Crab ($4.50 per 100g).
The award winning Double Baked Cheese Crab ($4.50 per 100g) reminded me of the baked cheese lobster that I've before, with its strong cheesy taste. Baked parmesan cheese and crab? This was a winner!
Palm Beach's awarding winning Coco Lobo – Australian Lobster with Vermicelli in Superior Stock ($16.80 per 100g) – came piping hot in individual claypot, with the lobster meat and vermicelli absorbing the essence of the flavourful stock.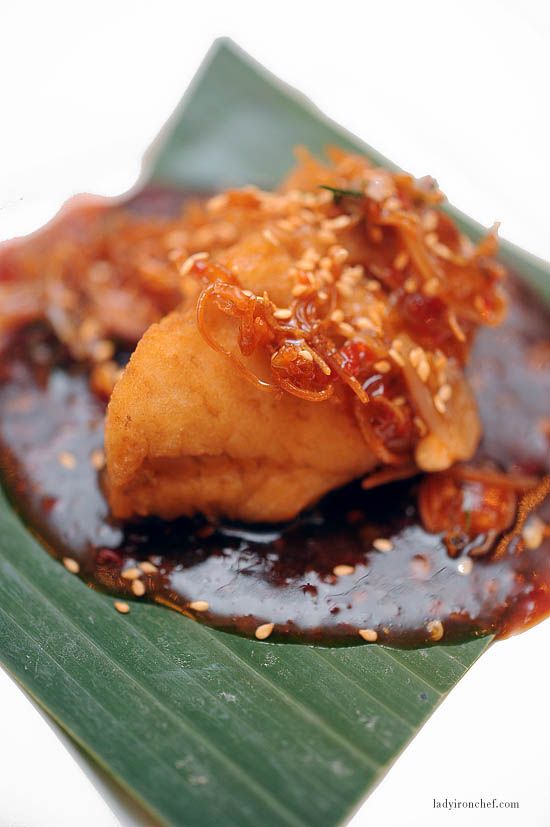 Sweet and tangy, intense yet refreshing. It was also not too spicy. The Honey Tangy Marble Goby ($7.50 per 100g) was fried till golden-brown: crispy and soft and appetizing, drizzled with just enough of the terrific sauce.
* * *
This is the third part of a series that I'm doing on the waterfront restaurants in One Fullerton. I'll like to thank Fullerton Heritage, Karin of Palm Beach Seafood and Gail for arranging and hosting this dinner.
From what we observed, most Singaporeans seem to dine in the comfort of the air-condition, while the tourists prefer the al fresco area with the waterfront view. Will you dine indoors or outside at the al fresco area?
Palm Beach Seafood Restaurant
1 Fullerton Road
#01-09 One Fullerton
Tel: +65 6227 2332