// Dim Joy is no longer in operation
Dim Joy is one of the few places in Singapore that serves all day dim sum. Be it dim sum for lunch, or dim sum for dinner – Dim Joy offers the option till late night! Since most restaurants only serve dim sum during lunch time, I love the idea of being able to have dim sum whenever I want it. Convinced? Take down the address: Dim Joy 80 Neil Road.
The Char siew sous ($3.5 for 3) are baked to a handsome shade of golden brown. It is all about the balance: the crisp snappy pastry and the sweet luscious char siew fillings. This is what I call, the perfect dim sum.
My dining companions enjoyed the King Shrimp Har Gau ($4 for 4) thoroughly and we also had the Barbecued pork & celery in rice rolls ($5). Finely slice celery and thin bits of char siew in rice rolls that were unfortunately, slightly too thick.
Like all Siew Mai ($3.50 for 4), Dim Joy's rendition was unassuming: an adequate portion of lean meat with chewy shrimp. But unlike the usual steamed pork dumpling, the one here was subtle in taste, to the border of being slightly bland.
I'm not sure if you are aware, but there's a ritual to follow when it comes to eating Custard buns ($3 for 3). First use a pair of chopsticks, poke a hole at the top of the bun. Watch the golden custard flow out from the peak, like how lava erupts from the volcano. The way the searing custard touches the tip of the tongue – sensational.
Having the custard bun, is almost like a religious experience.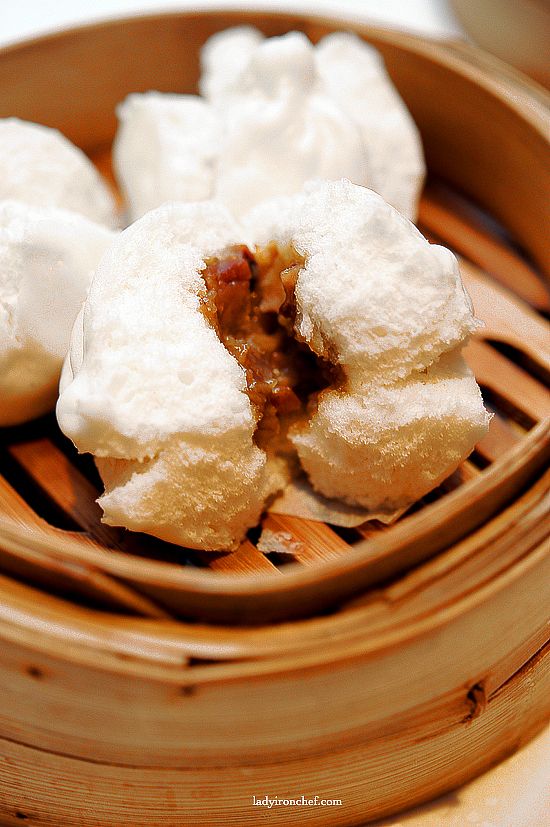 I remember the char siew bao at Dim Joy during my previous visit because of it's name, Honey Syrup Char Siew Bao ($3 for 3). With such a sweet name, I'd expect nothing less than honey syrup.
The char siew bao seemed to be the same as before. The white fluffy bao was excellent, but the filling was lacking; with just tiny char siew bits and the honey syrup wasn't as sweet as expected.
Crisp buttery flakes, with eggy custard fillings straight from the oven. I always know there's two types of egg tarts; the hard crusty ones that always come in an elongated shape, and there's the thin flaky egg tarts that will crumble all over your shirt.
I know I have a tendency to make an normal egg tart sound like one that has bird nest and gold foil, but trust me, I'm not exaggerating on the Lingnan Egg Tart ($3.50 for 4).
* * *
Compared to the other dim sum restaurants, the ones here are slightly lighter in flavor. Well if you are craving for dim sum during dinner, Dim Joy is definitely the place to go.
Restaurant Review
Dim Joy Restaurant
80 Neil Road
Tel: +65 6220 6986
Open till 10pm (Closed on Tue)