I love a good restaurant. But if there's one thing I like even more, it's having good company for dinner together. Dining in a fine-dining restaurant is very nice, but it really depends on the people around you to make it even better. Sometimes we get lucky, it's an extra bonus when we are dining with nice people, and it happens to be a very romantic restaurant.
Many people always ask me to recommend a romantic restaurant in Singapore, I'd like to tell them: so long you are with your other half, everywhere is romantic. But I can't possibly do that can I? You want to know a romantic place for your first date, a romantic restaurant for birthday parties, a romantic restaurant for that special occasion, and like today, a romantic restaurant for Valentine's day; it's all about the ambiance.
I'm very pleased to 'stumble upon' Boathouse, a newly opened Modern European restaurant at Fullerton Water Boat House. Chic decorations that exudes a laid-back and homely feel, gorgeous view that overlooks the Marina Bay area, elegant and simple furniture, oh I love this place.
Fish Chowder Sea Bass Carpaccio ($15)
I had Wagyu beef on a couple of occasions before, but this was the first time that I actually had a Wagyu Beef Ribs. The first bite? It tasted just like pork ribs. The second bite? It's definitely a lot better than the normal pork ribs. It's a superior version, no it's  wrong to even compared it with pork ribs. My dear, you are looking at the Wagyu Beef Ribs with Aged Red Wine Jus ($33).
The meat was so tender that it falls off the bone and melts in your mouth splendidly. Placed together in a plate, the wagyu beef ribs absorbed the aged red wine jus, and in turn the latter captured the essence from the long braising process. How good was it? Catherine wiped the plate clean with bread.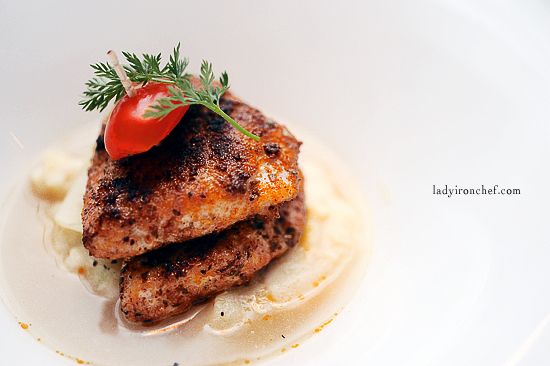 Ju had the Atlantic Pink Snapper ($25) instead of the Wagyu beef ribs. She mentioned that the fish was fabulously fresh, firm, sweet, and didn't want to share it with us. An excuse to return? I'd think so!
I seems to be having a lot of pasta recently. Boy I'm glad all of them were good quality ones, and the Tagliatelle Wild Mushroom in Truffle Sauce (S$19) was no exception. Every slurp of the tagliatelle was intense, and so flavorful. Some might find it to be too salty and overpowering, but I thought that it was pretty well done.
The Caramel Apple tartlets ($15) were small. Fine, they were tiny. Initially the restaurant told us it was tasting portions, but after confirmation from a few friends who went there for dinner, they were still serve the mini apple tartlets for the full price.
Fifteen bucks for three mini tartlets and ice cream? I wouldn't pay for this, and neither should you. Please do not order the apple tartlets until the restaurant made changes to it.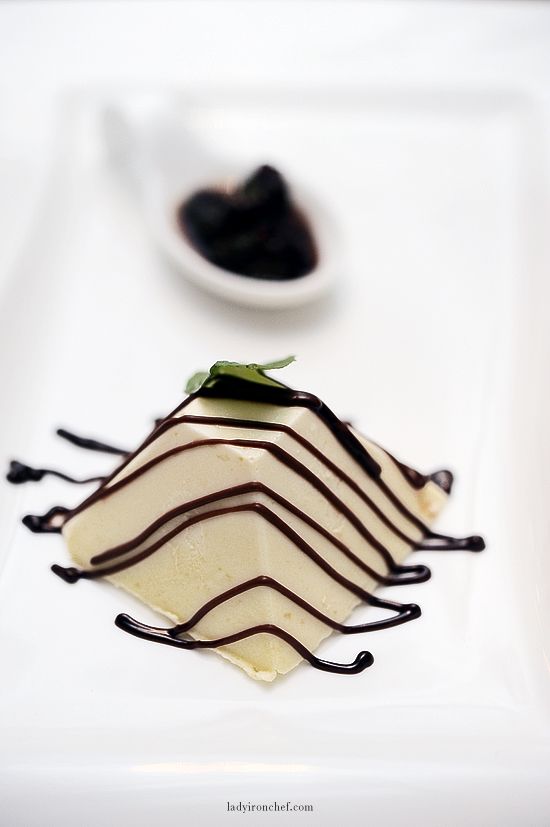 The mind is a funny thing. It always play tricks on you, and subconsciously conjured images of things that you wouldn't want other people to see. Halfway through the meal, my mind decided to play a game with me. Like as though there was a remote control, it pressed the 'play' button, and memories of a very good semifreddo that I've before started to flash.
Reason #1 why the pastry chef here does not have a sweet tooth.
With the sourish fruit compote to compliment the White Chocolate Semifreddo ($15), it gave the impression of an anti-sweet establishment. Desserts, are after all, meant to be sweet. I tried the semifreddo on it's own, and it was so good. In order to see the reasoning behind the inclusion of the fruit compote, I reluctantly had a taste of the semifreddo with the tart berries – well it wasn't so bad, but I'd obviously prefer dessert to be sweet.
In my opinion, a good Panna cotta must have a firm yet wobbly-like texture. This one here was fairly competent, but under the limelight of the excellent semifreddo and creme brulee, the Panna Cotta did not make a statement.
Reason #2 why the pastry chef here does not have a sweet tooth.
The presence of the licorice reduction, with the Creme Brulee. I was told that the evil licorice was planning on taking over the dessert world, in a test-tube-like container.  Okay I exaggerated. You know, the guys (& some girls) who raise their eyebrow at the slightest mention of desserts? The licorice reduction would be perfect for them since it literally reduced the sweetness level, making me wondered why anyone would do that.
Oh well, that aside, I enjoyed the creme brulee very much.
Torched to a magnificent golden-brown, the underlying custard was naturally sweet. The contrasting layer of the cranky caramelized sugar with the beautiful custard: I'm in love with the creme brulee.
My middle name is dessert: apple tart with ice cream, creme brulee, panna cotta, and white chocolate semifreddo.
* * *
This is the second part of a series that I'm doing on the waterfront restaurants in One Fullerton. I'll like to thank Fullerton Heritage, Sophia and Kannan of Boathouse for arranging and hosting this dinner.
BoatHouse is definitely one of my favorite restaurant now, and I will not be surprised if they are one of the best new restaurants in 2010. There's a separate rooftop bar on the third floor called Prelude. Stunning, stunning place with an awesome view of the Esplanade and Marina Bay.
Prices range from $20s for pasta to $30s for a main course. For the superb location and wonderful ambiance, Boathouse is offering a very value set lunch; the 2 course set lunch is $22++, while I'd go for their 3 course set lunch at $29++. Most of the items on their set lunches are from the main ala carte menu which make it extremely tempting.
See you at the Boathouse Fullerton.
Restaurant Review
BoatHouse
#03-01 The Fullerton Waterboat House
3 Fullerton Road
Singapore 029415
Tel: +65 6538 9038
Boathouse is listed as one of ladyironchef's favorite restaurants in Singapore.
Featured in