There's nothing sweeter in life to witness your friend tying the knot; be it a simple dinner of having your close friends to  celebrate the special moment, or a grand affair of getting the whole world (including people that you do not know) to be there – this must be it, happily ever after.
I often receive emails from readers and friends, asking me for suggestion of places, to hold their wedding reception and birthday parties. After going to Barracks at House for my friend's big day, I'd think that the Greenhouse room in Barracks, is a very good place to throw a party.
'With that, I declared you husband and wife.'
Such a simple statement, yet it meant so much. Tears of joy, surely. This will be the moment when you look back in ten, twenty, thirty years time down the road, and smile.
Dinner was a simple affair. On this special day, everything and anything, will taste good. We had a choice of the immensely popular Ahi Taki Salad and a seafood platter.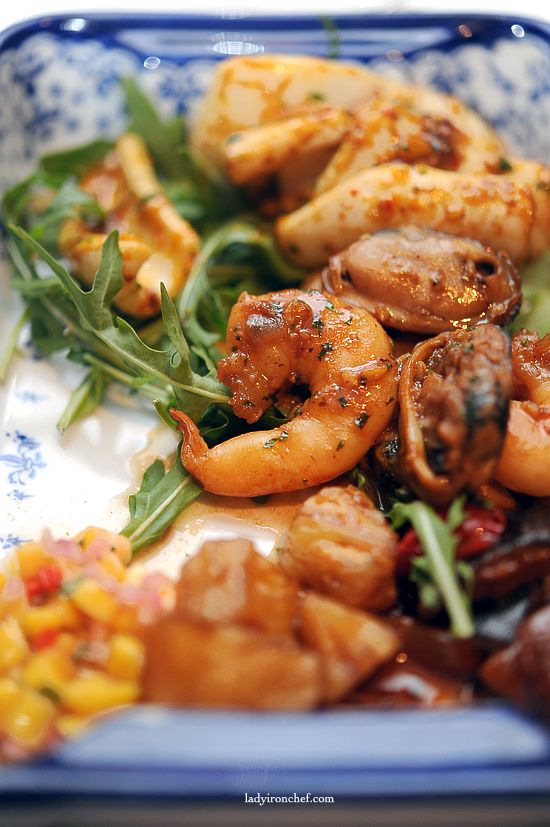 The presence of seafood compelled me to go for the latter, Deep Sea Threesome. A plateful of spicy calamari, appetizing prawns, intriguing black mussels, with the sweetest pineapple and mango.
I know this sounds wrong, but I have been feasting way too much nowadays. With a heavy dinner the previous night, and another tasting the next day, against my better judgment, I decided on the lobster Linguine over the House Ribeye Steak.
And when the first steak arrived on the table, I immediately knew that I was going to regret the decision.
Well, my eyes went wide open when I saw the two words, 'lobster & linguine'. Unfortunately, I did not read the description of the pasta carefully. The menu goes like this: Lobster Linguine, Crab meat & Prawn Bolognese, homemade black pepper sauce.
Oh, there's black pepper. Homemade black pepper sauce to be exact. I'm not a fan of anything-black-pepper. The lobster was delicious of course, but I couldn't finish my linguine. The others were full of praises for the pasta. Anyway, desserts next.
Warm Chocolate Toffee Cake. Swoon. Did I just read warm, chocolate, toffee, and cake? It sounds good, it looks even better. Despite trying a few places for toffee cake, I still couldn't find a good one that can satisfied me. After having Barrack's interpretation of this popular dessert, I believe, the missing puzzle for sticky toffee cake – is warm chocolate. I'm a very happy boy.
If you need a place for your birthday party, wedding solemnization, the Greenhouse room at Barracks will be a very good option. Alternatively, there are also other rooms with special theme in Barracks that are available for other events.
* * *
To my awesome Joy & her Bunny, stay happy forever.
Restaurant Review
Barracks at House
8D Dempsey Road
#01-01 to 06 Tanglin Village
Tel: +65 6475 7787