Remember the times when you were a kid, and blew soap bubbles into the air, making you go 'aww..' inside, I have the same feeling when it comes to ice cream too. In this world, not many things can give you that type of feeling and I believe, ice cream is one of them.
You do not need an excuse to eat ice cream.
Whenever I feel happy, I will indulge in ice cream as it makes me even happier. And besides having a patissier to cheer me up when I'm feeling down, ice cream practically does the same thing as it always chase the blues away.
How good can a good ice cream be?
I mean ice cream, being ice cream, is already perfect. How do the ice cream places in Singapore reinvent and continue the trend for something that is already done to death and found everywhere? Well, they either come up with all sorts of fanciful flavors, throw in some exotic toppings, hire pretty girls, let you mix-and-match your own ingredients, reinvent ice cream in the form of sundaes, or this case, milkshakes. Yes, milkshakes.
Ice cream, can never be bad. Even an exceptional ordinary ice cream will taste good when you are craving for it. Unike the other ice cream parlours in Singapore that scramble to compete on the varieties of flavor, the folks behind Once Upon A Milk Shake (OUAM) are a smart bunch; they keep things simple to just a couple of flavor, and package everything nicely.
What's there not to like when it a) has a catchy name, b) sports a clean and yet bold color in white & purple, c) gives you choices of either ice cream, milkshake, or both, d) comes up with whimsical names like Agent Strawberry and Nutty Peanut Butler.
On the two occasions that I went there, I had the Chocolate Truffle Castle, Sir Cookies & Cream, Vainillapot, and Nutty Peanut Butler. The Chocolate truffle ice cream was awfully good. Thick and chocolaty, there's no way any chocolate lover can resist this. But it was not my favorite pick, don't get me wrong, I like chocolate, but I never really fancy chocolate ice cream; chocolate on its own, is already divine.
The Cookies & Cream milkshake, is oh-so-good. There are some renditions of the cookies and cream that are too dense and heavy, while there are others that are too light and hardly have any cookie texture. I like the lush vanilla base that has rich Oreo cookies bits, and at the same time, it's also not cloyingly sweet. All in one cookie – this is a keeper.
Recently I'm hooked on Vanilla ice cream. Since there's a huge supply of Ben & Jerry ice cream in my fridge, I've been having vanilla ice cream almost every day for the past week. Vanilla, is perhaps the simplest flavor there is, and yet the hardest to attain perfection. I think it's the nature of vanilla, the subtle, yet sweetly-flavored, distinct elegant taste that appeals to me. Vanilla milkshake, anyone?
Peanut butter can perhaps, be mentioned in the same legendary status like Nutella. Peanut butter, I'm sure, was invented for the sole purpose of satisfying the wildest desire of the human species. Oh yes, there is the lovely strawberry jam, those are great, but it pales in comparison when you put it side by side with peanut butter. The richness of the thick and creamy peanut butter  milkshake simply makes anything ordinary, taste delicious. It's so addictive that you will eat it straight from the jar.
Which makes it a pity when my friend claimed that she had tasted better Peanut butter milkshake elsewhere before. Perhaps the one here, is still not the one to beat.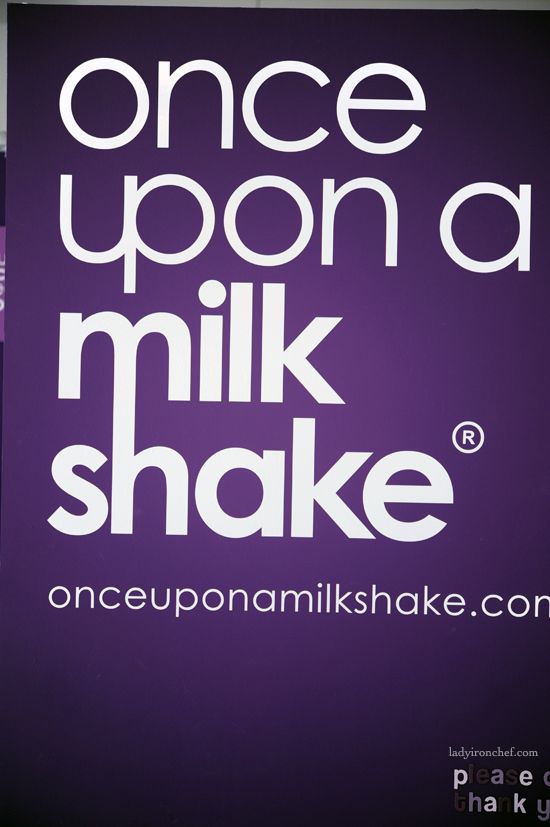 The milkshakes are available in 2 sizes (mini @ $3.30 and regular @ $5.50). The mini ones are really tiny, but I'd go for mini and try different flavors. Best ice cream and milkshake in Singapore? Maybe, maybe not. But does it really matter?
Among all the ice cream parlours in Singapore, Once Upon A Milkshake (OUAM) is all about gimmicks,  but I love it! You know what? It's like a guy knowing that the girl is lying to him, and yet, is willing to be deceived. I know I'm superficial. Whatever, I'm a sucker for all things pretty.
Restaurant Review
Once Upon A Milk Shake
32 Maxwell Road
#01-08 Maxwell Chambers
Tel: 9823 3779
Daily: 11am-11pm
2 Orchard Link #02-03/04
Singapore 237978
Tel: +65 9233 1624
1 Raffles Place #B1-03E
Singapore 048616
Tel: +65 9649 7893
Once Upon A Milk Shake is listed as one of ladyironchef's favorite restaurants in Singapore.
Featured in