Even though I can't really take spicy food well, I do enjoy Indian cuisine. Many people dream of opening their own restaurant or cafe one day, I'm sorry to burst your bubble, but not everyone has what it takes to be a restaurateur.
There are so many aspects to make a good restaurant; other than delicious food, there's the training of your staff, gorgeous interior design, an accessible and attracting location, a good wine list, visual-appealing menu, handling the suppliers and one, ten, twenty other small minor details.
The Muthu's Flavors is the latest brainchild by renowned Muthu's curry on Race course road. Now you get to enjoy the same good Indian food in a contemporary restaurant setting, with everything plated nicely, in the lush Dempsey hill.
Interior design wise – I'm a sucker for white. It's interesting to see a traditional Indian restaurant using a bold and unique orange-white combination, and this actually makes The Muthu's Flavors different from the  original Muthu's Curry. Well I can't say for all the staff service wise, but I do think that they have a good manager in Joseph, and his assistant is equally knowledgeable about all the food.
Photo Credit of the second interior shot: Monoxious.com
When a restaurant is located in Dempsey, it's difficult not to get noticed by people. While I used to think that Dempsey is all about three things: over-rated, over-priced, and over-crowded; but there are some really good restaurants there.
If you know me well, I'm very particular when it comes to the menu, it shows everything about the restaurant. Well it may not be true for all places, how much can you expect when they do not even put in effort into doing out a good menu? Small tiny details like the font, the positioning of the words, the use of colour of font and background, the visual aspects of having some good photos (it can works either way) and the pricing of the dishes; while some restaurants' menu disgusted me with either messy layout or lousy photos, there are efforts put into Muthu's flavors menu.
Pappadam, the Indian flat bread was used instead of the typical toasted bread for the Pappadam Bruschetta ($5.50). I always have a thing for diced tomatoes. I'm not sure why, but somehow, they just look so appealing when it's diced into tiny squares.
Eating the Crab meat stir-fried with fennel ($18.9), it makes me think that I'm eating chicken floss, with the addition of green chili and onions.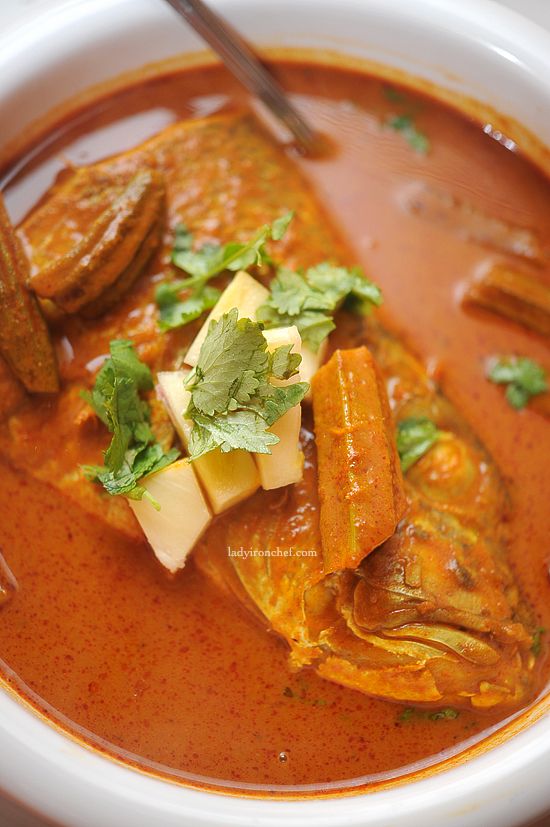 I was tweeting the previous night before this dinner, that I'm craving for some awesome curry, lo and behold, the famous Muthu's Fish Head Curry ($25). Served with ladies finger and pineapple chunks in a rich gravy of aromatic spices, the tangy, slightly spicy sweet curry gravy makes me blush, like a young boy meets love.
Why do we even bother to order the other dishes? This is as good as it gets, and no, we are not going to debate on the 'best curry fish head in Singapore' topic. Pour the curry gravy on fragrance white rice, and that's my dinner.
Tomato and garlic marinated chicken served with Cheese naan, frankly speaking, I could not recall much of the Chicken Tikka Masala ($15.5). Barring the fact that I was already sweating profusely after the sensation from the curry fish head, I stuffed myself with cheese naan.
Between the Massala prawn and the Muthu's Prawns 65 ($17.9), we decided to go for both. I have no idea of the reason behind the inclusion of 65 in the name, but all of us agreed unanimously that Massala prawn was a better choice as the freshness of the prawns were lost in the deep-frying process.
The Massala Prawns ($23.9) were definitely much better. Huge tiger prawns cooked with a combination of chilies, tomatoes and spices. It's one of the sweetest thing in life to have someone peeling prawns or crabs for you, some love to get their hands dirty, while others either try to use a fork and spoon to shell the prawns, or simply refused to eat it.
In between our debates over the proper terms of whether it is called de-prawning or de-shelling the prawns, here's my version of 'how to peel a prawn'. 1) Use both hands and hold the god-damn prawn steady. 2) Remove the head and all the tiny legs. 3) De-shell the shell starting from the legs area 4) Pull off the tail and eat your prawn.
Okay fine, so I got greedy. We were full but still, the Lamb Rack Ananas ($22.9) was too alluring for us (or rather, me) to resist. I like how they barbecue the pineapple and add the distinct fruity flavor to the meat. They look good. They smell good. I like to hold it by the bone, gnaw it right up and finish every single bit.
Lamb rack aside, I didn't know barbecued pineapple can actually taste so good! The others were too full to finish the rack. If the lamb isn't attractive enough – there's the tantalizing tandoori chicken beckoning to us.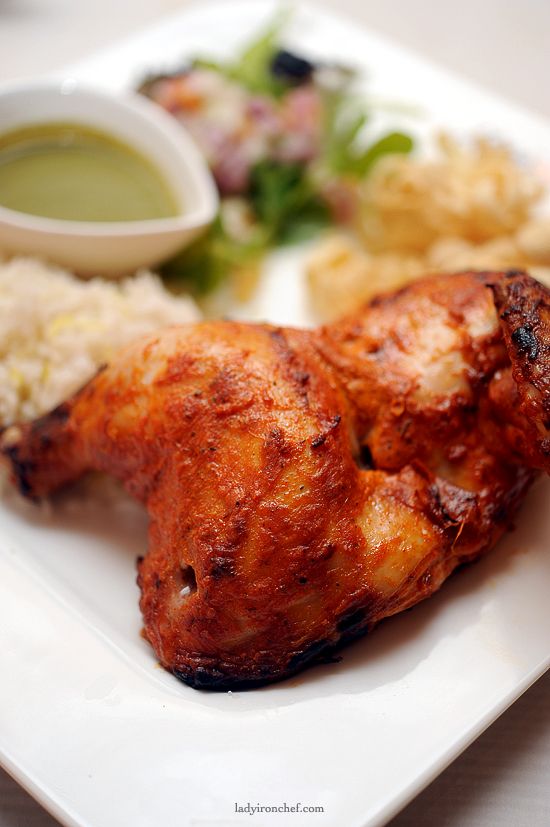 This Tandoori Chicken ($16.9) is a wonderful all-weather kind of food: I'd imagine holding the drumstick and biting off the meat on a cold rainy day, and feasting on the flavorful chicken during summer. I usually don't like chicken breast because it's tough, dry and unappetizing (at least to me), but you know what?
I absolutely love the chicken breast here. It was so tender, and moist. This is the first time I'm giving such high praises to a chicken breast, and I actually like the breast as much as the drumstick.
So, it was a choice between Kulfi or Masala Chai Flan ($7.9), I never enjoy the Indian style ice cream, and having a good impression of a flan dessert helps. The ladies thought that the flan was too sweet; if you're anything like me, I bet you'd happily finish the whole dessert on your own – I did.
This, is the Beetroot Halwa ($6.9). I know what you are thinking. Beetroot, and dessert? Weird? Yes. As much as I agree that beetroot is always very interesting as it provides the natural reddish purple coloring, but I'm sorry darling; beetroot just don't work very well with dessert, for me.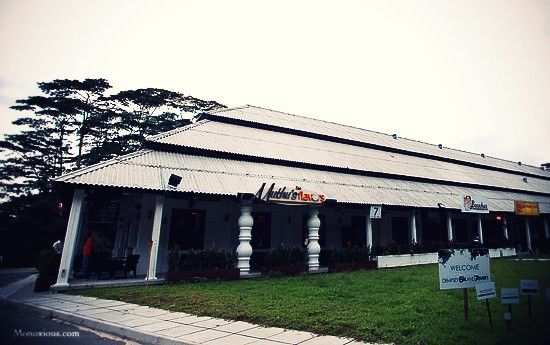 Photo credit of restaurant exterior: Monoxious.com
Being a new restaurant, there are still a lot of teething problems to sort out, but it will be interesting how people react to the new Muthu's Flavors concept. Purist and loyal supporter of Muthu's Curry at Race course road may, or may not receive well to the idea of dining in such a classy and contemporary Indian restaurant, but I'm sure the younger crowd, and especially those who frequent Dempsey often, will be happy to have a new option for good and affordable Indian food.
I'll like to thank Rayner from Contagious and the folks behind Muthu's Curry for the invitation to the food tasting session.  If you are keen to try out the food, The Muthu's Flavors, Dempsey is having a 25% off total bill promotion from now until 28th Feb, and they have a new outlet at 313 @ Somerset too.
Restaurant Review
The Muthu's Flavors
Blk 7 Dempsey Road
#01-01 (Near B&J)
Tel: 6474 5128