They call Singapore, the food paradise, and I agree. Here, on this tiny island, influx of different cuisines from all over the world meant that we get to try all sorts of food; Mexico cuisine, Lebanese kebabs, French Degustation, Spanish Tapas – you name it, we have it.
It's particularly intriguing when I come to know of a new restaurant in Orchard Central, Duo Le that serves Shanxi cuisine with a combination of influences from Guangdong, Sichuan, and Shanxi.
Starting off with the Boiled sliced chicken with homemade chili oil ($9.8) was a wise move, tantalizing chili oil covered the softly boiled sliced chicken – just what you need to awaken the taste bud.
Pork Knuckle is a term associated with beauty. I cannot imagine anyone who will not be attracted by it. The Secret recipe pig's knuckle ($12.8) arrived on our table – a cold dish – not quite like what I've expected. My mind had subconsciously conjured images of deep-fried knuckles, so sinful, but yet so good. Still, Duo Le's rendition of the pork knuckle came thinly sliced, it was enjoyable in a different manner.
Walnut kernels with black fungus ($8.8)
Fresh Celery with homemade seasoning ($8.8)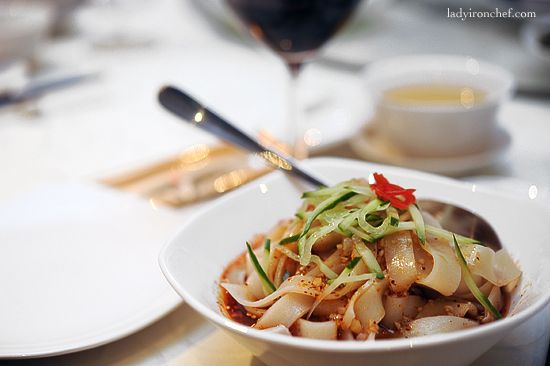 We were told that the chefs prepare the noodle from scratch, tasting the Handmade Shanxi Cold noodle ($6.8), I could understand why, there was just something different; cold, smoothing noodle, drizzled with chili oil. To cut a long story short, for someone who usually do not like cold noodle, I had more of it than what I'd usually have.
I couldn't quite make out the Seafood mashed potatoes ($26.8). On one hand, I enjoyed the generous amount of seafood in the dish, and I can imagine that the gravy would go along well with white rice. But on the other, the mashed potato was more like an acquired taste; it did not work for me.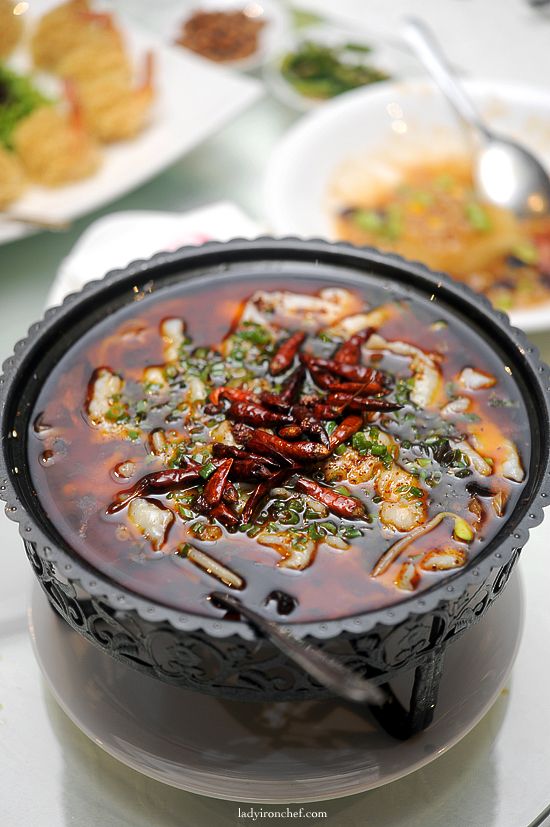 Prepared in a hot pot of sorts, the Special Si Chuan chill sliced fish ($38.8) was very intimidating with the dry chili on top the thick layer of the spicy-looking chili oil. I was hesitant in picking up my spoon, but the others took up the challenge with much enthusiasm. They convinced me that it was not as hot as it appeared to be, I took a tiny nibble of the sliced fish with some gravy, although the fish was not extremely hot, but it was enough to make me sweat.
Winter melon is a firm favorite of my mom's when it comes to soup. She'd boil the melon with pork ribs for many hours until the melon became so soft that it could almost dissolve in your mouth. It was almost the same case here, the Dry scallop stew with Winter melon ($26.8) had a smoothing texture, with a sweet subtle fragrance from the dry scallop.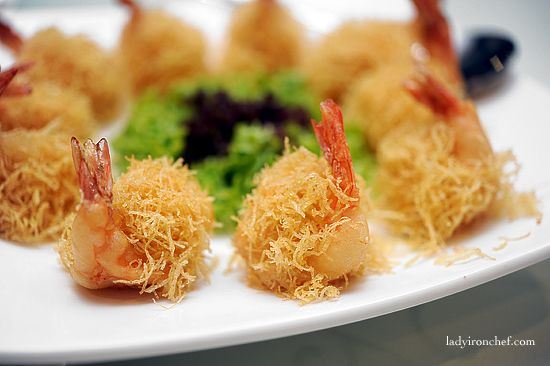 I believe whoever that came up with the idea of deep-frying prawns must be a genius, otherwise how else do you explain something that's so simple, and yet taste so good? All of us unanimously agreed that the Deep Fried prawn wrapped with homemade sauce and potatoes ($28.8 for 8 pieces) were the highlight of the meal.
The chef actually peeled the potatoes into thin tiny strips, stuck them around the prawns and deep fried it until golden brown. The result? A crispy prawn ball that explodes in your mouth, so good that it reminded us of popcorn chicken. No, it's definitely much, much better than popcorn chicken.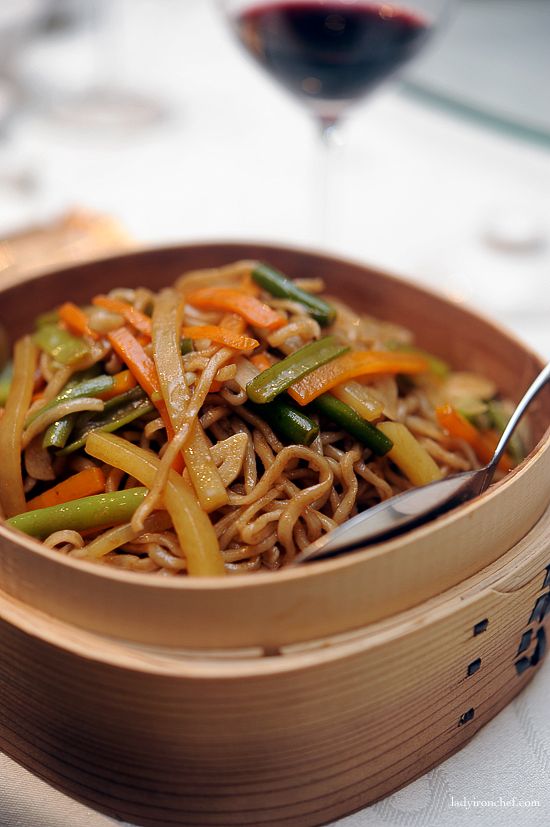 Shanxi Steam marinated Noodle with vegetable and pork ($12.8)
By all accounts, I'm a rather safe eater. I'd never touch stuff like fried insects, chicken feet, duck tongue, or durian. Chicken gristle ($16.8) seems pretty tame compared to those that I've mentioned, anyway when you took a bite of it, crunch, crunch, crunch. Sensational. Although I did not really enjoyed it, but at least now I can proudly say that I have tried chicken gristle before.
What I like, without a qualm, is the robust meat found within the shao bing. The Special Shanxi Marinated meat in baked Pancake ($6.8) is a local delight, there's nothing fascinating about it, just a hearty pancake with lots of meat stuffed inside.
Given a choice between the Shanxi Marinated meat pancake and the Spicy tenderloin, served with pancakes ($16.8, and $2.5 for one pancake), I'd definitely go for the former. It's not that the spicy tenderloin wasn't good, but the tiny chunks of meat were not as satisfying as the marinated meat pancake.
I will like to thank Fenix from Edelman, Natalie from Far East for the invitation to the food tasting session, and Eric for hosting us.
* * *
Food Outing
Date: 30th Jan
Time: 1 pm
Cost: $25 nett per pax
If you are keen to try out some Shanxi food, why not join us for my food outing next Sat? Take a look at the menu, to register for the outing, send an email to [email protected], let me know your name, contact number, and the number of pax.
Restaurant Review
Duo Le
181 Orchard Road
#08-09 Orchard Central
Tel: 6509 8616