I have a little fetish with desserts. I cannot resist them, especially during buffets. I mean, why wait till the end of the meal to have desserts, when you can have desserts right at the start? Because I eat desserts first.
Remember I took seven lucky readers with me for a dinner buffet?
The best part of the desserts section would definitely be the live station that serves fresh crepes and waffles; I had a great time marveling at the process of making the waffles, and then an inspiration suddenly struck as I took a spoon and drizzled the chocolate from the flowing fondue on top of the waffles and ice cream.
You know what's the worst thing? They know my wildest desire and they demand my attention every now and then. It's very irritating. They would wave and offer themselves to me. And then they tickle and whisper into my ears. If the others had not pull me away, I'd have stay at the waffle station for the whole dinner.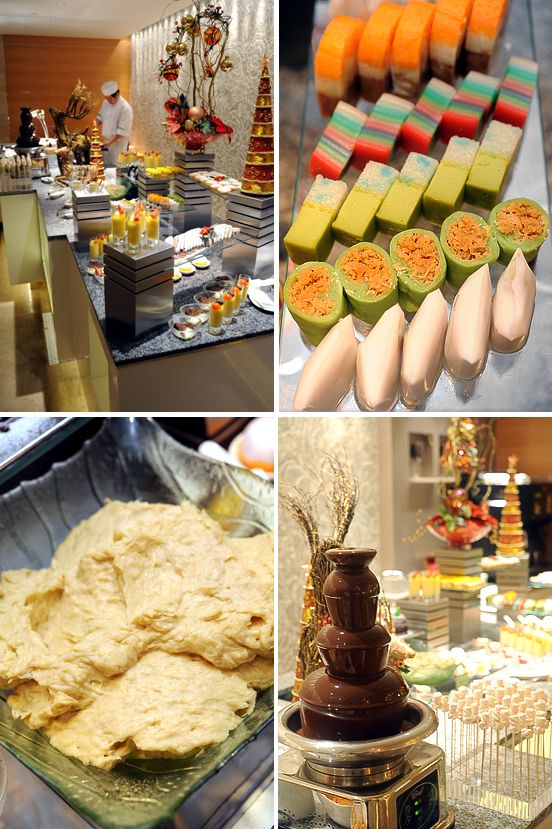 Their durian pengat is famous too, and it's a great idea to have it together with the waffles too; anything goes with waffles – it's just my excuse for having more! There's an assortment of mini pastries and cakes available, I liked the mini fruit tarts, and simply enjoyed dipping the marshmallow inside the chocolate fondue, oh what joy.
Among the main dishes, the fried carrot cake caught my eye, and surprisingly it was very good and I couldn't stop raving it to the rest. After the recent revamp, the buffet has doubled it's selection and now focuses more on local and Asian dishes,
But when it comes to buffet, I always eat very little of the main dish, okay I will still grab some small bites, like one spoonful of rice and fried noodles, one piece of chicken, and some sushi. After which, I will go back and concentrate on the desserts. Oh well, I have a sweet tooth.
There's also stations where you can prepare laksa and rojak, there's several sets of different menu and the local favorites dishes will be rotated every night. Food is all about getting your hands dirty isn't it? The fun of mixing and matching your own rojak, throwing in as much peanut and youtiao as you want, and putting more prawns and chili into your bowl of laksa.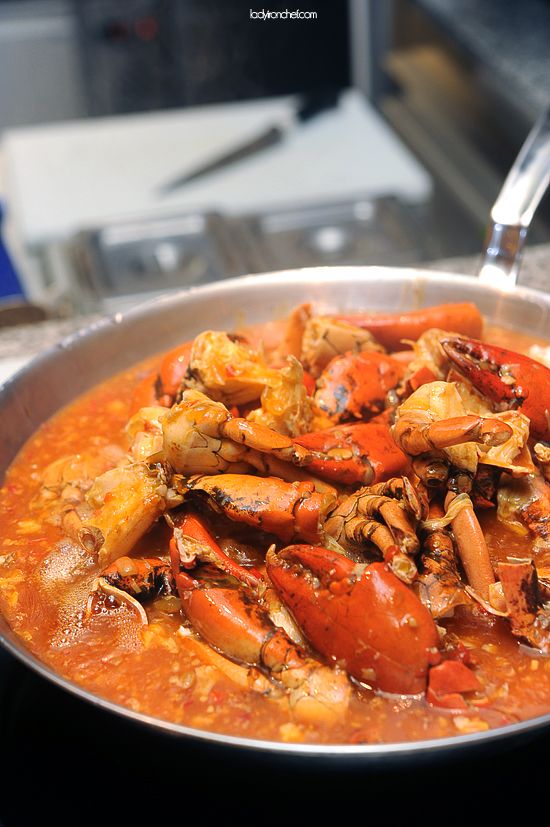 It was not the chili crab, but the deep-fried mantou beside the crab that took my breathe away. What sheer audacity, they actually had a bowl full of deep-fried mantou along side the big pot of chili crab gravy – it was a direct challenge crying out to me, come, lets see how many mantous can you finish!
* * *
The buffet lunch is $39++ from Monday to Fridays, and buffet dinner for weekdays are $44++. Their weekend dinner buffet has a bigger seafood spread at $46++ per person. I will like to thank Chia Yee from Holiday Inn for the invitation for the food tasting session, and I hope that the seven of you enjoyed the buffet dinner.
Restaurant Review
Window on the Park Restaurant
11 Cavenagh road
Holiday Inn Singapore Orchard City Centre
Tel: 6733 8333