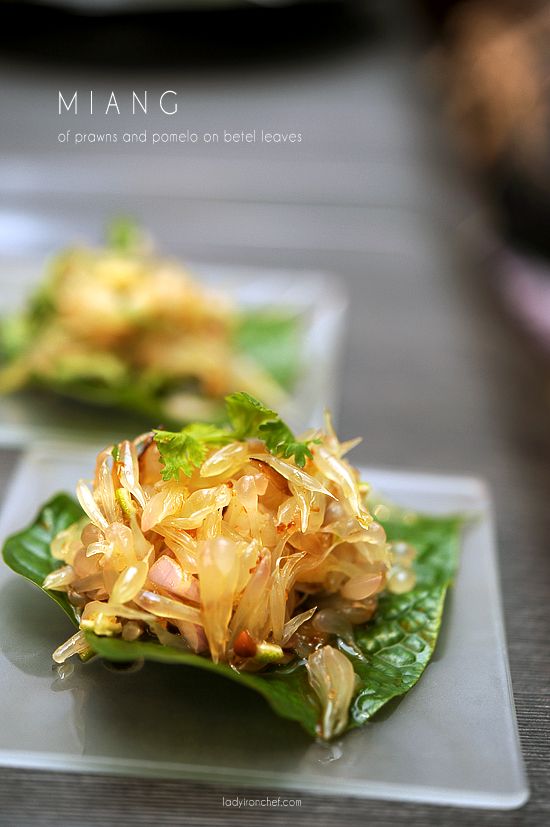 The irony of staying in the west is that I always tend to travel further away from the west for food. They call this the-grass-greener-on-the-other-side theory. Sweet Salty Spicy at the railmall is just five minutes away from my place, but I have never visit it until now.
The Miang of prawns & pomelo ($3.5 per portion) marks the start of our Thai dinner. The correct method of eating this is to roll up the betel leaves with all the fillings within, and eat it in one mouth – or at least that's how I ate it.
If there is a perfect appetizer, it will surely be the Salad of green mango with crispy salmon ($9). Spicy, sour, and refreshing – it has everything you can ask.
And other than the mango salad, the Hot & sour tom yum soup ($12) is definitely the other classic representative of Thai cuisine. On the surface, the slightly-marred soup appeared to be harmless, but the first slurp hit me in an instant and I was already grasping for water.
We thoroughly enjoyed the Traditional Thai fish cakes ($8 for 4 piece) that came with the sweet spicy dipping sauce. The fish cake was good, but it was the sauce that made it even better.
From the Wok menu, the Crispy Pork knuckle ($10) caught our eyes immediately. I don't know about you, but I like pork a lot, and this certainly works for me. The others like to have it with the spicy nahm prik relish, but I prefer to have it on its own.
Let's be honest: what's there not to like about the tender Pork collar ($14)? They were more delicate and fragile than the pork knuckle, but they were delicious. They were slightly crisp on the outside, just as I wanted, and the meat was so tender and soft. It was a very close replication of roasted pork, not as crispy, but in some ways, I liked it even better. So I finished everything on my own. And my conclusion: these were keepers.
I was pretty skeptical when we ordered the Angus Beef cheek with flat rice noodle ($16), I mean this is Angus beef cheek that we are talking about and they probably will just give a tiny winy piece of meat with lots of noodles. But the result, as you can see in the picture, was a huge serving of the most flavorful and tender of tamarind glazed Angus beef cheek in the fragrant ginger broth. We didn't manage to finish the flat rice noodle since we were saving our stomach for the other dishes, but if you ever come here; trust me, you will want to finish this bowl of noodle.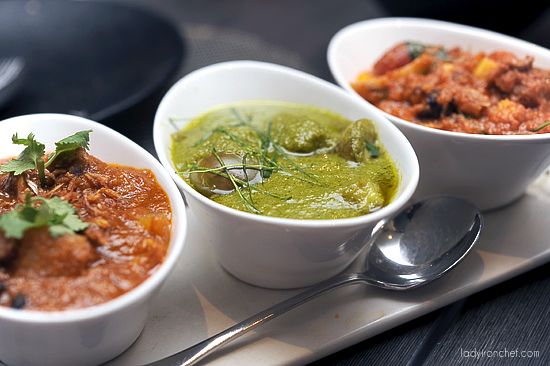 Sweet Salty Spicy has five curries in their menu, and we had the Curry Triplets ($24 for 4 person) that allowed us to choose three out of the five. There was the Jungle curry of scallops and prawns, Panang curry of Angus beef in addition to the Mussaman curry of chicken, Green curry of baby snapper and roast duck red curry that we had.
Talking about curry, my favorite will definitely be curry fishhead, but unfortunately they did not have it here. The Mussaman curry of chicken was passable, while the others like the snapper curry. I don't know about you, but somehow green curry is a turn-off for me; it reminds me of the puke when you are overdosed with liquor from a boys/girls night out.
If I have to choose my favorite, it will be the roast duck red curry. I always have a fetish for roast duck, so it's a fascination how they manage to blend the taste of the tasty roast duck and curry together. It was a little on the sweet side, from the addition of grapes and fruits to cook with the curry.
I always remember about the Pad Thai that I had in Phuket. In retrospect, it seems funny that I should say that, since I can't hold my chili very well. But Sweet Spicy Salty's rendition of the Pad Thai ($12) was not spicy at all, I'm not sure if all Pad Thais are not supposed to be spicy, but the one that I had back then was definitely hot and fiery.
In fact, I like the localized version better, it was somewhat sweet and the stir-fried Thai rice noodle was very fragrant. The addition of peanut added crunch to it, but it would be even better if they've threw in more beansprouts.
I like prawns. And so it make sense to order the Jumbo prawns ($4.50 each). But there's a snag, the de-prawning is always an issue for a lazy bum like me, and luckily they shelved it for us. We also ordered the Grilled squid ($12) that had the same marination as the prawns: the taste was pretty run-of-the-mill.
Despite hearing horror stories on the possibilities of the ways they treated Soft-shell crabs ($13) to make it soft, we went ahead and order it. Often, it's the dressing that makes the dish taste better, there wasn't any spectacular about the soft shell crabs, wellt hey were crispy, and eh, soft, but it was the the chili jam & lemongrass dressing that enhanced the taste.
At this point of time, our stomachs were already quite full, but when the staff told us there's a signature dish that we did not order; we were greedy and went for the Deep fried silken tofu ($18). It was a pretty high price to pay given that it's only fried tofu stuffed with minimum crab and maximum minced pork. The sauce was good though, but the price tag doesn't justify for tofu.
The only reason why we made some last minute orders like the soft shell crabs and tofu was because we thought there wasn't any desserts available. So it came as a surprise to us when they showed us the separate dessert menu, and boy I was excited when I saw the long list of selections they had. And it was even better when I found out that the desserts are made in-house.
We were debating over the white layer in the Devil's chocolate cake ($8), the menu wrote raspberry ripple so we tasted the layer on its own and tried to convince ourselves it was raspberry. But it was actually mascarpone cream cheese, if you looked closely – the raspberry ripple is a thin layer in between of the cream cheese and the chocolate cake, which explains the reason for the pinkish tinge in the cream cheese. The chocolate cake was a little dry, and personally I felt that cream cheese does not goes well with chocolate cake.
Sometimes luck is very important when it comes to food. You may be scarred by a bad experience and refuse to try a particular dish just because it was bad during the first time you had it. Well, my previous and only encounter with the Sticky Date pudding ($6) wasn't exactly memorable, but I decided to give it another shot. The problem arises when I do not know how a good sticky date pudding taste like, so there's no comparison. The one here was fairly competent, it was very date-ish, if there's such a word, and it would be better if there's a scoop of cold ice cream to go along with.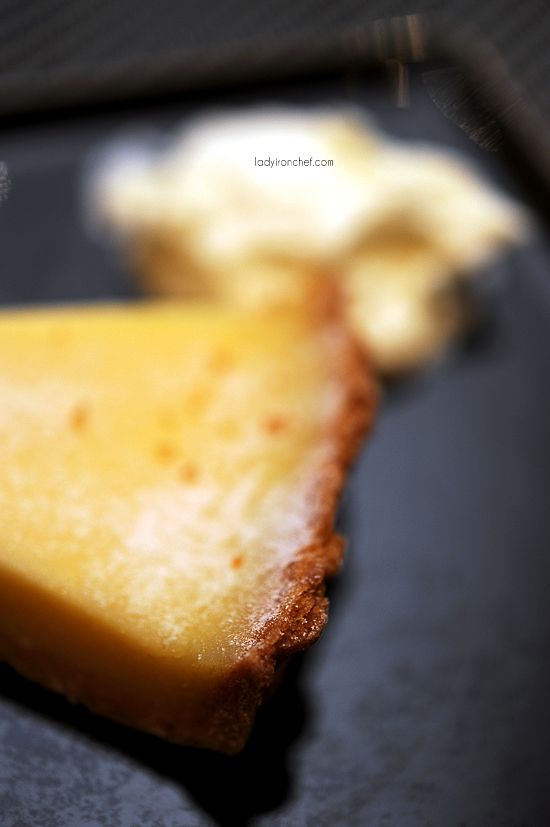 All the citrus junkies will absolutely go crazy over this Lemon & wine tart ($7). With the strong and distinct lemon taste lingering on the tongue, the crispy tart crust goes crunch, crunch in your mouth.
* * *
This is last part of the series that I'm doing with Standard Chartered, I will like to thank Claudia from 24seven Communications, and Standard Chartered Bank for the invitation.
Just a quick note about their new credit card campaign, I'm sure most of you will have seen their latest Barry and Fin advertisement; first you get 15% off total food bill (click here for the list of restaurant), and at the end of the month if you have charged more than the minimum amount of $500 (which can be anything, not just dining), you are entitled to an additional 15% cashback which applies to all restaurant in Singapore.
Sweet Salty Spicy
394 Upper Bukit timah road
The Railmall
Tel: +65 6877 2544
//  Read my list of Thai Restaurants in Singapore.
Featured in