It's that time of the year again. This is the time when we party & make merry, wear fanciful bunny ears, feast like kings & queens,  drown in lychee champagne – and get away with it. Did I mentioned party? Oh yes I did. Impromptu is our middle name, there's nothing like a Christmas party that is planned just a few hours beforehand.
Darling, lets skip the turkey, uh-uh, no baked ham either. And I don't want any Yule log cake. So instead of all those, how about the perfect char siew sou, and a fresh-out-of-the-oven egg tart? Even better, top it up with a peanut-butter chocolate cupcake, and follow by a lemon meringue tart. This is Christmas, isn't it?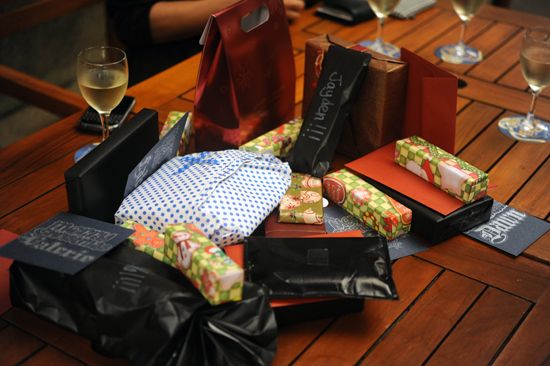 Christ-mas is all about gifts. It's about giving and receiving; it's the thoughts that count, it's about the adrenaline when you are exchanging gifts & tearing the gift wrapper; and it's about watching the wide smile & surprise on your face when you receive the present.
And above all, Christmas is the perfect excuse for us to feast. This is the night when we can eat to our heart's content; this is the night when we can ignore our waistline, gorge ourselves silly and make friends with calories; this is the night we have a special Vietnamese spread to go with lychee champagne, and countdown to Jesus's day with a ginormous burger in hand.
We braved the crowd, did some last-minute shopping, feast like a king, drown in champagne, mix white wine with red, laugh like mad, chat like old friends, and wish each other the best of luck for the coming new year; Xmas is all about food, friends & you. Merry Christmas to all of you!