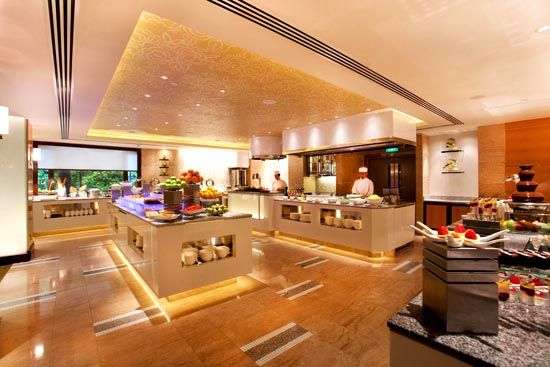 I've mentioned about another surprise during the crab giveaway didn't I?
As much as I will like to organize a 100 people food outing every month, it lacks intimacy and you probably will get just five minutes of me. So now I'm offering you my full undivided attention, over a buffet dinner.
I'll be bringing 7 lucky folks to join me for a food tasting session at the newly renovated, Window on the Park Restaurant. Hold on a second, I can hear someone say there's no such thing as a free lunch dinner in this world. Oh yes there is, the  dinner will be free for the seven of you, and we shall feast like kings and queens! So if you are available for dinner next Wednesday on the 16th Dec, try your luck by joining this contest.
Just a quick note on the buffet, it focuses more on local and Asian dishes, and the signature dishes include laksa and durian pengat. The restaurant also features three live stations which serve fresh pasta, local dish of the day, waffles and crepes.
HOW TO GO ON A DINNER BUFFET WITH ME
1. Leave a comment on this post
Tell me why you want to join me for buffet. ONE entry per person, and you can write anything. And unlike the last time, the winners will not be decided by any highly sophisticated method. Instead, you really need to crack your brains to leave an impressive comment that will stand out among the rest. For those who frequently leave comments on my blog, you will have a better chance, so hurry up and join me for dinner!
2. Use your own contactable email

Please use your own contactable email when you post the comment, it is highly unlikely that I will choose those who leave their comments using newly created/dubious email address. Anyway for the winners, I will be in touch shortly to tell you more details about the dinner.
The contest will run until 14th Dec Monday Midnight, and so you have exactly four days before it ends.
Window on the Park Restaurant
11 Cavenagh road
Holiday Inn Park View
Tel: 6733 8333
Photo credit: Window on the park