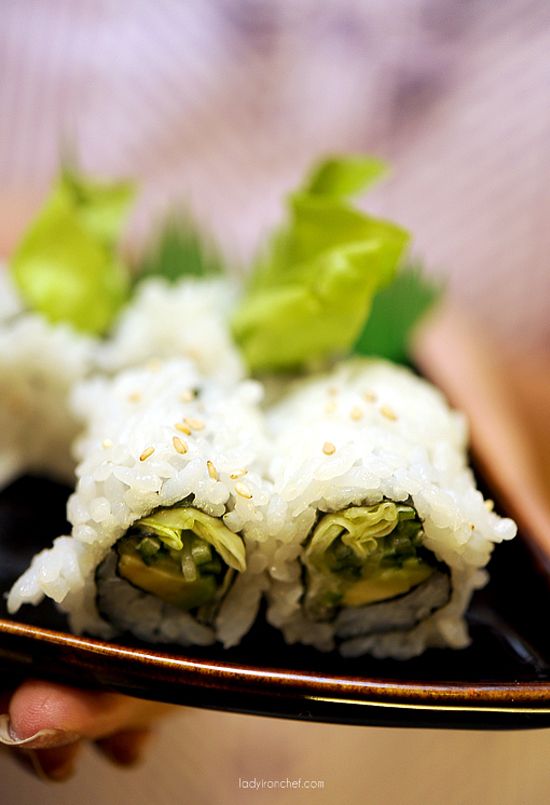 One of the reasons why I hardly blog about Japanese food is because I always have difficulty in remembering all the mind-boggling names. I heard of Standing Sushi Bar a while back when it just opened, and the first question on my mind: "are there seats inside?"
The catchy name certainly helps to pique the curiosity of most people, and I found out that the theory of stand, order sushi and eat only applies to lunch where there are no seats. For dinner you can sit down comfortably (although it's kind of cramp) and enjoy your sushi.
There was six pieces of the California roll ($6) each; since the others were saving up their stomach for the other courses to come, I had the lion's share of it. There's just something about California roll that attracts me; this is the kind of thing I could keep eating and still never get enough. Okay fine, that's just an excuse – I'm a glutton.
SSB's owner Howard made the selections, and he chose a platter of five nigiri sushi for us; Maguro ($2), Sake Toro ($2), Hamachi ($4), Aburi Hotate ($4), Shime Saba ($3). I particularly enjoyed the scallop which had a tangy sauce to further enhance the sweetness of it.
And how can we do without Sashimi? The Chef's special ($25) will definitely delight all the sashimi fans out there; I bet you are already salivating at the prospect of putting the thickly sliced, fresh sashimi with a pinch of wasabi into your mouth.
I was particularly intrigued by the Anago nigiri ($6) when it arrived on our table. The long and slimy salt-water sea eel looks so tantalizing with a coat of sauce, and there was the challenge of gobbling it up with one bite.
I have mentioned it before, but girls seem to love their Salmon a lot. And the Salmon Yuzu Yama-mayo yaki ($15) will be the perfect choice; the fish crumbled at the lightest touch and it was tasty with the appetizing sauce, but I would prefer it to be slightly more charred on the surface.
Besides all the raw nigiri sushi and sashimi, there was also some cooked food available and we had the Mix Kinoko Foil Yaki ($10) which by all accounts, wasn't cheap for just mushrooms, but I have to say it was delicious. There was the special-sauce-which-the-chef-absolutely-refused-to-divulge that is supposedly the success behind the three mushrooms.
And we also had the Tori Karaage ($6) which was quintessentially fried chicken wrapped with seaweed. After having so much raw food, it was nice to have some sinful, deep-fried food for a change.
Standing Sushi Bar has a pretty value for money set lunch, so if you are working in the area, check them out, but you have been warned – there's no seats during lunch.
* * *
This is the first part of a series that I will be doing with Standard Chartered, I will like to thank Claudia from 24seven Communications, and Standard Chartered Bank for the invitation.
Just a quick note about their new credit card campaign, I'm sure most of you will have seen their latest Barry and Fin advertisement; first you get 15% off total food bill (click here for the list of restaurant), and at the end of the month if you have charged more than the minimum amount of $500 (which can be anything, not just dining), you are entitled to an additional 15% cashback which applies to all restaurant in Singapore.
Standing Sushi Bar
1 Raffles Place
#B1-02B OUB Centre
Tel: 6533 7078