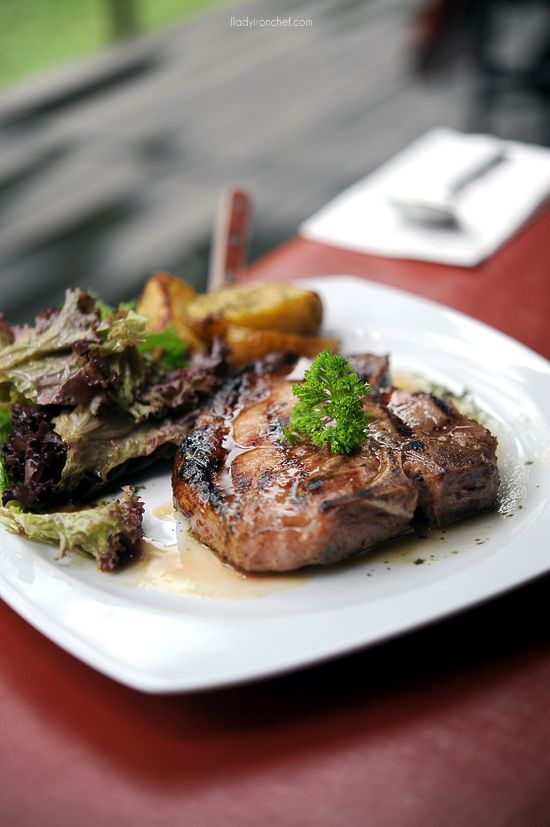 There's no other meat that can get me excited like kurobuta pork, not even wagyu. I know the Japanese beef is great, but my heart is already stolen the first time I had kurobuta.
I was skeptical when I saw that Grill-out is offering the kurobuta T-bone as part of their set lunch at only $11.50. Admittedly, the cut is T-bone and not the prized collar bone, but still, it's kurobuta – the pork version of Kobe beef. Is this some gimmick? No, wait, cancel the last part.
Ho ho, just look at that piece of meat up there! It looks so sexy right? All my doubts were gone the moment I had the first bite. The pork was everything you could ask for; tender, juicy, with the fats providing the melt-in-the-mouth sensation: it was good!
You have to try kurobuta pork unless a) you absolutely hate and will not touch pork, or b) you want to save it for me. Aww.. Jokes aside, I think it's important that you understand my point – get your hands on a piece of kurobuta pork, now!
Despite being very hungry, we only ordered one main course to share as we had an eye for the desserts next door. But I will definitely come back for the other premium meats they offered. If you are a meat-lover, here's the place for you!
Grilled-out!
Blk 106 Clementi st 12
Sunset way #01-38E
Tel: 6774 7001