It's not difficult to associate District 10 with Wild rocket, not when they have the bitter green for almost all their dishes.
Much as I agreed that Wild rocket is aesthetically pleasing to the eyes, but it's too much when all the appetizers and the mains are adorned with the same greens. And yes, we started our first appetizer with Wild Rocket Salad ($10).
The Selection of traditional cold cuts ($14) had an assortment of parma ham, salami, chicken, with grilled ciabatta bread.
How about some Deep fried calamari and tiger prawns ($10) to get you started? Oh yes! I was actually looking at the portion and realise there's at most one prawn and two calamari for each of us, so I immediately took my fork and started eating. And after that? I kept a lookout for signs to see whether the others wanted their share!
Wow, there's even duck in spring rolls now?
The name Homemade duck spring roll ($10) caught my attention first, from the exterior you would have think that it's just like the other normal spring roll, but there's shreds of duck meat enveloped within the crispy fried skin. There's a subtle taste of duck meat, and I like how the sweet sauce actually complimented the dish very well.
The Chili crab pizza definitely has the "Made-in-Singapore" brand stamp all over it. While credits have to be given to the chef who came up with the audacious creation, but the chilli gravy meant that the crispy pizza was moist and soggy. There's other interesting new school selections such as the sambal chilli prawn and chilli flakes pork floss pizza.
Wagyu meat balls? Isn't that a waste of the Japanese beef! I'm never a fan of penne, and this case the pasta was a bit over-cooked. But somehow I got hooked to the fulsome tomato sauce in the Rigatoni ($18)
When we were browsing through the menu, I knew we had to order the Crispy Duck Confit ($24). One of the things that I always lamented about, was the lack of duck dishes in restaurants, there's nothing like a good duck confit to make you happy all day! The duck confit here was a lot smaller than expected, and while I tried very hard to convince myself this will be good, but it wasn't. The lack of the crispy skin and the dry duck meat – let's just say I had better duck confit elsewhere.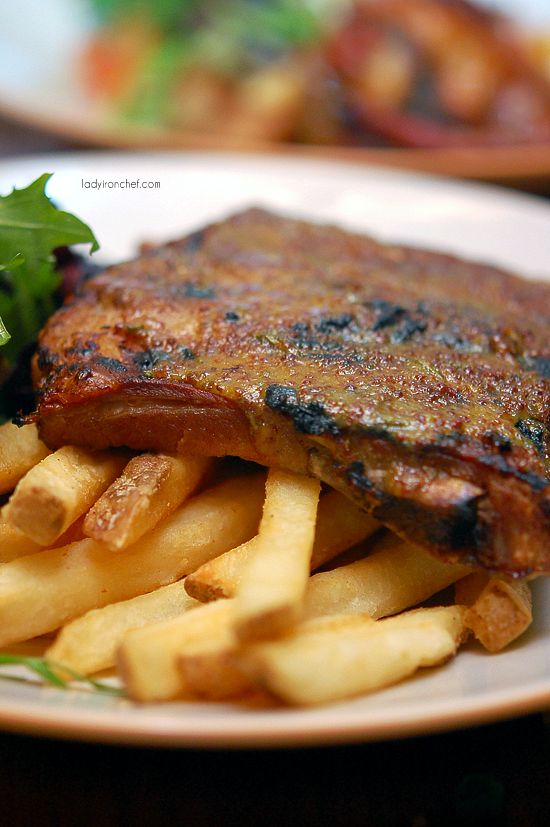 I thoroughly enjoyed the steak fries that came along with the Country style baby back ribs ($24), but the portions of the ribs were not as hearty as I would like it to be. Come on, give me a full rack, I can finish it!
Did I tell you how I like the way District 10 presented their fish and chips on the old-fashioned newspaper? And how excited I got when I saw peas (yes green peas) served along side the chunky fries and beer battered fish? Fish & chips is all about the crispy battered fish, the thick-slab of fries, with tartar sauce and green peas! I couldn't remember much of the beer-infused taste in the soggy buttered crust though. But everything's forgiven with the fresh fillet, and not to mention I totally adored the way they dressed up the fish & chips ($19).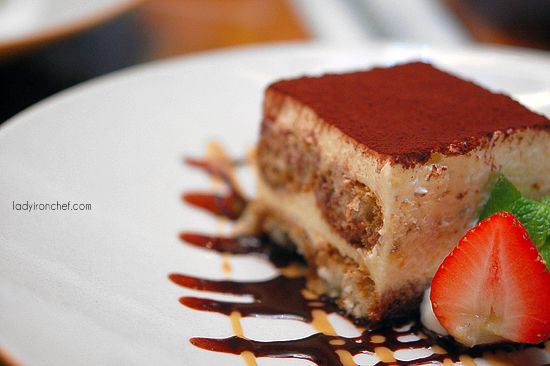 I was tempted to order the beef burger but reckoned that we should save some room for the many desserts that were coming up. And luckily among the six of us that night, there's four desserts enthusiasts, so we ordered almost everything from their dessert menu. The tiramisu ($9) caught my eye immediately, I'm a sucker of the Italian dessert and all of them tasted good to me.
The American Bramley apple pie ($9) was sweet-licious too. We ignored the accompanying butterscotch set cream and attacked the crusty apple pie. Every mouthful was filled with delightful apple flavour.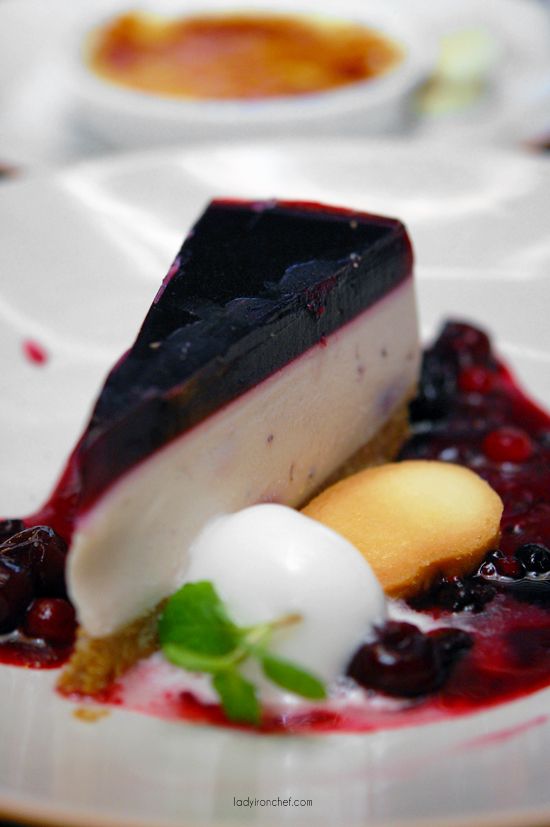 This wasn't the typical heavy type, you know the thing about cheesecake; it's the kind where you either love it or hate it. For those who preferred the creamy texture, this was a no-no, while for those who enjoyed the light airy cheesecake, the white chocolate and strawberry cheesecake ($10) will be the one for you.
I always wanted to try profiteroles ($9) and you must thinking how can I have not tried since I absolutely swore by my cream puffs. Taking a spoonful of the choux pastry, I carefully placed it into my mouth, and swoon! At that precise moment, I kicked myself for not knowing you earlier, it was good – it was damn good. If cream puffs with whipped cream is wonderful, imagine what's it like when there's ice cream in cream puffs!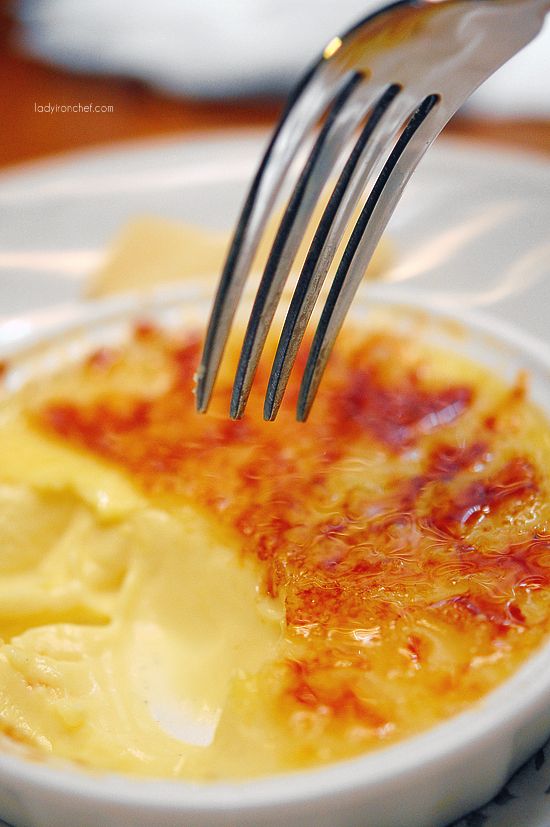 For a split second, I thought that my taste bud must have gone haywire as punishment for being a glutton. There's liqueur taste in creme brulee! But luckily the others reassured me that I'm not the only one who tasted that, there's really rum-infused with the burnt cream. Traditional creme brulee with Bourbon vanilla & rum ($9).
Oh-oh-oh! the Palvova must be the prettiest among the rest. She's so sweet, and charmed everyone with her beautiful red coat. You like meringue? You will like her here.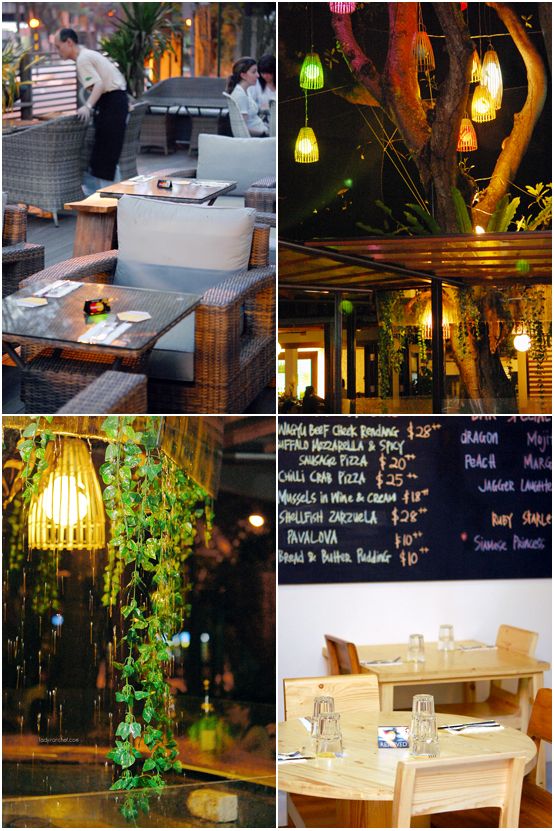 There's something about old school that's irresistible to me; the charming environment as though you are taking a trip back in time, with flashbacks of your carefree innocent school days. It was District 10 (by Bonta Italian restaurant) second week of operation when we went, and they were packed full house (160 seaters) on a Tuesday night. That's something to reckon with! To be frank, there wasn't any particular memorable dishes which wow me, but the reasonable prices and charming location might just do the trick. I'll like to thank Hungrygowhere.com for the invitation to the food tasting session.
District 10 Bistro
10 Winstedt road
#01-17
Tel: 6738 4788