Our very special night with DBS Foodster started with the limo fetching us to The Queen & Mangosteen. Cheerful staff greeted us, the smoothing sea breeze, with the relaxing ambience, the stage was set for a wonderful dinner.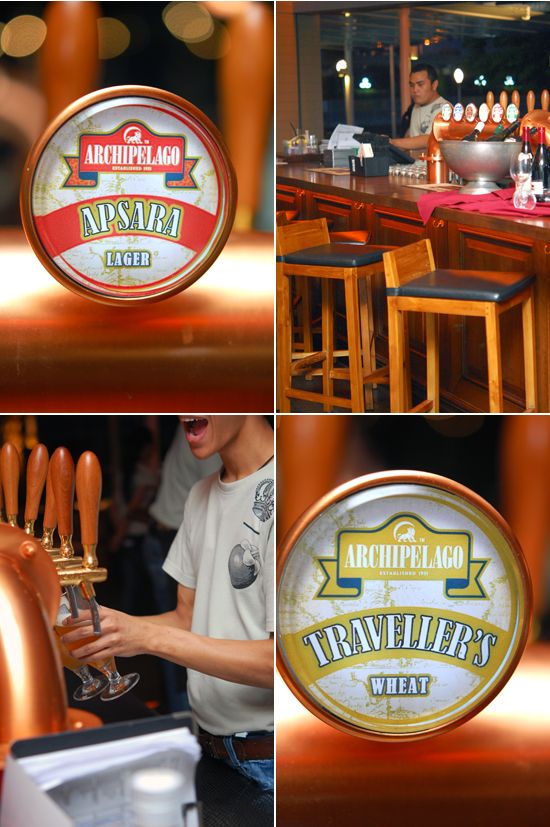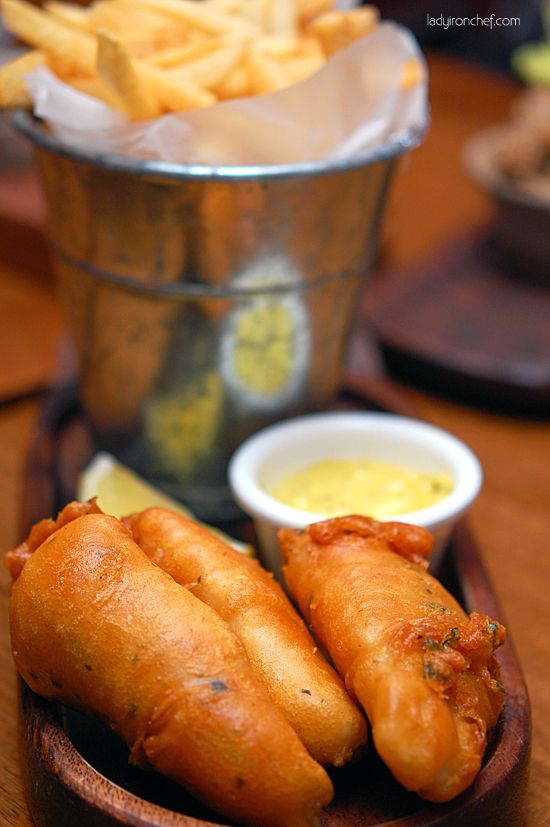 We started off by ordering from the Nibbles menu. The portion of the Fish & Chips ($15) was more than enough to be served as an entrée, three pieces of fish with a big bucket of fries. Mind you, it's not just the usual side fries, it's a whole bucket of tasty potatoes! I would prefer them to come in thicker wedge with some green peas by the side – the traditional British good O' fish & chips. But still, it's good enough.
And oh yes, I forgot to mention about the special curry tartare sauce. It was awesome! Indian cuisine has always been a big influence on the Brits, the sauce provided another different dimension which we never had before.
The shredded slow-braised duck with crusty bread ($13) was ordered out of curiosity, and the staff did warn us it could be an acquired taste, but we went ahead anyway. The taste was quite close to a pate, but somehow it reminded me of the tuna spread that I put on my bread.
Following on the adventurous tone that has been set, we went for the Spicy minced beef ($14). There wasn't anything spectacular when we had the minced beef or corn chips separately. But it was a hit when we spread a generous layer of minced beef on top of the chips and drizzled some sour cream together.
Love comes in all shapes and sizes, the Mini hamburgers & chips ($18 for 3 mini burgers) were not only cute but also pleasing to the palate. I didn't think much of it initially, but after taking a bite, the small beef patty was delicious! And just like the fish & chips, it came with a big bucket of fries too.
Just in case you were wondering, no we've not started on our main courses yet, all those you seen thus far are all just appetisers. At The Queen & Mangosteen, they offered a wide range of its signature craft brews including old favourites like Archipelago Straits Pale to pair with the food.
We wanted to order everything from their menu; the wild mushroom risotto is totally my kind of dish, the clayfish cooked in beer and fisherman's pie are crowd-pleaser, roasted rack of lamb is music to the ears of a carnivore, but there was just too many to choose from so in the end we didn't have all of them.

The rope-grown blue mussels ($28) came highly recommended and it did not disappoint. Using a fork to pitch the shell, we slurped down each mussel which was cooked in chilli, with delight.
I always wanted to try Bangers & mash ($26) which was quintessentially three sausages – pork, lamb and beef with mashed potatoes served with caramelised onion gravy. The lamb sausage had a very distinct and gamy taste that might be too much for non-lamb eaters, and the beef was fairly good too. But it was the pork sausage that grabbed our attention!
Bea's a big fan of beef, so naturally we ordered the rib-eye of beef ($38). Steak with thick cut chips, yorkshine pudding and a choice of wild mushroom sauce, thyme jus or caramelised shallot pepper sauce. We chose the latter with the steak done medium rare.
"It's one of the better steaks that I've!" She exclaimed. I like the thick cut chips, while the chewy texture of the Yorkshire pudding sort of tasted like choux pastry.
The Cambridge Burnt cream ($10) or affectionately known as Creme Brulee was our favourite dessert. Beneath the beautifully burnt caramelized sugar, was a rich custard base. We dug in, and finished every bite of it.
"Whoa", and "Ooh" were heard when the Mango coconut truffle ($12) arrived on our table. Our first impression: was it ketchup? There was a generous amount of berries and mango within the layers; the strong mango taste hit us first, with a subtle hint of coconut.
Between you and me, this shall be fondly remember as the ketchup soap.
It was one of those desserts that you didn't know how they manage to make it this way, which you just keep on eating, and eating until it's gone. I totally enjoyed the White chocolate & Cassis cake ($12). Interestingly, the triple chocolate ice cream on top of the cake took very long to melt. The white chocolate cassis cake was sweet, the girls found it too sweet, and so I had most of it to myself!
* * *
While the menu doesn't have a wide variety of selection, there's some pretty good selections for sharing and the portions were substantial too. My appreciation to Lynda from DBS, Cherylene & Seema from Eurorscg, and the folks at The Queen & Mangosteen for making the dinner a blast!
I will be going to different restaurants for three consecutive Saturdays with DBS Foodster, find out more information about the DBS Indulge Series here and you can also watch a video which I took in the restaurant here. I'm definitely looking forward to the next dinner at Umani this coming Saturday!
The Queen & Mangosteen
1 Harbourfront walk
#01-106 Vivocity
Tel: 6376 9380
Featured in