After going for the first episode of the YES 933 food segment at the Singapore Flyer, I missed two dinners at Tetsu, and Tian Jin Lou. So the fourth stop is at 7th Storey restaurant, which used to be located in the new 7th storey hotel, but has since moved to its new home at the Marina Barrage.
Steamboat is usually an annual affair for me during the Chinese new year; it always reminded me of the reunion of family and friends.
There's different packages for steamboat, but all of them are not exactly cheap, a family of four will probably need to spend 100 upwards for dinner, and besides steamboat, there's also ala carte menu to order from. There's the usual vegetables, prawns, crabs, and seafood ingredients, and we had chicken stock as our soup base. And we had the steamboat with chicken rice instead of just normal white rice
And there's of course Hainanese chicken to go along; smooth tender meat with the fragrant chicken rice, this was the reason why we didn't have much room left for the steamboat ingredients later.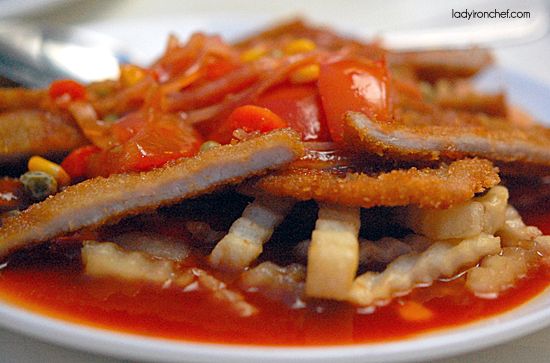 If I must choose a favourite dish for the dinner, it would be the Hainanese pork chops. Drizzled with sweet & sour sauce, the pork chop was served on a bed of fries; the whole combination was just right, and ooze a nostaglic feel.
Our special guest for the dinner: Chen Diya & Carrie Yeo of Project Superstar fame.
There will be an estimated of eight sessions, where every week we will go to a different restaurant, and there will be a mini-contest of sorts where listeners will sms in to get pick to go for the dinner. Besides getting to taste the food for free, listeners get to meet their favourite DJ, Jiafa and Peifen in person for dinner!
My appreciation to Jiafa & Peifen from YES 93.3 for inviting me to join them on the show, You can listen to our conversation during the dinner, the programme will be aired on YES 93.3 today 23th September from 6-7pm. Do stay tune!
7th Storey Restaurant
260 Marina Way
#01-05/06 Marina Barrage
Tel: 6222 7887