There is no need for swanky restaurants, nor is there a need for exotic cuisines, or fanciful ambience,  everything taste good when you are with me. My idea of a perfect dinner? Having sweet for appetiser, another sweet for main course, and rounding up desserts with yet another sweet.
It's alluring to me because nobody else does it; this in itself is a beautiful memory. And it's not with anyone that I can do sweets for dinner, it's only with you.
We are muddle-head, we want the best, seeking perfection in everything, and sometimes, I'm not quite sure if it even exist. Half the time we are chasing after unrequited love, after things that we desired but cannot get. Say you need me, and I will be there.
I want nobody, nobody, but you.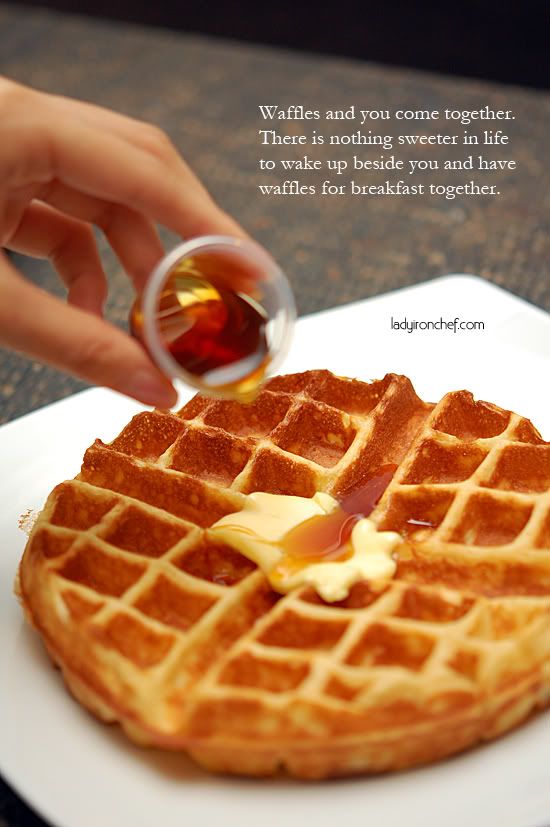 All guys should have a waffle-maker at home. There is nothing sweeter in life than to wake up beside your love one, and have waffles together. Making breakfast for that special person in your life, watching her pouring the syrup over the waffle playfully, feeding her a piece of the waffle that's drenched in syrup and coated with butter; the smile on her face is worth everything.
* * *
This was at least my 5th time to haato, this lovely spot in ridgewood close, Their waffles are only 4 bucks (plain), and 6 bucks (with one scoop), move aside Gelare! Waffles on its own, with syrup and butter, are divine. There's no need for an additional scope of ice cream; it doesn't taste good on waffles since it melt faster before you can say ice-cream. I say it before and I will say it again: order the plain waffles, and get double scoop of ice cream separately. I always, always order hazelnut flavour at ice cream parlour, so this time round we had matcha ice cream and lychee sorbet – the green & white combination.
Haato @ Ridgewood
5 Ridgewood Close Unit G1
Tel: 6464 9607
Featured in