I'm pregnant. Or at least I think I should be. Otherwise how else do you explain the fact that I'm constantly craving for food? Of course guys don't get pregnant, so there must be worms inside my stomach. Okay I shall stop here before the whole controversial topic gets out of hand.
Anyway, I've been craving for dim for some time now. Fine, I lie. I'm always craving for dim sum. For those of you who have read my blog long enough, you'll know that char siew sou and egg tarts are among my favourite. But this time, I was actually pining for custard bun.
And that's the only reason I come to Peach Garden!
I swear that they've the best Custard buns ($3.60 for 3) among the ones that I've tried so far. The molten lava custard flowed out when I poked a hole in the bun, with a hint of salted egg yoke, the yellow custards within the tiny, soft, pillowy buns were SO GOOD! We ordered two each, and still it wasn't enough. I will come back to Peach Garden just to takeaway their custard buns.
We couldn't resist not ordering the Peking duck, and the slight promotion at $48 instead of the usual $60 helped too. The crispy skin was thinly sliced and placed within the pancake; every piece was drenched with some sweet sauce, and served with spring onion. One piece each, definitely wasn't enough.The second dish was done with the ee-fu noodle ($10), shreds of duck meat fried to greatly enhance the flavour of noodle, with the remaining of the duck in the form of two delicious drumsticks. Crisping on the surface with the legs and everything intact, coated golden reddish-brown. They look good. They smell good. I love duck drumsticks, they are so sinful, and good. I'll take up the whole thing, gnaw it right to the bones and not waste every bit. Delicious.
The branch at Novena does not have their full dim sum menu during weekdays, so in the end we only manage to try about 5 dim sum. It was maddening that's all we got when I'm craving for the whole array of dim sum. The beancurd roll ($3.60 for 3) was like the typical ones, prawn fillings wrapped within beancurd skin and seaweed.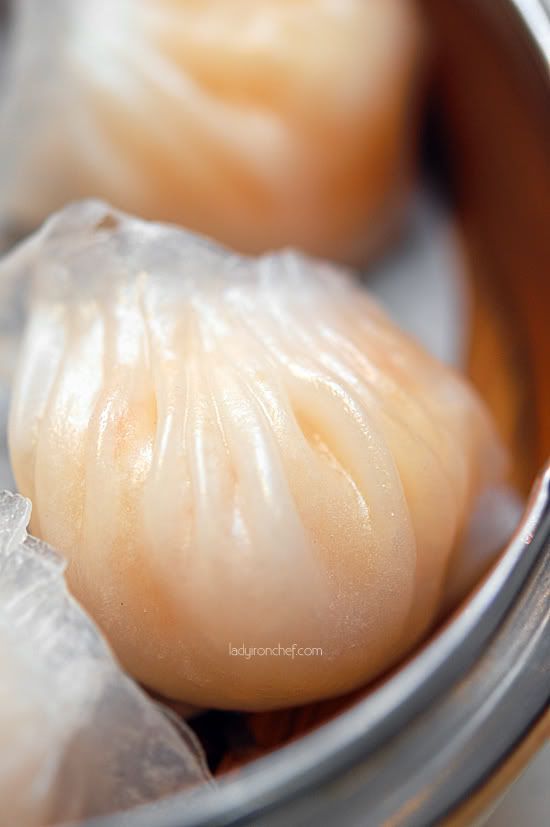 In dim sum context, I crown Siew Mai as the king, and Har Gau ($3.90 for 3) as the queen. But somehow I do not enjoy eating Har Gau anymore, well it's just prawn wrapped inside skin isn't it? I know how much effort the chefs put in to make each and every piece of har gau, but still, I couldn't help feeling that way. Give me my char siew sou, give me my egg tarts.
Honey, they shrink the phoenix prawns!
I remember the prawns on top of the Siew Mai ($3.90 for 3) here used to be much bigger. Well even though the prawns were downsized, but the siew mai was still prawny with a crunchy bite.
A messy affair. Always the case when we have the deep-fried prawns wrapped in vermicelli ($2.40 for 3).
* * *
It has been a while since my last visit to Peach Garden, and honestly I only remember them for the XO carrot cake ($10), and their wonderful custard buns. We didn't have the carrot cake this time round since I felt that while it's good, but it definitely didn't justify the hefty price tag. I will come here, just for their custard buns (Nai wang bao).
Peach Garden
273 Thomson road
#01-06 Novena Gardens
Tel: 6254 3383
Featured in