I'm a very lazy person. And crabs are usually the last thing on my agenda when we have seafood. I prefer to have stuff like lobsters, fish, that do not require any shelling.
Unfortunately, there wasn't any lobsters available at this air-condition zichar place; they are famous for their crabs, you see, every table around us were eating crabs, done in different style. It almost felt like a crab buffet. Usually I'll definitely go for chilli crabs so that I could dip the mantou in the chilli gravy, but this time we've the pepper and salted egg yoke version instead.
Spending time to break the shells, and slowly suck out all the meat from the legs, that's definitely not me. I'll attacked the big pincers which got lots of meat.
Excellent! Another dish which does not requires me to use my hands.
I'm a Babitarian!
I love, love pork. Especially the fatty ones. They tasted oh so good! And I sandwiched the meat with my fried mantou to make it like a kong-ba bao. My brain was telling me:
Stop! Look at all those fats, you'll need to run for hours to burn them off.
The melt-in-the-mouth sensation was simply irresistible. And with approval from my heart:
Go on, have one. Just one bite..
And I finished the whole plate!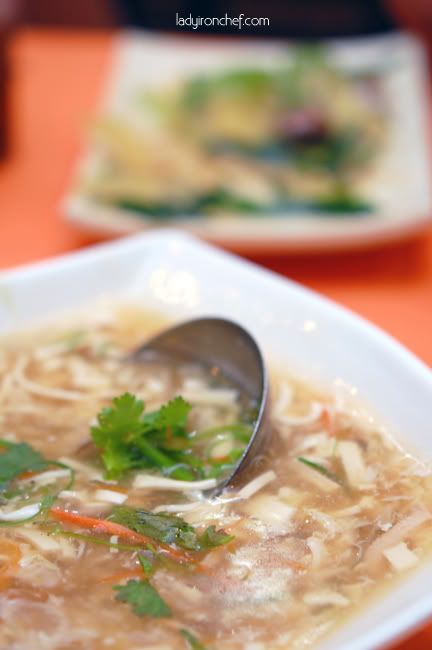 Thick and tangy, with strands of crab-meat and tofu. It's always a comfort to drink soups.
* * *
It's no wonder that everybody is ordering their crabs in so many style, it's only RM40 per kg! No offense to our neighbours in Malaysia, but with the current favourable exchange rate (to us), everything was so cheap. My last post on the KL feast will be the most memorable place for this trip, do drop by tomorrow!
Restoran Tak Fok
23 Jalan Puteri 2/5, Bandar Puteri
Puchong 47100 Selangor
Tel: 03-8060 6994
This is the third part of the four series for my KL feast
Read the first part: I ate, and ate and ate some more here.
& the second part: Taste that stays here.