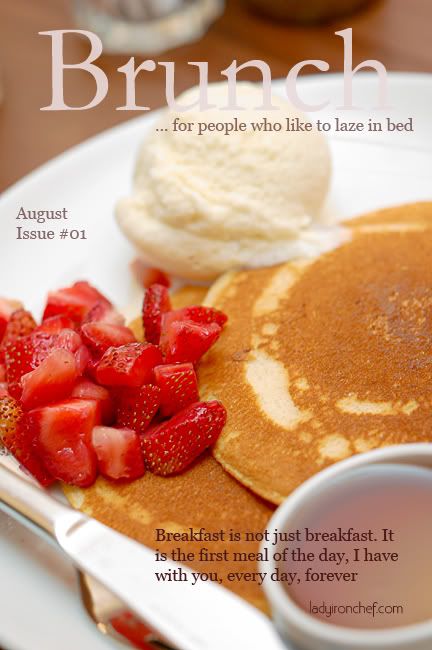 The sunshine peek across the room, it'd been a great night. Laying on his broad and hairy chest, she could hear his heart, lubb-dub.. lubb-dup .. in slow and regular beats. He stir and look at her, under the sunlight; she looks angelic with her long gorgeous tresses floating and her beautiful smile brightening up the room. They cuddled tightly, and he whispered softly into her ears, baby, thank you for being here with me.
Waking up beside the one you love, is a blessing in itself.
Sliding two slices of bread into the toaster, putting the kettle to boil, beating the eggs and cooking it in the pan, frying the pancake mixture, spreading the jam onto the bread, boiling that cup of very nice coffee, placing the scrambled eggs, bacon & ham nicely onto the plate; preparing breakfast for your other half, with love.
Watching her nibble off the toast, feeding him the delicious pancakes with flowing syrup, pouring lots of hollandaise sauce over the poached eggs Benedict; I love breakfast!
* * *
Kith cafe is the kind of place you will go to and call home, because it's like home, to the owners. It's very tiny, at best holding at most 10 people, but good news, they are expanding and opening another space, just a stone's throw away.
p.s: What do you think about the photo? I thought it will be fun to do a "magazine cover".
Kith Cafe
7 Rodyk Street #01-33
Watermark @ Robertson Quay
Tel: 63419407