A dreamy Sunday out with you, eating nothing but eggs and pancakes. And a glass of that bubbly champagne is just the icing on the cake. I love brunch! I really do. There's just something about brunch that makes me excited, just the mention of it will be enough to get me on a high.
And how about a buffet brunch? Excellent, you get to eat a bit of everything (not that I'm a big fan of buffet), and free flow of champagne? Swoon!
I can never say no to desserts, you are my weakness. And we couldn't resist taking photographs at the desserts section first since it's right in front of the restaurant. All the petite desserts were waving to me, with the alluring cakes winking and making signals for me to step forward.
Do you want a piece of chocolate?
How about a chocolate tree? I'll pluck the chocolates off and give them all to you. I know you want the bitter one, and you can feed me the sweet one. The chocolates, they were so good!
And there were a few different whole cakes, crepes, selections of bread alongside the mini cakes and petite shooters.
Rows, and rows of them: mustard lox salmon, smoked salmon, Thai smoked salmon, and an assortment of smoked fish platter. I bet you will just stand there all day and finish every slice of them.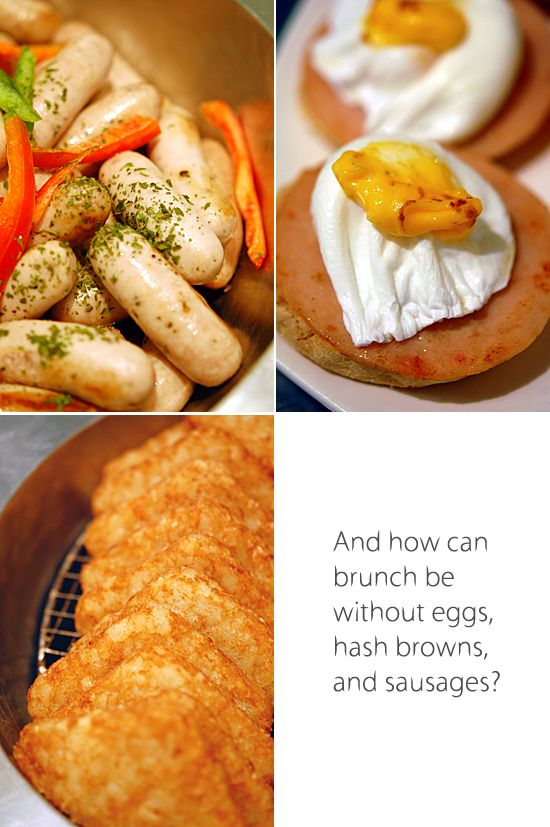 Breakfast to me, must consist of eggs benedicts, pancakes, sausages; that sort of stuff. They had poached eggs here, but there wasn't any hollandaise sauce, and sadly because the breakfast section was prepared beforehand (not on the spot), the eggs, sausages, and hash browns were cold.
But there's an ala-minute section where the chef prepared eggs-done-in-any-style. Omelettes, sunny sideup, overeasy, you name it, they have it.
And while you are at the same area, the chef will prepared Vol Au Vent on the spot too. There's Prawn with Brandy Sauce, Duck Confit with Foie Gras, Chicken Ragout with Mushrooms and Ham & Cheese Ragout to choose from. I've the duck confit with foie gras, which sort of reminded me of the kueh pie tee; crispy shells with savoury fillings
The array of seafood selection at Global Kitchen consisted of the typical mussels, prawns, scallop, and there's Alaskan king crabs too! But it was the spoilt-for-choice of oysters that impressed me! The usual buffet line-ups will mostly just have, you know, fresh oysters on a bed of ice. But not here, there's so many options, this is oysters at their best!
Among all, the fried oyster with bacon wrap was my favourite; I know this might not be the best way to taste the oysters as there probably wouldn't be "freshness" left since it's fried, but you know the thing with fried food, it's always tasty. The saltiness of the bacon greatly enhanced the whole thing, not that you need to "add more flavour" to the oyster anyway. The purist probably couldn't accept it since this was akin to killing the oyster, but I like it!
I also enjoyed the baked oyster with cheese tremendously. What's there not to like when oyster marry with cheese? Fans of oysters will most likely gulp down a dozen of them at one shot, but not me. I had enough after having about five different ways of oysters, and there's a few other ways which I didn't try!
In buffets, I will always go for the ala minute food – stuff that are cook by chefs on the spot. And the fish & chips were pretty impressive. For one, they had mashed green peas, yes green peas! It totally exudes the "British feel" of a hearty fish & chips.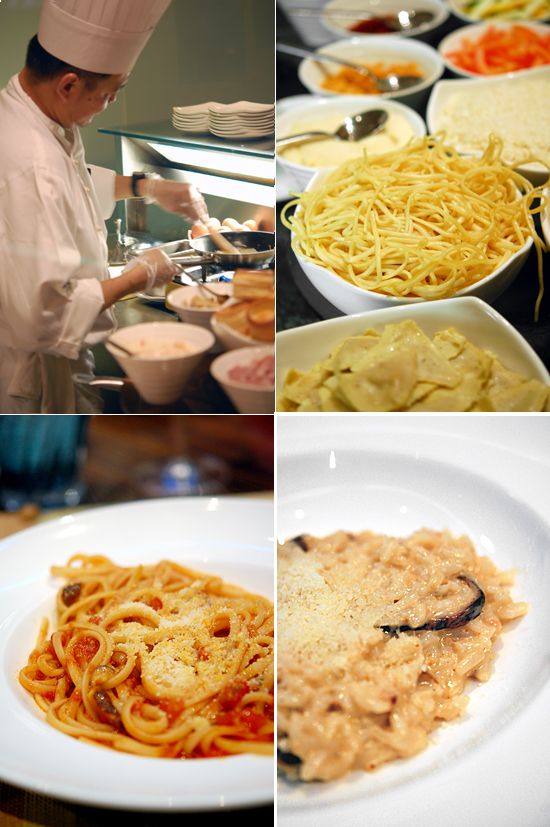 And can you imagine my excitement when I saw the chef preparing risotto and pastas too? There's not much ingredients to choose from, you know the typical mushroom, tomato, but there's no need for fanciful stuff when a plate of simple and comfort risotto/pasta is all I need.
There's actually a lot more food, main courses like duck breast, salmon, seabass, beef, lamb, pork loin; in short, something to cater to everybody. I didn't try all of them, just a bit here and there. Camemberu managed to take all the photos of them, so check it out over at her blog!
Free flow of champagne, amazing company with Camemberu, and Aromacookery, we pigged out for three hours ( including one hour for taking photos), this is what I call brunch! My appreciation to Cheryl and Merissa of Pan Pacific Hotel for hostingus for the media tasting session. We did not eat a lot, just a bit of everything, and  yet at the end of it I was feeling sick – over stuffed with food. And we didn't even try all the things available at the buffet! The champagne brunch is on Sundays from 12.00pm to 3.00pm.
Price:
$98++ per adult (with Champagne, wines, cocktails, beers, juices and soft drinks)
$88++ per adult (with wines, cocktails, beers, juices and soft drinks)
$78++ per adult (with juices and soft drinks)
Global Kitchen
Level 3, Pan Pacific Hotel
7 Raffles Boulevard, Marina Square
Tel: 6826-8240