Ever since I discover the existence of macarons, I'm hooked. There are some fantastic ones, while some are just very bad; macarons are lovable, how can something so small and petite, taste so, so good!
The most delicious way, to eat a macaron will be: admire her perfect figure, pick it up and smell her fragrance. Never shovel in and swallow the whole thing in one bite. It's like foreplay, you need to arouse the palates first; you nibble a bit of it, and I finish it up the rest. Macarons, taste the best, when I share it with you.
The very pretty lady in raspberry winks at me as I walk over. Hello, can I buy you a dessert? Do you want chocolate fudge? Or how about some cheesecake? No? You want both? Okay sure, in that case I'll get you the Raspberry Cheesecake ($7.50).
Rosemary Chantilly with a layer of raspberry jelly, adorns the top part of the cake. There's cheesecake sandwiched in between, with the chocolate fudge layer completing the dessert. My only grudge? It tasted weird when everything is combined together, raspberry, cheesecake and chocolate fudge just do not works for me. But eaten separately, it's good.
Having seen the Fondant Choccolat ($8), I happily/naturally assumed that it will be the type that has lava chocolate oozing out. Except, it did not. No chocolate lava. No warm chocolate oozing out from the middle. And oh, the fondant wasn't heat up too.
Luckily there's Chantilly. She is pleasant, sweet and makes everyone around happy.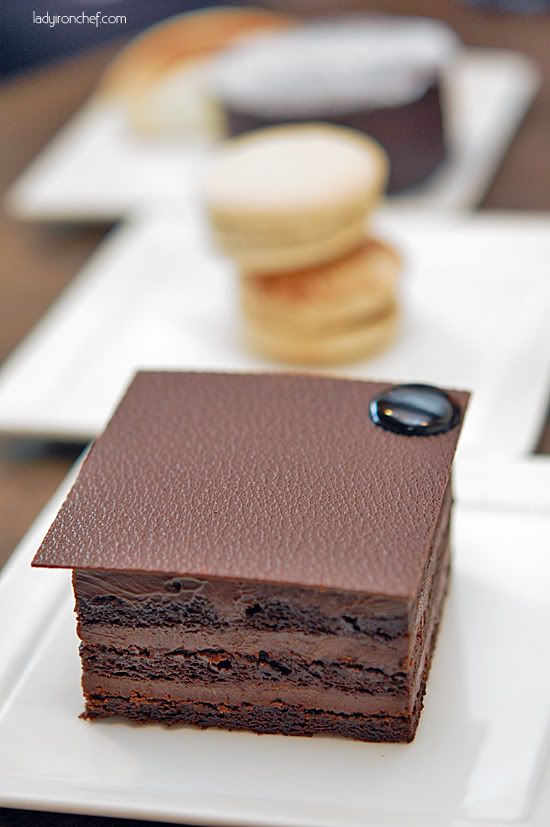 Which one is the mousse and which one is the cream?
Dark chocolate, your love. I know you'll have like this one. The flourless chocolate sponge increased the density of the chocolate, with the dark chocolate cream in between layers. And I like how they pretty things up with a spot of chocolate on top; simple and chic. Gateaux Chocolat ($6.50)
* * *
After so many times to Canele, I've yet to try out all their creations. Maybe some day, definitely one day.
Canele Patisserie
1 Scotts road
#01-01A Shaw Centre
Tel: 6738 9020