There are generally two type of restaurants; either one that has great food, but normal or almost no scenery to boost of; where you will gladly bring along your really-stable-boyfriend, bff, girlfriends whom have all seen you at your worst so dining unglamorously is not an issue. Or the other that serves average food, but has a to-die-for ambience, making it a must-go place for your date.
And Novus Cafe belongs to the latter. Theoretically Novus cafe isn't a restaurant, it is a cafe. But I'm speaking on the broad assumption that it has great ambience, and serve average simple food.
The latter will be the type of places where you will go for your first date, or important occasions; never mind the food's you-know-what, but it's a great place to hang out and chill at. Period. Novus's menu mostly comprises of simple food like pasta/risotto, pizza, and sandwich. But it is the ambience, I love in fall with it the first time I "accidentally" went to the National Museum and saw it. Okay, that's a lie, I went there with the sole and only purpose to Reece the place for a visit.
Nestled within a Museum, artistic value checked. Nice al fresco dining area, checked. Comfy sofas and nice ambience, checked. Come for dinner and you have a night at the museum. You come to the places like this for your important date, the food doesn't matter since you are gonna lock eyes with the partner sitting opposite and probably won't notice what you are putting in your mouth.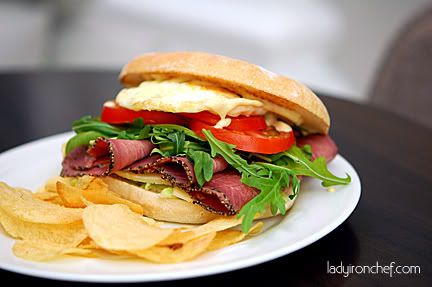 I always feel sandwich is a down-sized burger in disguise. Well the similarity is certainly there; fillings stuff between two bread/bun, with the exception that sandwiches ain't as sexy as their burger counterparts. Who wants sandwiches when you got burgers? Stop pretending to be healthy, and keep the calories chart that you are holding!
"My sandwich" ($16) certainly wasn't what my-kind-of-sandwich would be like. Beef pastrami, gouda cheese, tomato, dijonnaise, rucola, and sunny side up. And it came with potato chips. How healthy. Anyway, I was wondering how come we can pay 16 bucks for a sandwich and not wimp, while some will scorn at the mere mention of paying the same amount for the burger? Does this means the sandwich was bad? Not at all, like I said, I'm just not that into sandwich.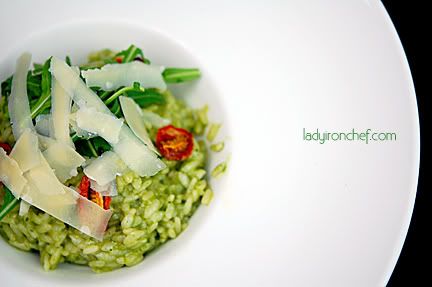 I fall in love with risotto, and ever since I'd been on the lookout for better ones. So when there's only four selections under the seemingly-comprehensive-sounding title of pasta & risotto in the menu, I chose the risotto, immediately. I'll never forget, the sticky-almost-porridge texture, the essence of the ingredient fully absorbed and coated in every grain of the alluring aborio rice. Pesto risotto ($12).
Does that means Novus being the nice-ambience-but-average-food place was bad? Of course not. I'm so gonna come back here again! There are places where you will go for the good food, and there are places where you go to, to immerse yourself in the surroundings. And Novus belongs to the latter.
I'm a sucker for ambience.
Read Pamie's post on Novus here.
Novus Cafe
93 Stamford road
#01-04/05
National museum of Singapore
Tel: 6337 1397