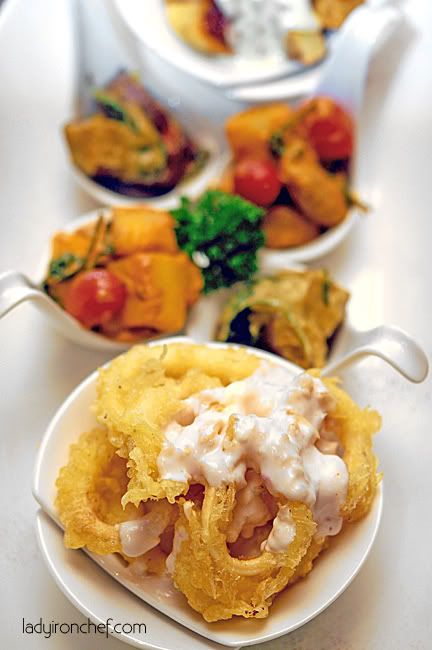 In life we have dreams; they are our goals to work towards to, one step by one step, and approached it. I've always wanted to visit Spain; the country, with its rich culture and vibrant cities appeal to me, and of course, Spanish food.
I simply love the idea of Tapas; the option of having more variety of food in smaller bite sizes, seduces me. Why have two dishes when we can have four? And so our Spanish adventure started with the Plamuk tod ($12), tempura style calamari rings. Limon did a thinner version using less batter which allowed the taste of the squid. But the amazing thing was the strawberry yoghurt dip which came along with the calamari!
Tartar sauce? That's so last season. Mayonnaise? That's so passe. Try strawberry yoghurt dip!
Tapas has many similarities with our Chinese Dim sum; it's the communal way of sharing food. Both encouraged people to try out more varieties, and at the same time shared the food with others. The Patatas bravas ($10) was essentially Spanish fried potatoes.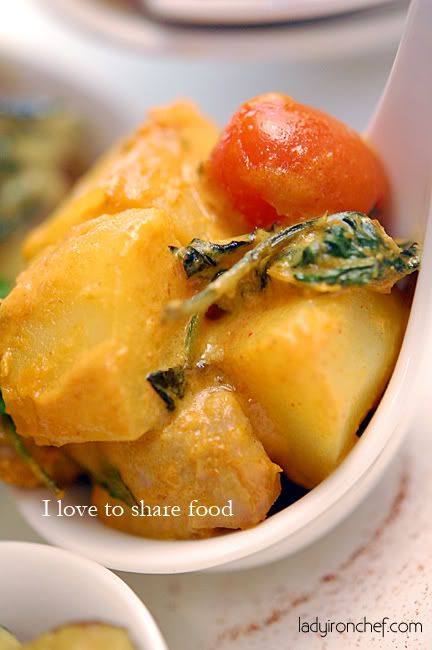 A little bit of this, plus a little bit of that
No I'm not talking about our saliva! We get to share food and try a bit of everything without getting full, isn't that a brillient idea? There's no beef in the Moo curry ($12), instead there was pork & potato cubes pan-fried, with the red curry sauce being a tad strong.
How come the sausage tasted like brinjar?
It was hilarious when we mistook the eggplant for sausages at first bite, I'm never a fan of the purple plant. The fusion aspect was on display by preparing the Spanish Bibao (sausages) with Thai green curry sauce. Chorizo con curry verde ($14)
Honey, they shrunk the prawns!
I was sceptical when the "king prawns" that they'd mentioned was so tiny, but for what was lacking in size, the prawns more than made up in taste. The "tiny" creature was so prawny and crunchy! With ingredients like olive oil, lemongrass, black pepper, garlic, nameko mushroom; it was a mixture of flavours.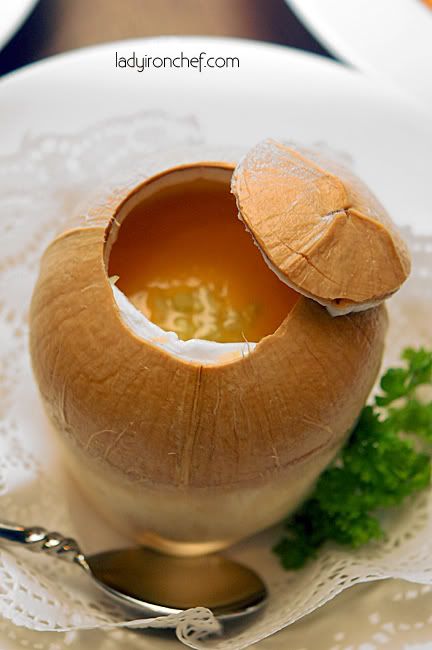 The Gazpacho con vino blanco ($12) was a traditional Spanish cold soup, with the novelty level upped by serving it in a baby coconut husk. The white wine flavour was subtle, but the experience of drinking soup was redefined into drinking coconut!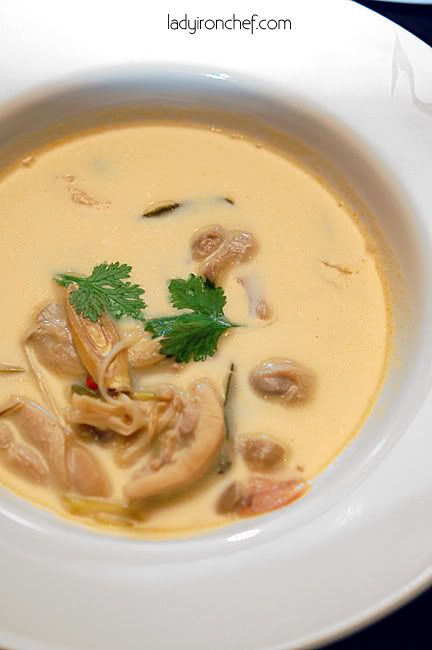 Tom-kha Guy ($10)
Besides the "coconut soup", Limon has a few other soup available for selection, and you know I never like such soups, so use your own imagination how it would taste like.
Pumpkin fusion soup with strips of Serrano ham ($13)
Tomato, Orange and lemon soup ($10)
Paella. This was THE dish besides churros that I was looking forward to. And I had problem pronouncing it the whole night, so I came up with a simple way of remembering it, paella (my own pronunciation: Pie-ya). It was done with a Thai twist; incorporating tom-yum with the Spanish paella, there was plentiful of mixed seafood. It was delicious, every grain of rice tasted so good. Since I did not have paella before, there was no way I could make comparison, but it was good enough for me. And the tom-yum flavour wasn't even strong (at least to me). Paella de tom yum ($20 for main size)
You like fish?
You will definitely love the Bacalao ($36)! The blue cod fillet was so fresh that it seemed alive on my plate, but I would prefer it to be slightly more pan-fried on the surface. Every piece of flesh was so delicate when our utensils touch it, oh baby, I'm gonna eat you up!
The lomo de cordero ($35) was a perfect sight to behold. There's something about the Rack of lamb, which always make it so sexy! But somehow the ingredients like rosemary, oregano, mint, white wine, lemongrass sauce did not manage to cover the gamey taste.
Lobster, I love lobster! And I'm not going to share with you. No, get your hands off, it's mine, it's all mine! I was freaking excited when the Live lobster krapow ($38) arrived on our table. Every bite of the oven-baked lobster was so good, but there wasn't enough meat for me! Taking a fork, I tilted the lobster head upside down, and dug at the shell beneath it, and yes, there was more lobster meat there!
On first look, I thought it was panna cotta, the Italian dessert. But it wasn't. The dessert in picture was a Lemon caramel egg custard flan ($10). The texture was very similar to panna cotta, but I couldn't quite figure out what was the difference.
And yes, I know chocolate cake has nothing to do with Spanish or Thai, but apparently the pastry chef at Limon does such a good chocolate cake that they decided to put it in the menu. And boy, it was true. The Homemade Chocolate cake ($9) paired with vanilla ice cream was a delight! If you could look at the plain chocolate cake up there, there's the lava-flowing chocolate on top of the moist chocolate cake. Even though it was a pity there wasn't any vanilla bean ice cream, but a scoop of cold icy one was enough to bring out the best of the chocolate cake.
I love to share food. But somehow the evil twin in me took over when we had the Crema Catalana con frescas ($10). There are times where you eat something that was so good, yet you couldn't tell what it was, so you just ate, and ate, and ate. This was what I did, I took a spoonful of the egg based cream, put it in my mouth, and I couldn't taste what it was. And the second bite became even better. So I simply took up the whole glass, dug, and dug further into, until the whole dessert was finished.
* * *
It was a medley of flavours when the Spaniards and the Thais come and play together. This was my first time trying Paella, and I'm glad I tried it! My appreciation to Towie, the owner of Limon, and Nicole for hosting us for the food tasting session.
And now for the good/great/terrific/fantastic news, I'll be doing a food outing event (yes finally), at Limon on the 10th August for dinner. It would be a public holiday so I hope to see all of you there. The details of the outing will be in my next post.
Limon restaurant
7 Purvis street #01-01
Tel: 6333 9004