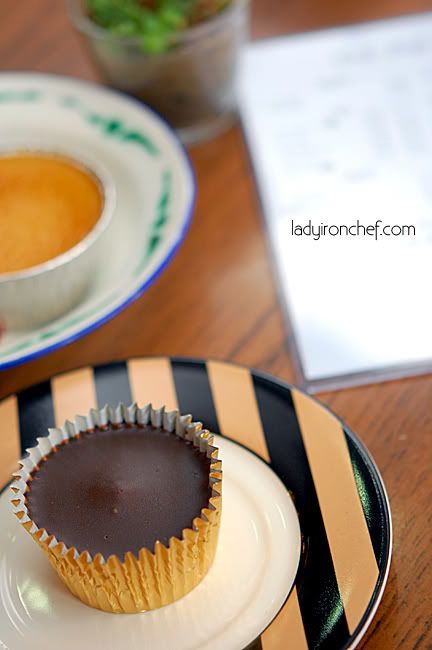 Today is Monday, and I thought it would be nice to talk about something sweet.
Okay, I lied. Today is Monday, and I thought it would be even nicer to eat something sweet. Anything sweet, I have a sweet tooth but I don't know how to control it (quote: Alvina). Sometimes, I think about desserts, okay, that's another lie – they are in my thoughts ALL THE TIME! I believe it's a case of lack-of-desserts-complication, otherwise why will I always be thinking about them?
If you can focus your attention on the cupcake up there, the very plain-looking chocolate one; it's nothing spectacular, no pretty frosting, no fanciful names – just Chocolate caramel ($3.90). And beneath the glossy layer of chocolate, there's a thin layer of caramel, and cake of course. Chocolate and caramel taste very good together, but I'll prefer the cake to be more moist.
With a burn of the blowtorch, the caramelized sugar was beautiful, golden-brown in colour. I could hear the crack sound as I dipped into the surface, my, I love the combination of the slightly hard, caramelised sugar with the soft custard. The Creme Brulee ($4.50) is an ideal dessert; it's not too heavy, just something sweet for you to end the meal with. If I'm the one holding the blowtorch, I will probably burnt it a little longer, to give it the really-golden-brown colour. But no complains, I scrapped off the edges of the cup, to get every last bit of the custard into my mouth.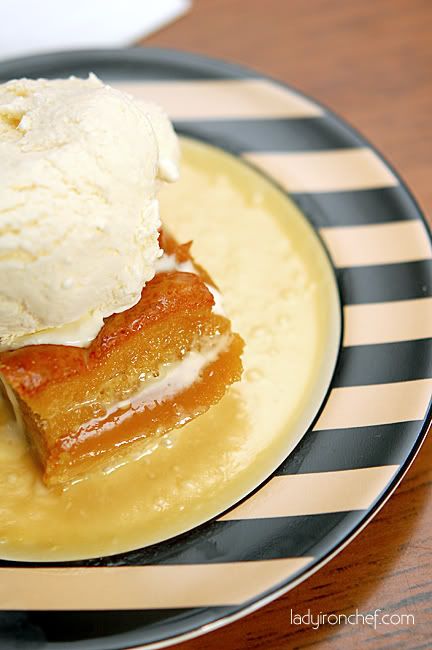 Initially, there was a matcha cake in the midst of baking, so we decided to wait for it since we're going to hang out there. But after a while, they informed us that the matcha cake was too dry so they wasn't selling it. We went for the bread pudding ($5.9 with scoop of ice cream) instead, and boy, we were glad we did. The tickling of the cool ice cream on the warm bread pudding, it was heavenly! And the very-generous-scoop of ice cream added ice cream points too!
Whimsical will be the perfect word to describe Hairloom & Caramel. The creative combination of a hair salon with a cafe selling home-made food – I love fun places like this, they just make me feel so much happier when I stepped in, and I have a feeling you will see me back here.
Hairloom & Caramel
100 Beach road
#01-50/52 Shaw Towers
Tel: 6295 2188
Hairloom & Caramel is listed as one of ladyironchef's favorite restaurants in Singapore