Rainy days are good for sleeping in, but if you are not, the weather makes you sleepy and gloomy. Sunny days are best if you are at the beach, otherwise you probably will be cursing at the blazing sun! I like windy & cloudy day, the breeze simply cheers me up; just like a slice of that very delicious cake.
It took a while before the first of the lot arrived on our table, and everybody focused on the pretty decorations before returning our gaze back to the beautiful cake. The patissier's hands must be a gift from god – they make everything so pretty!
Honey, would you like some honey? Oh yes honey, I'll like your honey!
One particular word stood out in the description, "layers of HONEY chiboust cream and strawberry jelly sandwiched within crispy almond dacquoise." Baby, I was attracted to you, just like bees to honey. And lovely name too, Nid d'abeilles ($7.90).
Why is a black forest call a black forest? Is it because the cake was first created in a forest so black and depressing that it was a shining beacon that brightened up everything? This, was my kind of black forest cake ($7.90); it had very little kirsch soaked cherries. I always wondered why nobody did a black forest without any cherries.
My dear, would you do one for me, pretty please?
The red velvet ($7.90) was completely opposite from its name, it was red but nowhere velvety; the cake was overly-dry. It was definitely a bimbo; pretty to look at, but no substance inside. A real pity – I was eyeing the cherry ganache with much interest.
I always had a thing for rose, you know she's pretty, cute and even her name sounds so sexy! Even though she got together with lychee, but I'm happy for the sweet couple. They tasted good together, so dreamy, blissful and pleasant! And Oh, how I wish there's more of the Valrhona ivory chocolate glaze; I'm on cloud nine after having the Lychee rose ($7.90)!
Mango cakes are typically the type of cake that I used to have for my childhood birthdays. For the Mango Mascarpone ($8.90), there was hardly any cake since the composition was made up mostly of the mascarpone cheese cream. It came slightly disfigured, personally I felt that it would taste better if not for the addition of the coconut crumble.
And I will like the cake to have a bit of cake.
And this, was totally my-kind-of-cake! The breathtaking of her beauty seemed to suck the air out of the room, and to complete this vision of perfectness, there was the cute chocolate-film decoration. It would be divine if there's more of the hazelnut praline feuilletine; I just couldn't get enough of it!
If there's a dessert to define me, this would be it, the chocolate praline cake ($7.90).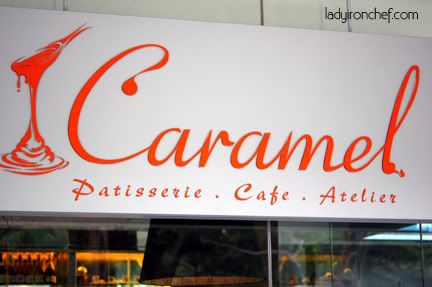 When the dessert-holics come out to play, there's only sweets and more sweets! I love desserts outing, we get to try so many cakes just by paying one slice of cake each! Are you a dessert-holic? Join us for more sweets next time!
Add me as a friend: Twitter here, Facebook here, & FB group here to find out about the next dessert outing.
Read my fellow dessert-holics below (the rest don't have food blogs):
Catherine @ Camemberu
Evan @ Bossacafez
Pamie @ Girlpersonified
And the other adventures of the dessert enthusiasts here.
1 Caramel Patisserie
6 Handy road
#01-01 The Luxe
Tel: 63383282