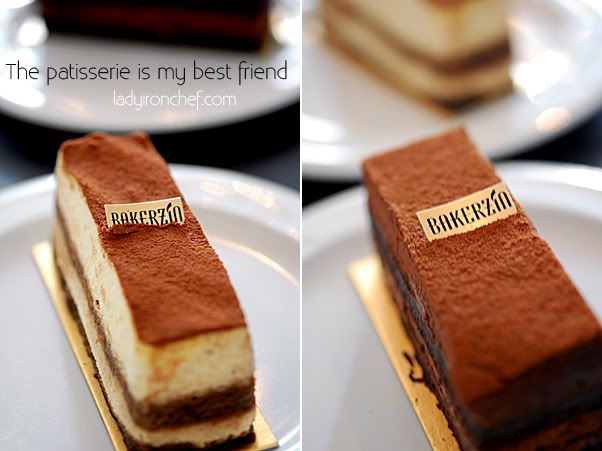 I need some chocolate, I need some sweets; to cure my oh-so-painful-heartache. I need a patissier to cheer me up: Tiramisu, mont blanc, creme brulee, macaron, le royale; give it to me, give it all to me.
"A slice of everything on display, and a cup of hot chocolate with extra chocolate."
"Everything?"
"Yes! Which part of every-thing do you not understand?"
The patissier is my best friend, he will know how to make this go away. Stepping into the patisserie, a tiny part of the gloominess was lifted, at the sight of the so-many-pretty-and-petite desserts.
I sunk my teeth into it, and oh-boy, it was good, I already felt better! The richness of the cake was soaked and immersed in the essence of the espresso, brandy & white rum, I was literally intoxicated.
Bittersweet. It's all about chocolate. The first taste, so sweet and rosy, followed by the slightly bitter taste from the dark chocolate; the perfect analogy to life, the bitterness, the happy times, it depends on which part you want to taste – I want sweet now!
* * *
(1) The above is a largely exaggerated story on my part, no doubt sweets and chocolates helps when you are feeling down, but it is only a temporary measure. A heart-to-heart chat with a good friend does wonders, and the best part: we had it over desserts.
(2) The two slices of cake are Tiramisu and Chocolate Amer. The latter was a half-price promotional item for Bakerzin in the month of May. The current dessert that is on half-price is the New York cheesecake.
(3) As much as I do not really fancy Bakerzin, and the fact that I've tried almost every cakes there, the half-price promotion on a slice of cake was too tempting, read my previous visits here, here, and here.
Bakerzin
9 Raffles Boulevard
#01-23 Millenia Walk
Tel: 6837 2422